Fujifilm's X-S series is targeted as the ultimate all-round camera for enthusiasts, offering image and video capabilities to suit as wide a range of subjects and styles as possible. The X-S series also eschews the company's usual focus on retro camera aesthetics that hark back to the days of film photography, instead offering a more practical design with an emphasis on ease of use, although in a small and compact form factor that made it one of the best travel cameras.
Fujifilm released the Fujifilm X-S10 in November 2020, with the sequel – the Fujifilm X-S20 – due to arrive in stores at the end of June 2023. You'd be forgiven for at first glance assuming not much has changed, with the bodies of the cameras looking almost identical save for a few minor button and dial differences. However, inside the camera, this is a whole other story.
We are going to contrast and compare the X-S10 and X-S20 in some of the key areas and see what has changed.
Images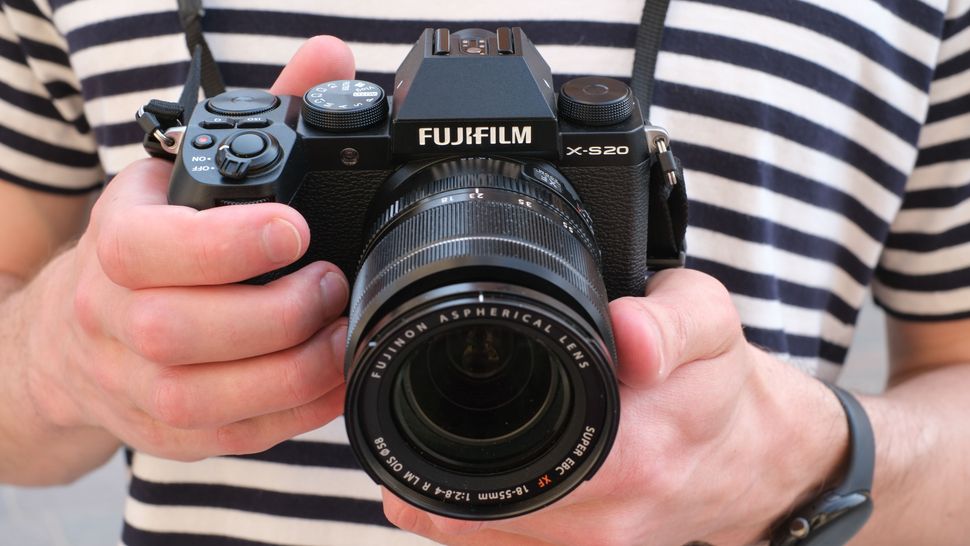 X-S10: 26MP, 14-bit RAF RAW, 10-bit HEIF, 8-bit JPEG
X-S20: 26MP, 14-bit RAF RAW, 8-bit JPEG
For capturing still images, both the X-S10 and X-S20 are pretty much indistinguishable as they share the same excellent 26-megapixel X-Trans IV Fujifilm sensor. This is an APS-C sized sensor, which applies a crop factor of 1.5x to your lens focal length, and the sensor is a backside illuminated (BSI) CMOS sensor, for better low light images and reduced noise.
In the new world of 200-megapixel camera phones, and 60-megapixel Sony cameras, you might think that 26-megapixels sounds kind of weedy, but rest assured that it is more than enough resolution for use online, especially on social media, as well as printing out some vacation snaps for displaying at home.
Both cameras can record in Fujifilm's proprietary 14-bit RAF RAW files, as well as 8-bit JPEGS, however, the X-S20 can record in 10-bit HEIF format, which offers small file sizes that pack in much more data than a JPEG, but are plagued by compatibility issues with software and services.
Finally, the X-S20 has a significantly better image buffer than the X-S10, this is powered by an improved processor (more on that in a second), so anyone keen on taking long burst shots of sports or wildlife can shoot for longer without the camera grinding to a halt in the middle of the action.
Autofocus
X-S10: Human (face, eye) tracking
X-S20: Human (face, eye), animal & vehicle tracking
The autofocus on the X-S20 has had a significant improvement over the previous model. The X-S20 now incorporates Fujifilm's deep learning autofocus powered by the latest X-Processor V, and is capable of subject recognition not only for human bodies, heads, faces, and eyes, but now also for animals, birds, insects, cars, motorcycles, bicycles, airplanes, trains, and drones!
Constant subject tracking on the X-S20 is also improved, and when the camera is flicked into fully auto mode, the auto-tracking is capable of determining exactly what the subject is without it having to be selected and tracking it across the frame.
Image Stabilization
X-S10: 6-stops
X-S20: 7-stops
The stabilization on the X-S20 has been improved to offer an additional stop, offering better low-light capabilities and smoother video footage. This has also been achieved without an increase in the size of the camera. For really steady shots, there is also an IS boost mode, that will make static handheld shots even more stable.
Video
X-S10: 4k30p, 8-bit 4:2:2 internal recording, 12 stops dynamic range
X-S20: 6.2k30p, 10-bit 4:2:2 internal recording, 13+ stops dynamic range
Video has taken a huge bump in specs in the X-S20, now offering almost pro-level video with a maximum recording resolution of 6.2K in 30p, that is also capable of 10-bit 4:2:2 internal recording, and when shooting in F-Log, up to 13+ stops of dynamic range. The X-S20 is also capable of "open gate" recording, which means it uses the whole image sensor to record video, allowing for more freedom to crop later in editing.
The X-S10 by comparison tops out at 4k30p footage, with less powerful internal recording. Both cameras are capable of high-speed recording in 1080p full HD up to 240p for enhanced slow-motion footage.
Vlogging
X-S10: No special modes
X-S20: V-Log mode with Product Priority, Background Defocus
One of the big new additions to the X-S20 is the new V-Log mode which puts vlogging controls front and center on the touch screen making it quick and easy to change settings on the fly while recording solo. Modes include Product Priortiy, which changes the focus between your face and products when said products are held up to the camera, and Background Defocus, which enhances the focus falloff behind a subject, which is useful when shooting at wide-angle of narrower aperture lenses that don't naturally have a deep depth of field.
Battery
X-S10: NP-W126S
X-S20: NP-W235
A huge change for the X-S20 is the increased battery capacity, offering over double the number of shots or twice the 4k video over the X-S10. This is a huge deal to anybody who plans on shooting for long periods away from a charger, and Fujifilm estimates that the X-S20 can squeeze another 800 shots out from its new battery.
The NP-W235 battery utilized by the X-S20 is the same battery that is used in the X-T4, X-T5, and X-HS series, so anyone who already owns one of those cameras can mix and match their batteries with the X-S20.
Price
X-S10: $999 body only (launch)
X-S20: $1,299 body only (launch)
The X-S20 comes at a sizeable premium over the X-S10, and although it is packed with some powerful features like 6.2K video, vlogging modes and auto-tracking auto-focus, you need to ask yourself if these upgrades are worth the additional cost to your shooting style and needs. The prices above are also body-only prices, for those who are new to the Fujifilm X system, there is also the additional cost of lenses. The X-S20 is sold in two kit lens options which reduce the cost of the lens slightly from a standalone purchase.
The X-S10 will be available for a while longer as retailers sell through remaining stock, or is available on the second-hand market at a much lower price.