2018 must surely go down as one of Fujifilm's biggest years ever. It was only when we sat down to compile this list of every Fujifilm announcement, update, roadmap and launch in the past twelve months that we realised just how much has happened.
The list includes five new cameras (yes, really), twelve new lenses (real and roadmapped), a fast and potentially decisive penetration of the pro video market, the announcement of a 102-megapixel camera and enough firmware updates to fry your brain.
So here goes with our list of everything which happened with Fujifilm in 2018...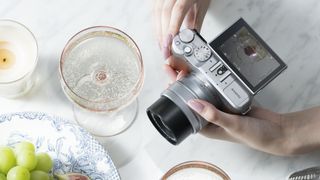 January 2018: Fujifilm X-A5 and a new lens
Hey, we're still here! With all the fuss over Fujifilm's rather good X-series and GFX cameras, it would be easy to forget it also makes the jolly little XP series underwater compact, and in January 2018 with the launch of the latest XP130 it announced it had made an incredible 5 million of the things.
Not so long ago, Fujifilm was one of the main players in the cheap compact camera market, but while that seems to have dried up, the XP130 is apparently still splashing about happily. Even if it does eventually sink beneath the waves, it's waterproof to a depth of 20m, so it's probably fine.
Also in January, Fujifilm released the latest incarnation of its low-cost X-A mirrorless camera series.
The Fujifilm X-A5 follows a familiar formula with a 180-degree selfie screen and lots of Insta-style features and effects for all your influencing needs. There's no viewfinder, but smartphone upgraders won't care. And actually, it is a rather good little camera.
Along with the Fujifilm X-A5, which didn't exactly break any new ground, Fujifilm announced a new retracting XC 15-45mm f/3.5-5.6 OIS PZ kit lens that did.
OK, so it's not the first retracting kit lens in the world and rival makers have them too, but it's a big deal for Fujifilm because now there's a smaller and wider kit lens than the existing 16-50mm, which was starting to look a bit lame by modern standards.
The new XC 15-45mm (23-68mm equivalent) was also set to make an appearance on the new X-T100...
February 2018: the X-H1 hits the pro market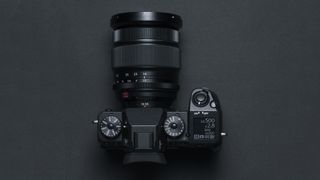 Fujifilm has built itself a good reputation for issuing firmware updates that extend the capabilities of its cameras rather than just fixing bugs.
This one would bring a focus stacking feature to its GFX 50S medium format camera, a full-frame 30.55MP crop mode and compatibility with the Fujifilm H mount adaptor for fitting older Fujifilm 645 and H-mount lenses. What, you didn't know Fujifilm was a medium format specialist going way back? Oh yeah.
In another firmware update announcement, Fujifilm says the popular X-T20 will now be compatible with its interesting FUJIFILM X RAW STUDIO software. It's a crazy idea but it actually works – you plug your camera into your computer via a desktop app and get the camera to process (or re-process) your raw files in an instant instead of making your computer do it.
OK, so it's not Lightroom, but as a way of quickly generating alternative JPEG renditions using the camera's own settings, it's brilliant.
But February wasn't all about firmware, as Fujifilm announced the MKX18-55mmT2.9 and FUJINON MKX50-135mmT2.9 cinema lenses.
So Fujifilm makes cine lenses too? But why? Fujifilm might not have been a big player in the pro video market up until now, but this is a sure sign that things are about to change...
OK, so this is exciting. Just in case you thought the X-T2 didn't feel 'pro' enough, along comes the Fujifilm X-H1, a bigger, fatter, tougher pro-orientated X-mount model which Fujifilm hopes will appeal to pros.
The specs don't look particularly different to the X-T2's except for one thing – THIS IS THE FIRST FUJIFILM X-MOUNT CAMERA WITH IBIS. Apologies for the all caps there, but the addition of in-body stabilisation is a big story for Fujifilm fans.
March 2018: oh yeah, some iF awards
After the drama of January and February, Fujifilm has a quiet March but still gets a pat on the back from the iF International Forum Design awards for a bunch of products, including the instax Square SQ10 and instax mini 9, plus accolades for two of its new GF medium format lenses, the GFX battery grip (uh, OK) and its new cine lenses.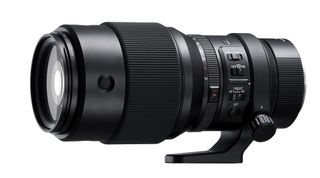 April 2018: the GFX gets a 250mm telephoto
April starts off pretty quiet with, yep, more firmware updates, this time for the X-H1, X-T2, X-Pro2, X-E3 and X100F. We're not going to go through the whole list, but if you've got any of these cameras you should check them out.
Most firmware updates are about as exciting as emptying the bins, but Fujifilm's updates really do add new and interesting things.
But then April gets more interesting. Fujifilm is clearly serious about its medium format system, bolstering its already interesting lens range with the FUJINON GF250mmF4 R LM OIS WR telephoto, plus a matching 1.4x converter to make it a 350mm f/5.6.
We're not going to tell you what it costs because we don't want you throwing up your hands in disgust and going off to do something else. Oh, all right, it's £2,900/$2,500 – actually, for a medium format telephoto, it could have been worse.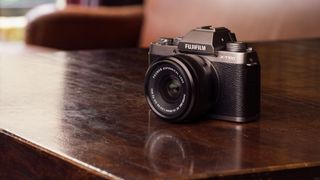 May 2018: Fujifilm breaks the X-T2, launches the X-T100
But then May doesn't start well. Fujifilm released a ver.4.00 firmware update for the popular X-T2 on May 8 and immediately had to explain to users why it had broken their camera (well, not much, but a bit) and what to do about it. A revised update followed quite quickly, which is probably no big surprise.
But then quickly making amends for its firmware faux pas, Fujifilm releases what could prove to be one of its biggest crowd-pleasers of the year – the Fujifilm X-T100.
It's like a low-cost X-T20, if you like, or an X-A5 with a viewfinder, however you want to look at it, but it feels like the first 'proper' Fujifilm camera for beginners. It comes with an EVF, DSLR styling, a rather appealing minimalist layout and the rather handy retracting XC 15-45mm kit lens released with the X-A5 earlier in the year.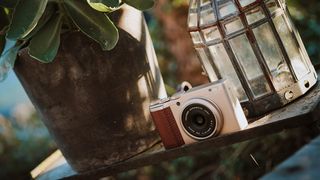 July 2018: lots of lenses and a new XF10
After a looooong summer break, Fujifilm comes back with another new camera. The XF10 is a fixed-lens compact with a 28mm equivalent f/2.8 lens and a slimline body small enough to slide into a jacket pocket. There's no viewfinder, but it's pretty reasonably priced and rather likeable.
Fujifilm clearly didn't spend all summer on the beach because it also announced the very tantalising XF200mmF2 R LM OIS WR for its APS-C X-mount cameras. Yes, that's right, f/2.
On an APS camera that's equivalent to a 300mm f/2 (whoa!) and Fujifilm's optional 1.4x converter takes it up to a 280mm f/2.8 (420mm f/2.8 equivalent). It's pricey, but this lens instantly opens up the world of pro sports photography for X-mount cameras.
But what is it with roadmaps these days? Fujifilm announces three more new X-mount lenses we can't wait to try out and then tells us that we will actually have to wait.
There's going to be a new XF16mmF2.8 R WR compact prime lens and a XF16-80mmF4 R OIS WR standard zoom in 2019, but we'll have to wait until 2020 for the new XF33mmF1 R WR fast prime.
But then Fujifilm makes up for all that roadmap teasing by launching a new lens that's more exciting than all of them – the XF8-16mmF2.8 R LM WR.
This is a VERY, VERY WIDE zoom, equivalent to 12-24mm in full frame terms and a good deal wider than Fujifilm's existing 10-24mm AND one f/stop faster with a constant f/2.8 maximum aperture. We're expecting our review sample any day now, so we'll let you know what we think.
So yeah, that's a lot of new lenses. Clearly things are going pretty well for Fujifilm, as it announces plans to increase its lens production capacity by 70% by 2020.
August 2018: more awards, this time for the X-H1
After announcing all those lenses in July, Fujifilm takes some time out in August and soaks up some praise from EISA (European Imaging and Sound Association) as it gives the Fujifilm X-H1 the 'Mirrorless Camera Best Product Award, lauding its in-body stabilisation, design and ergonomics and video capabilities.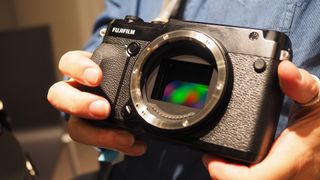 September 2018: Photokina's 102MP bombshell
Straight after the X-H1 gets an EISA award, Fujfilm throws a spanner in the works by launching the new and excellent Fujifilm X-T3. Why is that a problem?
Because the X-T3 has a higher-resolution sensor, faster processing, better video and a smaller body. It doesn't have the X-H1's in-body stabilisation or pro-level construction, but it does leave X-mount fans with a tricky dilemma. Surely it won't be long before there's an X-H2?
But September is also the month when Photokina, the world's biggest photography exhibition, takes place.
This brought another jaw-dropping announcement – the development of a 102-megapixel version of the GFX, with phase-detection AF across the entire sensor, in-body stabilisation and 4K 10-bit video. Whaaaat! We've no idea what the GFX 100 will cost yet, but based on these specs we're expecting something in the region of a small country's gross domestic product.
And there was another roadmap. This time it's for Fujifilm GF-mount medium format lenses, and includes a GF50mmF3.5 R LM WR prime lens (40mm equivalent, due 2019), GF100-200mmF5.6 R LM OIS WR short telephoto zoom (79-158mm equivalent, due 2019) and a GF45-100mmF4 R LM OIS WR zoom (36-79mm equivalent, due 2020).
So OK, you can't buy them yet, but if you're thinking of investing in the GFX system, this will give you an even better reason to dust off that debit card. But wait, something is coming that's actually REAL...
It was the Fujifilm GFX 50R, which is like a rangefinder version of the GFX 50S with the same stellar sensor but in a body £1,000/$1,000 cheaper.
The specs might not be new, but that price point is – now you can get a first-rate medium format digital camera for not much more than a high-end full frame model from other makers. Fujifilm has leapfrogged the whole full frame market completely and deliberately.
Fujifilm closed off Photokina 2018 with a joint announcement that Phase One's Capture One software would now work with Fujifilm GFX files (Phase One makes its own medium format cameras, so there is some rivalry here), it would offer Film Simulation profiles to match those in the cameras and that there would be a free cut-down Capture One Express Fujifilm version.
All of which was great news, given that Capture One is just about the best raw converter for Fujifilm's tricky X-Trans files.
The Photokina euphoria did dissipate slightly for Mac owners who upgraded to OS X Mojave, though, and found their Fujifilm programs didn't work any more (oops). It was a couple of weeks into October before a fix for the FUJIFILM X RAW STUDIO software arrived and November 1st before the tethering software was updated.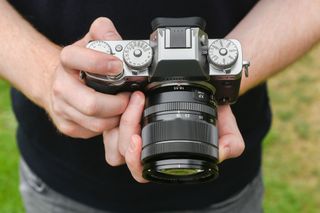 November 2018: firmware wind-down
There was one more firmware update to round off the Fujifilm year, this time adding some tweaks and fixes to the GFX 50S, some important video updates for the X-T3, including 4K HDR video recording in Hybrid Log Gamma (HLG), recording over 4GB movie file as one file and not splitting them as before and the ability to use ALL-Intra at a maximum bitrate of 400Mbps.
The X-H1, meanwhile, got significant improvements to its in-body stabilisation system and the way it interacts with image-stabilised lenses.
So it's been an incredibly busy year for Fujifilm, with enough firmware updates to make your eyelids droop, more roadmaps than there are roads and enough genuinely exciting camera and lens announcements to convince anyone watching that Fujifilm is on a roll.
If 2019 is anything like this, we are going to be wearing out the Digital Camera World keyboards.
Read more:
• Best Fujifilm cameras
• Best Fujifilm lenses
• Best mirrorless cameras
• Best cameras for beginners