Fujifilm has launched its latest X-series mirrorless camera, the X-H1, by saying that the company needed something for professionals. With the previous X-T2 and X-Pro2 already meeting the needs for many who are serious about their photography, however, how much of a step up is the new X-H1 in comparison?
Read more: 10 ways to get the best out of your Fujifilm camera
If you're an existing Fujifilm user, should you immediately plump for this latest 24MP model? Should the X-H1's features encourage you to make the leap to what its maker is calling the first in a new line up of X-series cameras? Read on to help make up your mind, as the newer X-H1 and existing X-T2 go toe-to-toe.
Fuji X-H1 vs X-T2: Sensor and processor
Why you can trust Digital Camera World Our expert reviewers spend hours testing and comparing products and services so you can choose the best for you. Find out how we test.
Fujifilm X-H1: 24.3MP APS-C X-Trans CMOS III sensor and X-Processor Pro
Fujifilm X-T2: 24.3MP APS-C X-Trans CMOS III sensor and X-Processor Pro
Looking at the above specifications, it would appear the headline features of both cameras are identical. Each camera offers a large APS-C format sensor, as commonly found in consumer-grade DSLRs, with a respectable 24.3MP.
That's more than sufficient to make large print reproductions. Some may grumble that we're not getting a full-frame sensor to match a traditional frame of 35mm film – film being a large part of Fujifilm's heritage, after all – but the sensor is at least very well respected by reviewers and users alike.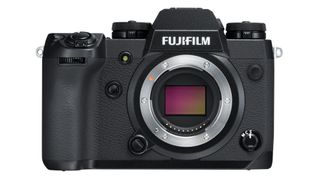 One significant difference, however, is that the X-H1's sensor shifts to provide image stabilisation, which in theory indicates a higher percentage of sharply defined images when shooting handheld on the hoof, or in more challenging lighting conditions. This provides 5-axis correction, with a compensatory effect of up to 5.5EV.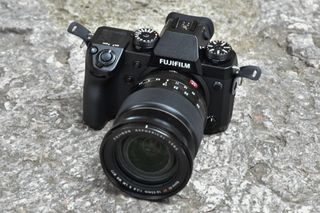 The X-T2 can, of course, also take advantage of image stabilisation, but only through a lens mounted with the technology, rather than at all times. In fairness, most of Fujifilm's lenses do now offer image stabilisation, although it's hard to argue with the convenience of it always being to hand.
Whether that's worth the current premium will depend on your own needs and budget but, if you can stretch to it, we'd say in-camera image stabilisation is a feature definitely worth having.
Fuji X-H1 vs X-T2: Video specs
Fujifilm X-H1: 4K DCI to 24p; 4K UHD to 30p (29.97p); and Full HD to 60p (59.94p)
Fujifilm X-T2: 4K UHD to 30p (29.97p) and Full HD to 60p (59.94p)
Happily, as well as large-ish sensors, both cameras feature the latest must-have of 4K video recording, along with the option of still-respectable Full HD recording for times when the storage data and power-sapping 4K option isn't required.
While the X-H1 can record up to approximately 15 minutes of highest quality 4K video in one go, or 20 minutes of Full HD video, this can be extended to up to 30 minutes for both video options if buying the camera with its optional vertical power booster grip (part of a kit option on purchase, as well as being sold separately).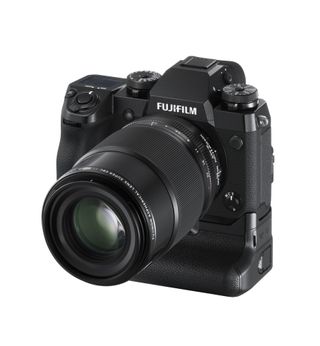 The X-T2, by contrast can record 10 minutes of 4K video, or 15 minutes of Full HD footage. While it offers 4K video in the 4K UHD (3840x2160 pixels) setting at up to 29.97p, the X-H1 manages to both match that and also offer the higher-resolution 4K DCI (4096x2160 pixels) option on top of this, and this can shoot at up to 24p.
On both cameras, Film Simulation modes – digital effects ape-ing the look of film – are selectable when shooting video as well as stills. The X-H1 adds the newer, cinematic Eterna option too, which imbues footage with understated colours and rich shadow tones, and this can be selected for shooting both stills and video. It's nice to have but neither a deal-maker nor a deal-breaker in our opinion.
In addition to the above, the X-H1 not only offers internal F-log (8bit) recording but also gets the jump on the X-T2 by offering high-speed 120p recording in Full HD video mode. There's also the ability to record time code, which the X-T2 does not offer.
Fuji X-H1 vs X-T2: Burst shooting (fps)
Fujifilm X-H1: Approx. 14fps with electronic shutter for up to 27 Raw frames or 40 JPEGs
Fujifilm X-T2: Approx. 14fps with electronic shutter for up to 28 Raw frames or 42 JPEGs
Again the cameras are fairly evenly matched when it comes to maximum continuous capture speeds, namely 14fps for both if using the electronic shutter. However the older X-T2 can (theoretically) keep this sequence going for one additional Raw frame and two more JPEGs in a continuous sequence than the X-H1.
Does that matter? Well, again it depends on what you're buying the camera for. If you're shooting sports or wildlife, arguably every frame counts. Then again, so does having sharply focused images when using slower shutter speeds, which is where that built-in image stabilisation system might just give the X-H1 the slight edge.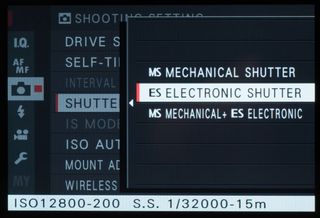 Without deploying the electronic shutter, both cameras can alternatively manage 11fps with the aid of their respective vertical power grips for extra oomph – otherwise it's a still very respectable 8fps for up to a maximum 33 Raw files or 83 JPEGs on the X-T2 or 31 Raw files or 80 JPEGs on the X-H1; again, barely a hair's breadth between them.