The Canon EOS R5 was launched in July 2020 (even though many people couldn't actually get their camera until months later, due to you-know-what). I bought an R5 of my own on day one, and have been using the system for well over a year thanks to testing pre-production models from Canon.
After using the Canon EOS R5 for both personal and professional shoots over the past year, I've come to absolutely love the camera… though there are some things about it that drive me ever so slightly up the wall.
So I thought it would be interesting to look at the 5 things I love and 5 things I hate about the R5 – but I'll drop a spoiler right here to save you looking for it: the overheating issue isn't among them.
I have only ever run into the overheating issue once, and that was when I was testing the camera for our review (read: when I was trying to overheat it). I shoot a fair amount of video – admittedly mostly in 4K 30p, where the issue doesn't exist, but I also shoot in 4K 60p (and occasionally in 8K) – and I simply don't have any problems.
If you primarily shoot high-res or high frame-rate video then, sure, you're probably going to hit more issues than me. But I can only speak for myself – and especially after all the firmware updates, it's just a non-issue for me.
Enough about that, though – here's what I really dig and what I really don't dig about the Canon EOS R5!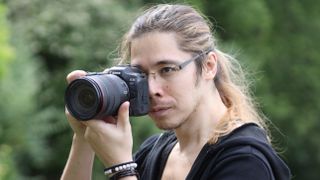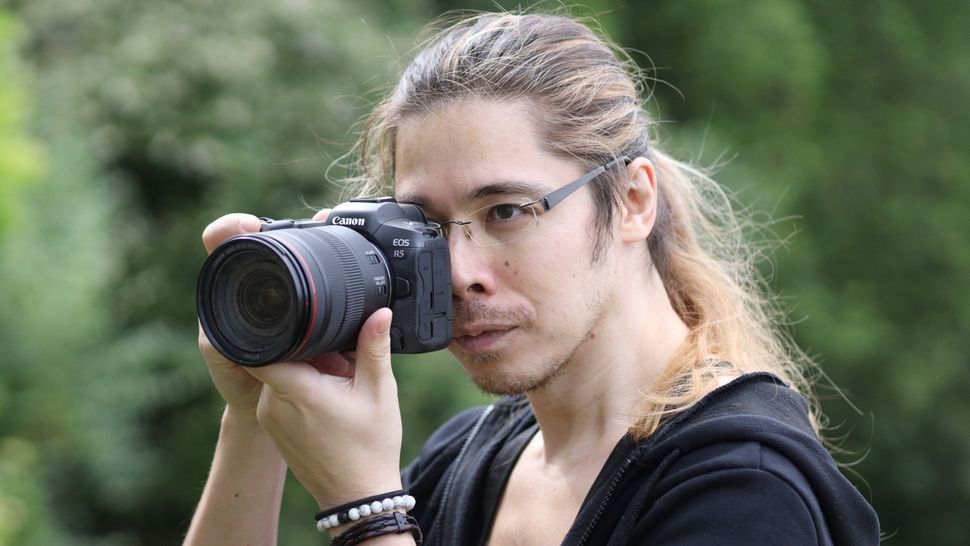 5 things I LOVE about the Canon EOS R5
1) Autofocus
Sony's AF used to be the gold standard of autofocus systems; I shot Olympic teams during training with the Sony A9 II and was absolutely blown away. To my mind, though, there is simply no contest – the AF in the R5 (which is the same that powers the Canon EOS R6) is simply the best I've ever used. It takes the Deep Learning AF that powers the human subject recognition of the Canon EOS-1D X Mark III and builds on it with truly astonishing Animal Eye AF.
I've written before that the Canon EOS R5 is a cheat code for wildlife photography, and I absolutely meant it. Just point this thing at an animal – any animal, in my experience – and the camera will recognize, lock and track its eyes, enabling you to just focus on composition and getting the right moment. It's just as much a cheat code for portraiture, too… the days of focus and recompose are over, forever.
2) One camera, any job
Related to the previous point, I can take the R5 on any job I'm commissioned for. If someone wants me to shoot pet photography, the camera's AF doesn't break a sweat. If someone wants me to cover sport, the 20fps electronic shutter speed makes mincemeat of it. If someone wants extra-high resolution for gallery or archival work, the 45MP image sensor gives me all the detail I need. If I'm filming content for a business, I have future-proof 8K DCI RAW if I want it.
As a working professional, if you want a camera that can handle any job you throw at it, the EOS R5 may be the best investment you ever make. And you don't even have to worry about forking out for new glass…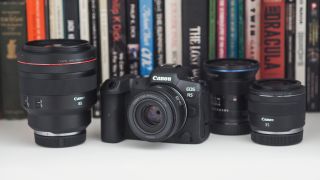 3) Lens selection
My first camera was a Canon AE-1, so I've used a lot of lenses on a lot of mounts over the years. However, the glass for the RF mount is some of the finest I've ever used. I can't get over how rapidly Canon has matured this mount, nor how innovative some of the lens choices are.
Want a $200 nifty fifty? You got it. How about an incredibly boutique 85mm f/1.2 with impossibly bokehlicious Defocus Smoothing? No problem. An 800mm f/11 lens that enables photographers to taste true telephoto wildlife photography for $900? Sure thing. But the best thing about the RF mount? You can use your EF lenses on it with absolutely native performance. I know, I know – everyone is suspicious of mount adaptors because they're historically crap, but here you get identical AF and focusing speed on all your old DSLR glass.
4) Video
I've kinda said my piece about the overheating issue already, so all that's left for me to say here is that the R5 shoots brilliant video – something that's helped immensely by the incredible autofocus. If I'm presenting pieces to camera (such as the pop-up videos you see of me on this website), I know I can move around in front of my busy bookcases and hold stuff up, and the camera will always focus on my face.
When I shoot content for businesses, I can deliver near-cinema camera quality footage all the way up to 8K video – and I can get dreamy depth of field and 120fps slow-mo even if I'm just shooting daft stuff for Instagram.
5) 8K Frame Grab
This is one of the least-celebrated features of the camera, and I might be the only person who cares about it – but I think it's brilliant. Maybe it's because I used to be a videogames journalist, where life often revolved around taking in-game screenshots. Either way, having the ability to record 8K video and take an absolutely pristine, 35MP still image from my footage is like manna from heaven. Have you ever been on a job, needing to shoot stills and video (hi, wedding photographers!), and getting the money shot during a video that you wish you'd captured as a photo? Plus, you can use this mode as a hack to shoot bursts at 30 (or, in 4K, even 120) fps!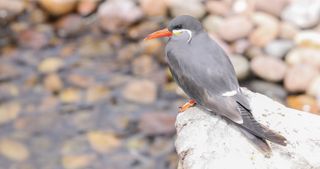 5 things I HATE about the Canon EOS R5
1) Conflicting card slots
The Canon EOS R5 has two card slots, which is cool. And I get that supporting SD cards is important, because it means people can adopt the system without having to invest in a whole bunch of expensive CFexpress cards. Buuuuuut, once you've gone CFexpress, you never go back – and I know a number of R5 owners who rarely bother putting an SD card in this camera, so it's effectively a single-slot body for some folks.
Now, if it had two CFexpress slots like the 1D X Mark III, it would make a huge difference – not least for video, where you could record high-end 4K and 8K footage to both cards simultaneously, which is something the R5 can't do (since SD cards can't handle the necessary speed for these video formats).
2) Ports on the same side as the LCD screen
This isn't an issue exclusive to the R5, but it's nonetheless an issue that afflicts it: the head and microphone jack, along with HDMI and USB ports, are on the same side of the camera from which the LCD screen flips out.
Obviously this is a huge pain for videography if you want to plug in an external mic and headset (let alone an external monitor or a USB power bank), especially when filming pieces to camera, as the plugs and wires obstruct the view of the screen. And even if you're just shooting regular video, with the screen flipped out and tilted, the plugs and wires impede your ability to move and position the LCD. I get it, there aren't many other places to plug in this stuff… though if this at least had a smart hot shoe like the Sony A7C so I didn't need need a jack for my mic, it would be a start.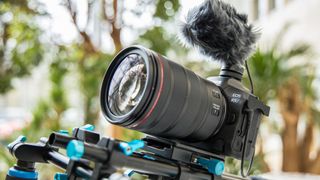 3) Pricey RF glass
As much as I love the RF lenses, most of them are still incredibly expensive. Yes, the likes of the Canon RF 50mmm f/1.8, Canon RF 85mm f/2 and Canon RF 600mm f/11 are finally bringing budget-friendly options to the line. However, as someone who owns the $2,700 Canon RF 85mm f/1.2L, it can't be denied that this glass can be seriously credit card-crushing (though truly phenomenal performers).
4) File sizes
Yes, I love the 45MP files and ability to shoot 4K and 8K RAW, but egad – the file sizes! The extra storage might actually bankrupt me before the expensive RF lenses do. Not to mention needing a pretty hefty computer to handle all this resolution. I know that this is just the price of admission for modern imaging, but still – I sure miss the days when I didn't have to plug in an external hard drive all the time.
5) Frame-rate dips with depleting batteries
This one is probably the most egregious issue with the R5, because unlike the video overheating issue it really snuck in under the radar: when your battery dips below about 60%, the maximum frame-rate takes a hit. So if you want to take sustained advantage of the blistering 20fps bursts, you're going to need lots of batteries topped up to 100%. Grr.
Read more:
Canon EOS R5 review
Canon EOS R6 review
Canon EOS-1D X Mark III review
Canon RF 50mmm f/1.8 STM review
Canon RF 85mm f/1.2L USM review
Canon RF 85mm f/1.2L USM DS review
Canon RF 85mm f/2 Macro IS STM review
Canon RF 600mm f/11 IS STM review
Canon RF 800mm f/11 IS STM review