The best Ultrabooks represent the ideal no-compromise laptop for most people: thin and light, with great battery life, yet still fast and responsive. The Ultrabook label was introduced to distinguish the very best Intel-powered Windows laptops, those designed to compete with the power and portability of the best MacBooks like the MacBook Air.
So whether you want to do intensive photo or video editing on the go, or simply have a do-it-all laptop for work and play, the best Ultrabooks can take pretty much anything you can throw at them.
However, because they are high-end, zero-compromise laptops, Ultrabooks aren't cheap. If you're on a budget, and can live without the familiarity of the Windows operating system and some outright speed, check out the best Chromebooks. These offer similar – and sometimes better – portability and battery life to most Ultrabooks, but can be a fraction of the price. Plus, we've also got a guide to the best budget laptops – Windows laptops that are likely to be bigger or slower than an Ultrabook, but again, will cost a lot less.
These days, the term 'Ultrabook' isn't used all that often, so you're unlikely to see many laptops specifically labelled as one. The laptops on this list may lack specific Ultrabook branding, but they all conform to the Ultrabook ethos of being super-thin and light, while offering slick, speedy performance and all while sipping battery power.
The best Ultrabooks in 2023
Why you can trust Digital Camera World Our expert reviewers spend hours testing and comparing products and services so you can choose the best for you. Find out how we test.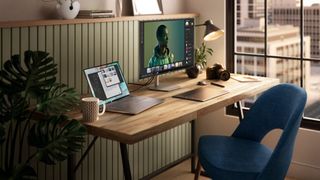 Dell laptops are a favorite among pro users, and it's the Dell XPS 15 that sits at the top of that mountain. The ultimate Ultrabook, it boasts a lot of power and all-day battery life in a stunning woven chassis that is the envy of all Windows laptops. Because it has several configurations available, you can choose the best one for your needs. You don't have to spend as much as a video editor would, for example, if you only need it for photo editing. That's a good thing, since this is one of the priciest consumer-level notebooks today. On the other hand, if you have some extra cash lying around, you can go for the kitted-out model that should see you through the most demanding 4K video workloads. You can even shell out for the OLED 4K model for a richer viewing experience.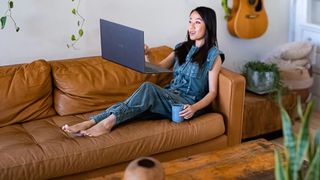 The LG Gram 17 has won awards for its design, and for a good reason. It's so light, especially for a 17-inch laptop, that you'll think it's defying the laws of physics. It's not, though; it's just brilliant engineering. However, unlike other 17-inch (and some 16-inch) laptops, it isn't powerful enough for video editing and graphic design tasks. This is best suited for lighter photo editing workloads and lots of productivity work, even if you do get the GTX 1650 Ti model. In other words, this is the laptop you should take with you when you're traveling for work but not planning on doing any arduous editing on the road. That's especially because it boasts a 17-hour battery life, which means it'll see you through long-haul flights and whole-day drives.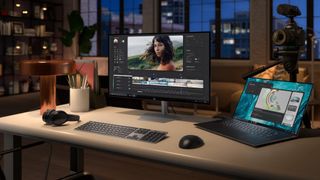 While it doesn't have as many options as its 15-inch counterpart, the Dell XPS 17 does have its Intel Core i7, RTX 3050 configuration to see you through your video editing or 3D graphic design needs. The best part about the XPS 17 is that while it may be larger and heavier, it also comes with a bigger display, allowing you more space when hooking up to a stand-alone display isn't possible. That bigger screen should give you plenty of room to spread out and have a seamless workflow even when you're editing 4K videos. Naturally, since it is an XPS laptop, it boasts the same sleek and classy design that tells everyone they're dealing with a pro.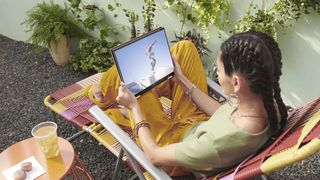 The x360 moniker in the HP Spectre name refers to the touchscreen's ability to flip round through 360 degrees so the laptop can convert to a tablet. Windows 10 automatically detects the screen's position and adapts the interface to be more touch-friendly. While not a feature typical of an Ultrabook, it is useful if you regularly use your laptop on the go and can't always find a surface to rest it on. Hybrid laptops like this don't always work. Some have hinge issues, while others are too thick to work as tablets. The HP Spectre x360 14-inch, however, has mastered both. Those two hinges are robust. Yet they turn effortlessly, making transitions from one mode to another seamless. Meanwhile, its size and thickness make it easy to use in its tablet form.
There's also plenty of power in this portable frame. We wouldn't use this for video editing since all current models only have integrated graphics, but there's more than enough for photographers to do some editing work. And, at the end of the day, flip it to tent or presentation mode for streaming the latest blockbuster or to tablet mode for a bit of reading before sleep.
Two Thunderbolt 4/USB 4 Type-C ports, one USB Type-A port, a Micro SD slot and a headphone jack make up the physical connectivity. There's also plenty of image editing power thanks to a quad-core 11th-gen Intel Core i7 processor and 16GB of RAM.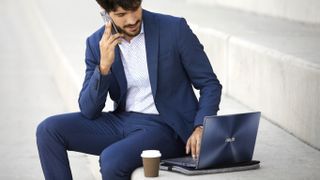 The Asus Zenbook 13 has received its share of accolades, especially for being one of the world's smallest 13-inch laptops. And, if you're looking for the most lightweight and compact travel companion, this is the best Ultrabook for you. It comes with a few other merits as well. Its NanoEdge display is practically bezel-free, and its trackpad moonlights as a second screen, giving it a whole new slew of functionalities. For the more budget-conscious consumers, however, its most attractive feature is its price tag. We're not saying it's a budget laptop because it's certainly not. However, it is one of the more affordable Ultrabooks, starting at under $800/£800.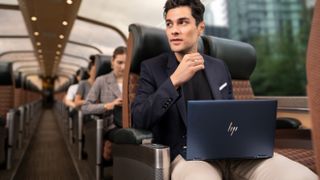 If you want a business Ultrabook, prepare to pay a hefty price. Business laptops are already typically expensive. Put them in a thin and light chassis, add in long battery life, and you've got yourself one pricey investment. However, if you need all the security of a business laptop in the travel-friendly form factor of an Ultrabook, then it's a price worth paying. That's especially true for the HP Elite Dragonfly G3, which is among the best business laptops on the market today. Beyond the price, you'll be hard-pressed to find fault in it. It boasts a comfortable keyboard, stylish design, stunner of a screen, and a fast-charging battery with up to 12 hours of juice. It's raising the business laptop bar, and if you have the money, this is the one to get.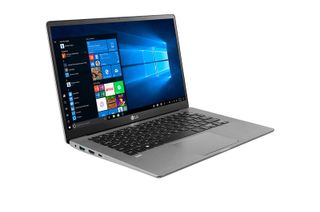 LG makes the Gram in three screen sizes: 14-inch, 15-inch, and 17-inch. All have their pros and cons for portability vs. viewing ease, but the svelte 14-inch model makes most sense as a go-anywhere Ultrabook. You get a Full HD 1920x1080 resolution; not the highest, but you do get a terrific 99% DCI-P3 color space coverage, and the Full HD res is still enough to produce a crisp viewing experience.
The Gram range as a whole is all about portability. The 14-inch version is only 1kg - compare this to the equally small Lenovo 14-inch ThinkPad X1 Carbon that weighs around 1120g and the Gram is noticeably lighter in the hand. The slim design still has room for a versatile selection of two USB-A ports, two USB-C/Thunderbolt 4 ports and an HDMI port, plus a microSD slot.
The Intel Core i7-1165G7 quad core processor isn't the most powerful you'll find in an Ultrabook today, but it is especially power efficient, enabling a tremendous battery life of up to 25.5 hours per charge.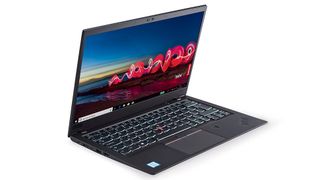 The Lenovo ThinkPad X1 Carbon has long been one of the best Ultrabooks out there, thanks to its compelling blend of high performance and sleek, lightweight design.
The current, 9th gen, X1 Carbon can be specced with several 14-inch screen options. All have at least a resolution of 1920 x 1200 and a respectable 400-nit max brightness, plus 100% sRGB color coverage. The range-topping display is an ultra high res 3840 x 2400 panel with a 500-nit brightness and a hugely impressive 100% DCI-P3 color space coverage.
Elsewhere, bang-up-to-date 11th-gen Intel Core processors provide ample computing power, and though RAM appears to top out at 16GB, you can customise some X1 Carbon configs to pack 32GB. However, it's a pity the RAM comes soldered to the motherboard, so cant be swapped out for higher capacity modules at a later date. This also means you'd be unwise to settle for a base 8GB X1 Carbon, as this is a bit restrictive to qualify as an Ultrabook.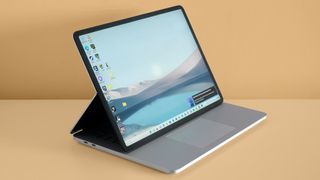 Want a laptop and tablet in one svelte package? The Surface Laptop Studio could be the answer. Where most 'hybrid' laptops like this use a 360-degree hinge to achieve the transformation, the Surface Laptop Studio has a dual hinge. It can open up like a normal laptop, but a secondary hinge around the centre of the display lets you pull the screen forwards so the bottom locks in place magnetically just above touchpad. Or it can sit flat where the lid would usually be. This gets you the "fat tablet" style of a 360-degree hinge, without leaving the keyboard sitting awkwardly underneath.
Power comes from fairly potent 11th-gen Intel H-series processors, while big spenders have the option of Nvidia RTX 3050 Ti graphics for hardware video acceleration. Max out the option list and you can be rewarded with 32GB RAM and 2TB of SSD storage.
A great display, a clever cooling system, good stylus support and decent performance make this an unusually versatile laptop - one that can do things a MacBook Pro simply can't. Just don't get too carried away with speccing this up, as the price can escalate far faster than any potential performance increase.
Microsoft Surface Laptop Studio full review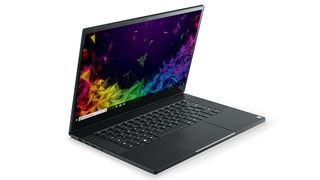 Ok, so the Blade 15 4K is primarily a gaming laptop - not stricty an Ultrabook - and it'll guzzle battery juice if you unleash its full performance. But, unlike most gaming laptops, the Blade 15 is slim and fairly light, and its talents don't stop with gaming.
The 15.6-inch 4K screen, which in the range-topping Blade 15 Advanced model is now an OLED panel, is capable of stunning color vibrancy and contrast, making it ideal for photo or video editing. It's even touch-sensitive, with a super-fast 300Hz refresh rate for ultra-smooth gaming, if that's your thing.
All Blade 15 configurations come equipped with the latest blazing-fast GeForce RTX 30-series graphics cards. That's great for gaming at 4K resolution, where it'll give a noticeable performance boost, but apps like Photoshop won't really use the extra oomph. Solid build quality with excellent heat ventilation, as well as the three conventional USB ports are easily-overlooked plus points, while premium models sport Thunderbolt 4 ports and a UHS-III SD card reader.
How we test laptops
When reviewing a laptop, we assess its internal hardware features, build quality, ergonomics, performance in a variety of usage scenarios, value for money, and its overall suitability for its target buyer. Although we'll evaluate a laptop with a typical user in mind, we will also pay particular attention to the perspective of photo and video enthusiasts, with special focus given to screen quality and color space coverage. Where possible, a monitor calibrator will be used to measure a laptop's display performance to assess whether it matches a manufacturer's claims, and software benchmarks like GeekBench are used to measure a laptop's processor and graphics card capabilities.
Read more:
• Best Chromebooks
• Best MacBooks
• Best laptops for photographers
• Best laptops for video editing
• Best student laptops
• Best desktop computers
• Best external hard drives
• Best monitors for photo editing