In terms of what you need from a laptop, video editing and video gaming are not all that different: enter the Acer Predator Helios 300, which is undoubtedly a gaming laptop first but will serve you very well as a video editing rig too.
We're reviewing the 17-inch model here (a 15-inch version is also available), which means you're sacrificing portability for screen size. Yes, you can carry it around if you like, but it's a struggle – and you shouldn't expect too much in terms of battery life.
If you want plenty of power, would like to play the best PC games around, and have a sizable sum currently sitting in your bank account, the 17-inch Acer Predator Helios 300 is well worth putting on your shortlist.
Specifications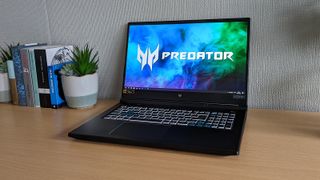 The Predator Helios 300 is available in a wide variety of configurations. We've already mentioned the 15-inch and 17-inch variations, but you can also pick from a few CPU, RAM, GPU and storage options. We can only review the unit we were sent, but if you want to spend more or less then there is that flexibility.
Our test laptop came with an 11th-gen Intel i5-11400H processor, 8GB of RAM, a hefty 2TB of storage, and an Nvidia RTX 3050 Ti GPU with 4GB of dedicated memory – for reference, it's the PH317-55 model, though even that has different options within it.
That's firmly within the mid-range as far as gaming laptops go, and while you can get much better specs – within the Helios 300 line as well as anywhere else – you will of course have to pay for them. For a lot of video editing and gaming needs, this is a configuration that will cope with everything more than adequately.
Key features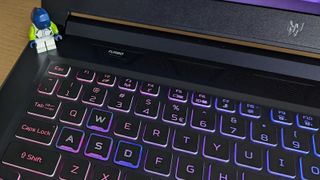 You're really buying this laptop for the 17-inch display and the GPU power – if those are both important to you, get this on your shortlist, because the Acer Predator Helios 300 is going for a reasonable price considering everything you get in return. The screen, with its 144Hz refresh rate and 1,920 x 1,080 resolution (other configurations are available), is bright, crisp, vivid and perfect for games.
There's plenty in the way of ports too, for attaching up your second monitor, your external storage, and whatever else: you get two USB 3.2 Gen 1 Type-A ports, one USB 3.2 Gen 2 Type-A port, one USB 3.2 Gen 2 Type-C port with Thunderbolt 4 support, one HDMI 2.0 port, and an Ethernet port for a rock-solid internet connection. There's also a 720p webcam embedded in the top display bezel, but it doesn't support facial recognition for logging into Windows more easily (and there's no fingerprint sensor either).
Nvidia RTX 30 series cards are the best in the business at the time of writing, and that makes the Acer Predator Helios 300 worthy of your consideration – but then plenty of other gaming laptops feature the same series of GPUs as well.
Build and handling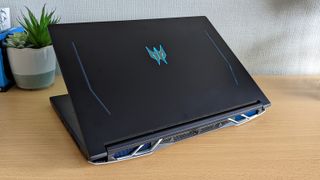 There's no disguising the fact that this is a big, bulky, gaming laptop – you can pull it out in a coffee shop, but it's going to attract some attention. The large, illuminated blue Predator logo on the laptop lid is a part of that, as are the rainbow lighting effects on the keyboard, all of which can be customized as required.
What can't be changed are the large air grilles for keeping the internal components nice and cool, and the sheer size and bulk of this laptop (it measures 398 mm x 275.3 mm x 26.55 mm when closed and weighs in at 2.90 kg). It's worth mentioning that this laptop will get rather loud and hot under intense load, but no more so than other comparable gaming machines with the same config.
The keyboard and trackpad are a pleasure to use, offering a fine level of responsiveness and a premium feel, and a word too on the stereo speakers: they're by no means best-in-class, but they do a surprisingly decent job when it comes to movies, music, games, and anything else that comes with audio.
Performance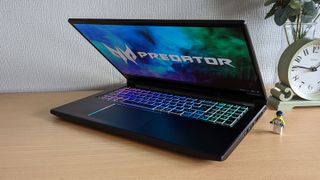 In a word: impressive. The components packed inside the Acer Predator Helios 300 ensure that pretty much everything flies on this laptop, even the most demanding games of the moment. Okay, an RTX 3080 or RTX 3090 will push frame rates higher still, but the RTX 3050 Ti avoids eye-watering prices while still doing most top-end games justice, especially at 1080p (an RTX 3080 configuration is actually available on the Helios 300). You'll have no problem with complex image or video editing projects here.
An overall PCMark 10 score of 5,691 backs that up: 9,013 on Essentials, 8,020 on Productivity, and 6,920 on Digital Content Creation. In our tests the laptop earned a Photo Editing Score of 9,234, a Rendering and Visualization Score of 7,521, and a Video Editing Score of 4,773. On the 3DMark Time Spy benchmark, meanwhile, the laptop scores 5,283 (just below the gaming laptop average of 5,730). In the time we spent with the laptop we noticed no hints of slowdown, stuttering or lag.
Battery life is pretty dismal, as you would expect from a gaming laptop like this. The battery lasted almost four hours on our video streaming test – though that was with the screen at maximum volume and the volume set low, so dimming the display and plugging in headphones would give you a bit more time. If you're gaming or editing video, you'll get way less than that, and might struggle to get much over an hour.
Verdict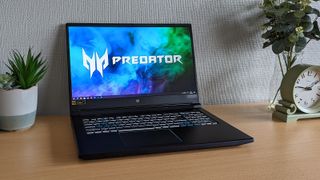 How much you love or loathe the Acer Predator Helios 300 is really going to depend on what you want from your laptop. Obviously the aesthetics of this laptop are designed to appeal to gamers, down to the highlighted WASD keys on the keyboard – if you're not a gamer then you're not going to want this laptop.
If you are a gamer and you want a high-spec rig that's going to excel at other demanding tasks – like, say video editing – then this may well fit the bill. It certainly impresses in terms of its performance, its build quality and its size, as well as the typing and trackpad experience. With so many similarly priced and similarly specced laptops around though, we think it's going to be the looks of this model or perhaps some brand loyalty to Acer that will tip the balance in favor of the Predator Helios 300.
Then there are of course the best Macbooks to consider as well – not for gamers, but great for high-end creative work. That's a lot of competition for this laptop, but we reckon that it manages to hold its own, as long as it's not going to be unplugged very often and you spend a considerable amount of time gaming.
Read more
• Best student laptops
• Best Chromebooks
• Best Ultrabooks
• Best photo editing laptops
• Best laptops for video editing
• Best desktop computers
• Best Mac printer
• Best external hard drives
• Best monitors for photo editing
• Best USB-C hubs