Compact cameras have pocket-sized proportions that DSLRs and mirrorless cameras can't match, as well as point-and-shoot simplicity or big zoom ranges that you just can get with an interchangeable lens camera.
And while it's true that cameraphone technology has improved so much that the point-and-shoot compact camera market has shrunk, the latter has gone upmarket in response. Today compact cameras use larger sensors for better image quality, boast high-quality metal bodies and feature powerful features like raw shooting and old-school manual controls, together with state-of-the-art 4K video capabilities.
For photographers who don't want to compromise on quality, these premium compact cameras are the answer. And there are a lot of cheap camera deals right now that make buying one a much easier decision, too. Our price tracking tool is pulling in today's best offers below, so you can be sure you're getting the cheapest compact camera prices possible.
UPDATE: Several makers have updated their premium cameras with new models, so we've updated our buying guide to include these new and exciting additions and to reflect the latest changes in the compact camera market.
So which is the best compact camera for you? Well, it depends what you want to use it for. Our guide includes quality cameras small enough to fit in a jacket pocket, premium fixed focal length cameras that recall the best traditions of classic designs, and high-powered superzoom or 'bridge' cameras with huge zoom ranges for real all-in-one versatility. If you're shopping for younger members of the family, check out our list of best cameras for kids.
Read on for our pick of the best compact cameras right now.
1. Panasonic TZ200 / SZ200
With a 15x zoom range and 1-inch sensor packed into a pocket-sized body, this is the best compact camera right now
Type: Compact | Sensor: 1in | Megapixels: 20.1MP | Lens: 24-360mm f/3.3-6.4 (equiv.) | LCD: 3in fixed touchscreen, 1.24 million dots | Viewfinder: EVF | Maximum continuous shooting speed: 10fps | Max video resolution: 4K | User level: Beginner/enthusiast
Big zoom for a pocket camera
High quality 1-inch sensor
Built-in electronic viewfinder
Sharpness fall-off at full zoom
If you're going travelling, the last thing you want is to be weighed down with kit. But you do want a camera that can capture any kind of subject, and is as close as possible to the quality of a 'proper' camera. That's what the best travel cameras get right, and the Panasonic TZ200/SZ200 is right at the top of the tree. It replaces the older TZ100/SZ100, which is still on sale and one of our past favourites. The TZ200/SZ200 keeps the same 1-inch 20-megapixel sensor – but adds in an even longer-range 15x zoom lens. This covers a 24mm wide-angle view, right up to a long-range 360mm equivalent telephoto setting. It's not the longest zoom range of any travel camera, but it's the longest you'll get in a pocket camera with a sensor this big. The TZ200/SZ200 produces excellent JPEGs images straight from the camera, just like its predecessor, and has the option of raw shooting and and 4K video. A macro mode lets you focus on subjects just 3cm away, and Panasonic's 4K photo mode can generate 8K images from burst sequences shot at 30 frames per second. With the 4K Photo mode you can even choose your focus point after you've taken the picture. The Panasonic TZ200/SZ200 is easily one of the best compact cameras you can buy right now.
2. Canon PowerShot G7 X Mark II
When it comes to handling, Canon's classy compact has it made
Type: Compact | Sensor: 1in | Megapixels: 20.1MP | Lens: 24-100mm f/1.8-2.8 (equiv.) | LCD: 3in touch-sensitive tilting LCD, 1.04million dots | Viewfinder: No | Continuous shooting: 8fps | Max video resolution: Full HD | User level: Enthusiast
Good lens range
Pleasing default JPEG output
Slightly soft images at wide end
No 4K video
With its 1in-type 20.1MP CMOS sensor, DIGIC 7 processor, Raw shooting, a lens equivalent to 24-100mm f/1.8-2.8 and 8fps burst shooting, the Canon PowerShot G7 X Mark II compact camera is a solid choice for photographers more interested in function over form. It might not have the 'look at me' factor in terms of raw specifications compared with some of its rivals – there's no 4K video option, for example – but handling, image quality and operation are all excellent. Its low-light performance is a particular high point, as is the typically punchy Canon colour palette. The model's 1in-sensor-toting rivals include the Sony RX100 V and Panasonic LX15/LX10, but the PowerShot G7 X Mark II's more generous grip gives better purchase compared with the slim lines of the other two, while its spread of manual controls, 3in tilting touchscreen and image stabilisation make for a satisfying shooting experience. This is a very good compact camera.
3. Fujifilm X100F
Fusing a DSLR-sized APS-C sensor with superb build and handling, this is the best compact camera for enthusiasts
Sensor: APS-C | Megapixels: 24.3MP | Lens: 23mm f/2 | Monitor: 3in fixed, 1,040,000 dots | Viewfinder: Hybrid optical/EVF | Continuous shooting: 8fps | Max video resolution: 1080p | User level: Expert
Gorgeous design and build
Great sensor and lens
Pricey
A little bulky
A retro design, unique hybrid viewfinder and large (for a compact) APS-C sensor made the original Fujifilm FinePix X100 one of the most desirable fixed-lens digital cameras at the time of its 2011 release. The first 'X' camera was superseded by the X100S and the X100T, each of which fine-tuned the formula – but it's the fourth iteration, the Fujifilm X100F, where everything has come together beautifully. A new control layout, a third-generation 24.3MP X-Trans CMOS III sensor (with no low-pass filter), an expanded sensitivity range and improved AF might appear more evolution than revolution, but it's the combination of these refinements that delivers a step-change in performance. The aforementioned sensor, fixed 35mm-equivalent f/2 lens, X-Processor Pro engine and Film Simulation modes combine to deliver super images – and taking them brings just as much pleasure. Make no mistake, it's not cheap, but the X100F is a magnificent compact camera for photography enthusiasts.
4. Panasonic LX100 II
Its unique multi-aspect Micro Four Thirds sensor makes this Lumix model a dream for expert photographers
Type: Compact | Sensor size: Micro Four Thirds | Megapixels: 17MP | Lens: 24-75mm, f/1.7-2.8 (equiv.) | LCD: 3in fixed, 1,24 million dots | Viewfinder: EVF | Continuous shooting: 11fps | Max video resolution: 4K | User level: Enthusiast/expert
Only compact with MFT sensor
Fast f/1.7-2.8 lens
4K video, 4K Photo modes
17MP is lower than some rivals
The trouble with big sensors is that you need big lenses to go with them, so there goes any kind of pocketability. Usually. But Panasonic has really hit the sweet spot with the Panasonic LX100 II. It combines a Micro Four Thirds sensor that's not much smaller than the ASP-C sensors in mode DSLRs, with a miniaturised lens assembly that powers down into a camera body slim enough to carry around anywhere. The LX100 II is a brand new version of the original LX100, which was, admittedly, starting to show its age. The new model has a 16-megapixel 'multi-aspect' sensor, which means you can use its native 4:3 aspect ratio, the 3:2 ratio used by most DSLRs and mirrorless models, or a 16:9 'wide' format without cropping the image and losing pixels. With an external shutter speed dial, lens aperture ring and aspect ratio switch, the LX100 II is a dream compact camera for enthusiasts and experts.
5. Leica Q (Typ 116)
Money no object? This luxury compact camera blends full-frame quality and tradition
Sensor: Full frame | Megapixels: 24MP | Lens: 28mm f/1.7 | Monitor: 3in fixed touchscreen, 1.04million dots | Viewfinder: EVF | Continuous shooting: 10fps | Max video resolution: Full HD | User level: Expert
Excellent build quality
Very sharp lens
Fixed focal length
No 4K video
You'll need deep pockets – both literally and figuratively – to accommodate this full-frame compact camera. The Leica Q is ferociously priced in comparison to most other point-and-shoots, but if your budget can stretch to it you'll get your money's worth. This premium hunk of camera features a very fast, 28mm f/1.7 stabilised lens, together with a 24.2MP full-frame sensor, all wrapped up in luxurious Leica build quality. Stylistically the Q shares a lot in common with Leica's M-Series rangefinders, but it incorporates a 3.68million dot electronic viewfinder and a touchscreen, and it's also the company's first full-frame camera to boast autofocus. What it lacks in modern compact camera fringe features, such as an extensive range of filter effects, it makes up for with a solid core of traditional exposure controls and excellent image quality. It's easily one of the best compact cameras out there.
6. Panasonic LX15 / LX10
With its bright lens, this Lumix shines in low-light conditions
Type: Compact | Sensor: 1in | Megapixels: 20.1MP | Lens: 24-72mm f/1.4-2.8 (equiv.) | Screen: 3in tilting touchscreen, 1,040,000 dots | Continuous shooting speed: 10fps | Max video resolution: 4K | User level: Enthusiast
Large sensor in tiny body
Great image and video quality
No viewfinder
Lack of integrated ND filter
The Lumix LX15 is another Panasonic compact that packs an impressive scale of performance for its diminutive size. The big talking point is its 24-72mm (equivalent) Leica lens. It's not so much the focal length range – which, after all, offers a shoulder-shrugging standard coverage – but rather the bright f/1.4 maximum aperture available at the wide end. A large aperture like this means that the ISO doesn't have to be pushed as high to achieve fast shutter speeds in low light, helping to keep noise at bay. The camera has a reliable AF system too, further improving the chances of getting sharp shots, although the lack of proper grip isn't ideal. Like the Panasonic TZ100 and FZ2000 superzooms, the LX15 has a 20.1MP, 1in-type CMOS sensor at its heart, which not only gathers more light than a traditional compact camera sensor, but also captures 4K videos. Image quality for both photos and videos is excellent too, which is the prime reason for upgrading from a smartphone to a point-and-shoot camera like this one.
7. Ricoh GR II
It's a specialist tool, but this compact delivers where it counts
Type: Compact | Sensor: APS-C | Megapixels: 16.2MP | Lens: 18mm f/2.8 (equiv. to 28mm) | LCD: 3in fixed, 1,230,000 dots | Continuous shooting speed: 4fps | Max video resolution: 1080p | User level: Enthusiast
Solid build
Excellent detail in images
Fixed lens (but sharp!)
No touchscreen
It might be a bit long in the tooth, but the Ricoh GR II still has plenty to satisfy the photography enthusiast and although there is a 24-megapixel Ricoh GR III waiting in the wings, it's still only in the development phase. Meanwhile, the GR II has lots of appeal for enthusiasts. There's little in the way of extraneous attention-grabbing features to plump out its specifications sheet; instead, what you get with the GR II is a camera that gets the basics right, including a large 16MP APS-C sensor, Raw shooting, a fixed 28mm (equivalent) f/2.8 lens that's remarkably sharp, and a body that features magnesium alloy for light weight and strength. The GR II does pack one modern convenience in the shape of Wi-Fi, which allows for remote camera control and image transfer via a smartphone. The camera's a great choice for street photography and landscapes, but its wide-angle lens means that it's a poor option for close-up portraits, sport and wildlife. That said, spend a bit of time with the GR II and you'll appreciate the unfussy, focused way it goes about its business.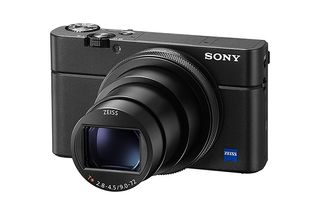 8. Sony RX100 VI
Amazing processing power and zoom range in a pint-sized body
Sensor: 1in | Megapixels: 20.1MP | Lens: 24-200mm, f/2.8-4.5 | LCD: 3in tilting, 921,600 dots | Viewfinder: EVF | Maximum continuous shooting: 24fps | Max video quality: 4K | User level: Intermediate/expert
Great image quality
8.3x zoom range
24fps burst shooting
Pretty expensive
It isn't hard to see why this model made our list of the best compact cameras. When it comes to high-end features, few premium compacts can match the Sony Cyber-shot RX100 VI. In fact, it even makes some mirrorless cameras and DSLRs look positively sluggish. This is a camera that can shoot full-resolution bursts of images at 24fps, with continuous AF and auto exposure maintained throughout. The camera also boasts a generous 315 phase-detect AF points and can record 4K footage that's down-sampled from 5.5K resolution for sharper results. There are a few odd omissions for a camera of this calibre – a touchscreen, for example – and the lack of a decent hand grip is disappointing. Also, its 2.9x optical zoom feels a bit out of proportion with its action-stopping, sports-friendly burst rate, and it's perhaps not as easy to get to the manual controls as some of its rivals. But – and it's a big but – the sophistication of its specs sheet is undeniable. If you want one of the most advanced compact cameras on the market, go for the RX100 VI. And if your budget doesn't stretch, the RX100 IV is an excellent alternative.
9. Panasonic Lumix FZ2500 / FZ2000
This bridge-style compact camera leads the pack when it comes to 4K video recording
Type: Superzoom compact | Sensor: 1in | Megapixels: 20.1MP | Lens: 24-480mm f/2.8-4.5 (equiv.) | Viewfinder: EVF | Screen type: 3in vari-angle touchscreen, 1.04million dots | Max burst speed: 12fps (30fps at reduced resolution) | Max video quality: 4K | User level: Enthusiast
Strong video specs
Useful lens range
No weather sealing
Sony RX10 III boasts longer lens
Panasonic knows how to build great-value hybrid cameras that offer an extensive suite of video features in addition to catering for first-class stills photography. The Panasonic Lumix FZ2000 is a fitting example, able to record both 4K DCI and 4K UHD footage at 30p and 24p, as well as Full HD at 60p, and it's stuffed with useful features such as focus peaking, zebra stripes, SMPTE Time Code and colour bars. It also has two built-in ND filters to help with exposure of videos, another feature normally associated high-end camcorders. Styled like a miniature DSLR, the FZ2000 is a superzoom camera that ticks all the essentials for stills too, offering excellent image quality courtesy of its 20.1MP 1in sensor, together with a very fast AF system and highly effective image stabilisation technology – essential when you're packing a whopping 24-480mm f/2.8-4.5 zoom.
Read more: The best bridge cameras
10. Sony RX10 IV
Not just another 'bridge' camera, the RX10 IV has one foot in the pro market
Type: Superzoom compact | Sensor: 1in | Megapixels: 20.1MP | Lens: 24-600mm f/2.4-4 (equiv.) | LCD: 3in tilting, 1.44 million dots | Viewfinder: EVF | Continuous shooting: 24fps | Max video quality: 4K | User level: Enthusiast/Expert
Excellent, consistent lens
Great image and video quality
Uprated autofocus
Expensive for a bridge camera
At first sight, the Sony RX10 IV looks like a very big, expensive and not very unusual long-zoom camera. But you need to look closer, because what Sony has actually made is perhaps the world's first 'professional' bridge camera. It features a 20-megapixel 1-inch sensor to deliver far higher image quality than the typical bridge camera, married up to a long-range 24-600mm equivalent f/2.4-4 lens that doesn't just offer a faster maximum aperture than a typical bridge camera, but uncharacteristically good image quality at its maximum zoom setting. This is where nearly all long-zoom cameras fall down, but the RX10 IV stays sharp right through its focal range. It has this much in common with its predecessor the RX10 III, also a favourite of ours and still on sale at a lower price. But that camera's autofocus grew sluggish at high zoom settings and while recording video, while the RX10 IV adds a far faster and more powerful hybrid AF system adding no fewer than 315 phase detection AF points. The RX10 IV's image quality is even more relevant for pro videographers, as its long-range zoom 4K recording and efficient autofocus make it a powerful alternative to regular interchangeable lens cameras.
Read more: The best cameras under £500/$600
Also read: