There are not many new full frame fixed lens cameras nowadays, especially premium cameras. Since Sony offed its RX range, this has effectively left Leica with an open goal for its Q series of cameras, but Leica being Leica, it is still going to showboat before kicking the ball into the net.
The Leica Q series began in 2015, with the idea of a full-frame compact camera that balanced exceptional image quality and intuitive controls. The Leica Q's 28mm f/1.7 lens also won significant praise, with many likening it to Leica's finest M series lenses. Building on this success, Leica introduced the Leica Q2 in 2019, featuring a higher resolution sensor, weather sealing, and improved usability. Leica is now back with the third iteration of the Q series, the aptly named Leica Q3.
The Leica Q3 aims to take everything that was beloved from the previous two versions, including the same renowned fixed 28mm lens, but build upon it with new cutting-edge technology. However as the Q3 surges ahead into the future, can Leica still maintain the magic of the past versions?
Leica Q3: Specifications
Photo: 60.3MP (9520x6336), 36.5 MP (7404x4928), 18.6MP (5288 x 3518)
Photo formats: DNG 14 bit / JPG 8 bit
Video: 8K 29.97p 4:2:2/10 bit, max 29 minutes; 4K 59.94p 4:2:2/10 bit; FullHD 119.88p 4:2:2/10 bit
Video formats: H.265, H.264, ProRes
Processor: Leica Maestro IV
Autofocus: contrast metering, depth mapping, and phase comparison
ISO Sensitivity: 100 to 100,000
EVF: 5,760,000dots, 120fps, magnification: 0.79x
Screen: 3" TFT LCD, approx. 1,843,200dots, 384ppi, aspect ratio 3:2, touch panel
Connectivity: Bluetooth, WiFi, HDMI, USB Type-C 10Gbps
Storage: 1x UHS-II, UHS-I, SD/SDHC/SDXC
Weight: Approx. 743g/658g (with/without battery)
Leica Summilux 28 f/1.7 ASPH.
Groups: 11 lenses in 9 segments, 3 aspherical
Filter thread: 49mm
Digital Zoom: 1.25x (35 mm), 1.8x (50 mm), 2.7x (75 mm), 3.2x (90 mm)
Aperture: F1.7 to F16
Max shutter: 1/2000s mechanical, 1/16000s electronic
Min focus: 30cm / 17cm Macro
Leica Q3: Key Features
The camera incorporates Leica's new back-illuminated CMOS sensor with Triple-Resolution-Technology, providing users with three resolution options: 60, 36, or 18 megapixels, all utilizing the full sensor width. The 60-megapixel setting captures the finest details, while the lower resolution options offer faster operation, longer image sequences, smaller file sizes, and a slight increase in dynamic range. Powering the camera is the latest Maestro Series processor with L2 Technology.
In addition to photography, the Leica Q3 caters to content creators by offering 8K video recording capabilities and support for codecs such as H.265 and Apple's ProRes. The camera can be connected to external devices like gimbals, power banks, and display recorders via USB-C and HDMI ports. Tethered shooting is also supported using the USB-C cable connection.
The Leica Q3 boasts a fixed Leica Summilux 28 mm f/1.7 ASPH. lens, providing a natural wide and versatile perspective. The lens's wide f/1.7 aperture allows for excellent low-light performance and attractive background blur. It also features an integrated macro mode for close-up shots.
The camera introduces an extended digital zoom enabled by the 60-megapixel sensor, allowing users to capture cropped images at various focal lengths. The Q3 offers additional features like Leica Perspective Control (LPC) for straightening perspective anomalies and Leica Dynamic Range (LDR) for producing high dynamic range JPEG images without post-processing.
Improvements to the autofocus system include a hybrid autofocus system with phase detection for precise focus and fast object tracking. The Q3's intelligent subject recognition recognizes human bodies, faces, and eyes, as well as animals for subject tracking.
The camera features a 5.76-megapixel OLED viewfinder and a tiltable 3-inch high-resolution touchscreen on the rear, offering unique viewing angles and expanded creative possibilities. It maintains its durability with IP52 certification, safeguarding against dust and water.
Connecting to the Leica Photos app is now easier with Bluetooth, WiFi, or the dedicated certified cable for iPhone and iPad. Transfer speeds have been significantly improved, enabling seamless mobile workflow and easy video transfers to smartphones. The app also allows users to apply special Leica "looks" directly to photos for a distinctive style.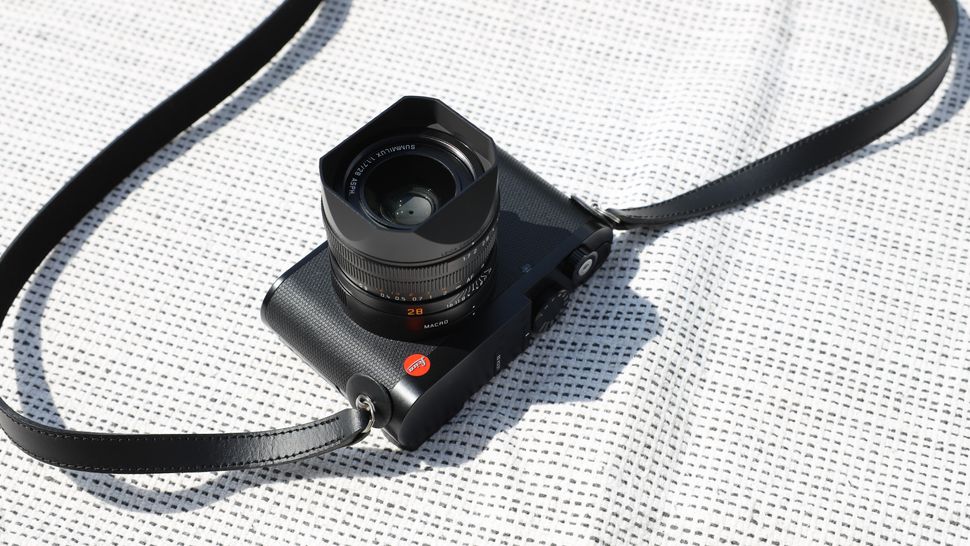 Leica Q3: Build & Handling
For anyone familiar with Leica cameras, especially the Q2, then it will come as no surprise that the build quality of the Leica Q3 is outstanding. The body is metal with a textured grip on the front which just feels oh so premium to hold, and the familiar red dot logo sits prominently in the top right corner. The body is also dust and water-resistant, although thankfully we have having a rare spell of sunshine in London, so didn't need to test this.
The rear of the camera has had a welcome upgrade from the previous version. There are now three custom function buttons, by default these are set up for ISO on the top dial, and on the rear, one for switching between photo and video quickly, and the other for changing the digital focal length of the camera. I didn't even think about changing them, I think Leica has really nailed the key features most shooters want from this camera. If you do want to change them though, then this is easily done by holding in the button until the menu pops up.
The screen on the rear of the camera is very sharp and clear, photos I shot looked amazing on this screen and gave me a happy little buzz each time I reviewed my images and I could just see them pop. And now the screen tilts, so you can shoot at more tricky angles, which is quick and easy to do, and the mechanism feels very robust. The OLED electronic viewfinder is a very nice experience, it is large and clear and I just enjoyed composing images through it. There is a minor note, where it seems to change resolution once focus is locked, which is not an issue per se, just an odd quirk.
The lens remains the tried and tested 28mm lens from previous versions of the Q series, and when a lens is this nice, why would you change it? The lens feels as premium as the camera body. The lens has a very nicely tight aperture ring that is smooth to turn but also stays put, which I found very pleasing as I despise loose controls. There is a ring at the base of the camera for switching between macro mode and regular shooting, when doing this, the whole focal distance scale slides up and down and looks so cool, I found myself doing this just for the enjoyment of watching it.
Finally, there is a manual focus ring, manual focus can be locked and unlocked with a small button on the base of the ring to prevent accidental switches. I didn't really find this button intuitive to use though, I couldn't find the button naturally with my finger and had to spend a few seconds hunting for it, this might get easier as a long-term user, but luckily I am not a frequent manual focuser anyway.
The only major issue I had with the Leica Q3 build is that it did get a little unforgettable to carry for long periods. There is no prominent grip on the camera as standard, and the camera is relatively compact, I was out shooting for several hours and found that my fingers were aching gripping the camera, as well as my dangling little finger taking the brunt of a deep indent from the camera corner. There is an optional grip for the Q3, which I haven't had the opportunity to try out, but I think that it would make for a far more comfortable experience if you plan to shoot for long periods with the Q3.
Leica Q3: Photo Performance
The photo performance on the Leica Q3 is so very good. The processing that Leica applies to its images is very pleasing, with beautiful colors that pop but are still natural. The dynamic range the camera is able to capture is very impressive, I was shooting in bright sunshine, and clipping in the highlights and shadows was incredibly controlled.
The Q3 has a fixed 28mm lens, although using the new 60MP sensor, the lens is able to crop in-camera for 35mm, 50mm, 75mm, and 90mm focal lengths, with photo sizes varying down to 8MP at 90mm, which sounds very small by today's standards, but is actually way more than necessary for apps like Instagram. And I know, you could just crop your photos later in editing, but there is something more pleasing in framing your subject at the moment of taking the photo with the right crop and having it all automatically applied. If you mess up your crop in-camera but you are shooting in RAW + JPEG, the full 28mm image will still be recorded as a RAW DNG file without any crop for later editing.
Autofocus across the board is very snappy and accurate if used in any of the zone or area focusing modes, the Q3 rarely had to hunt for its target. The human subject detection was also very good, it easily picked up faces and eyes and had a high hit rate for nailing focus on one eye, even at lower apertures.
Where the autofocus completely fell apart was in its human+animal detection autofocus mode. Let's start with the good, the Leica Q3 picked up an impressive amount of animals, I really put it through its paces at a zoo, where it managed to find focus on large birds, zebras, alpaca, and other horse-shaped animals, as well as a few species of monkeys and lemurs. For more realistic use cases, the Q3 also had no issue recognizing domestic cats and dogs. At the time of writing, there is no official list of what animals the Leica is officially capable of recognizing, so I am not sure if the autofocus is recognizing specific animals or just prominent moving objects.
Okay and now for the frustrating. The Leica Q3 sees subjects everywhere. Every tree, fence, patterned surface, (and the list goes on), seemed to attract a yellow subject recognition box. Sometimes when actually trying to photograph an animal in the frame, the camera would ignore the animal and instead choose a random inanimate target to focus on instead. It is by far from the only camera system to do this, but this is one of the most extreme cases of false positives I have encountered.
Leica Q3: Video Performance
The Leica Q3 is capable of stunning 8K recording, with excellent video processed in-camera, and there are also codecs including Apple ProRes for those who want to get in-depth editing of their footage. Like in images, the dynamic range for video is outstanding, shooting in full sunlight, especially bright subjects, the detail captured is excellent. Again, Leica's color processing is a standout.
Autofocus in video is a little on the slow side, sometimes the focus just would not pick up new focal points as the camera moved or would hunt for a few seconds before locking focus. It just isn't as snappy as the video focus from other systems. In subject and tracking modes, the autofocus can be just a little too eager, the focus is all too keen to shift at the slightest detection of movement, which sometimes causes noticeable refocusing which is distracting on the final footage.
Built-in stabilization is effective at helping to keep panning footage very smooth, but when walking or adding more varied movement, the footage was often too shaky handheld to use for a lot of purposes, although this is not uncommon, if you plan on doing a lot of video on the Q3 then a separate gimbal is probably required to get silky smooth footage.
Leica Q3: Verdict
The Leica Q3 has surpassed my expectations for a fixed lens compact camera. Its 60MP sensor produces breathtaking images, enhanced further by the digital crop feature that adds a fun element of experimentation to the 28mm fixed lens. Each shot exhibits remarkable Leica processing, with beautifully rendered colors as well as exceptional dynamic range. The autofocus performs admirably, delivering swift and precise results, particularly in subject focusing, thanks to its efficient human and eye detection capabilities.
Nevertheless, the animal detection feature leaves much to be desired, as it more frequently misidentifies inanimate objects rather than living creatures. As for its video capabilities, the Leica Q3 excels in delivering high-quality 8K footage in a variety of professional codecs, which is great, but I would question if this is something this camera's target audience needs. Image stabilization also struggled with handheld shake more than other systems I have tested.
Nonetheless, the Leica Q3 stands as a remarkable camera for day-to-day use, and it effortlessly earns its place as one of the best walking-around photography cameras available today. Though alas, it is a Leica, and the lofty price tag renders it inaccessible to many photographers.
You might also like...
There is not a huge amount out there similar to the Leica Q3 with fixed lens large sensor cameras disappearing from most manufacturers' ranges. If you are looking to get the same experience as shooting with the Q3, but want to save a little money, then a safe bet is picking up a Leica Q2 from stores with remaining stock, or on the second-hand market.
Another great option would be the Fujifilm X100V, which offers a smaller APS-C sensor, but in a much smaller body. The camera also has a beautifully designed retro aesthetic, although at the time of writing this camera is having significant stock issues, with back orders for several months.
Read more: Find out more about the latest from Leica in our guide to the best Leica cameras. If you are interested in street or travel photography, then you can find more in our guides to the best camera for street photography, and the best travel camera.