If you're getting into video, you're probably asking "Should I buy a Panasonic G7?" And with good reason – this is a 4K camera that's less than $500 including a lens, making it immensely appealing for vloggers, videographers and filmmakers.
Still, since the Panasonic Lumix DMC-G7 came out in 2015, you may also be asking how the G7 stands up against the best 4K cameras and best cameras for vlogging in 2020. So is it a worthy purchase today?
1. Is the Panasonic G7 a good camera?
While it obviously doesn't pack the same cutting-edge specs as modern bodies, the G7 is still a capable camera – especially for video, where it's an all-round performer that can deliver great results, making it an incredibly compelling budget 4K camera.
2. Is the Panasonic G7 good for filmmaking?
Yes! The G7 offers 4K up to 30fps and 1080p up to 60fps (ideal for fast action or slow-motion), useful functions like timelapse and focus peaking, and of course it has a fully articulating touch screen for easy composition. If you want to step up your filmmaking, vlogging or videography to 4K, this is a great place to start. Pros can great results, too, though it doesn't offer the same bitrates and frame-rate options as higher specced models, and you can't use an external monitor.
3. Is the Panasonic G7 good for photography?
The G7 features a 16MP Micro Four Thirds image sensor that's very modest in contemporary terms, but it will still deliver rich and detailed images – you will need to be mindful, though, if you like to print out large images or if you crop heavily when you shoot. However, if you only print infrequently or to moderate sizes, the image quality is more than enough to produce a portfolio, shoot for a website, take images for an online store and so on.
4. Is Micro Four Thirds really any good?
Photography has always been an industry where 'bigger is better', which has led to the attitude that smaller Micro Four Thirds image sensors – around half the size of 35mm 'full frame' sensors – are inherently inferior. Of course, this overlooks the fact that 'full frame' is itself a misnomer, given that 35mm is positively tiny compared to 6x6cm medium format, let alone 8x10 inch large format!
Micro Four Thirds sensors may be smaller, but in many ways that is actually a benefit. For starters, it means that camera bodies are much smaller than their full-frame counterparts – but, more importantly, so are the lenses, which can be half the size and weight of full-frame glass. That's a big deal if you lug a lot of lenses around, or if you struggle to handle larger kit.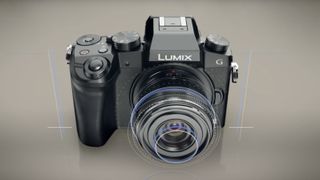 5. What does 2x crop factor mean?
Since Micro Four Thirds sensors are about half the size of 35mm sensors, a 2x crop factor comes into play. In practical terms, this means that you simply double the focal length of the lens you are mounting – so using a 100mm lens will give you a 200mm angle of view, which is very useful for shooting sports and wildlife.
Likewise, the crop factor also affects depth of field (DoF), so an f/1.8 lens gives you an effective f/3.6 DoF – but, crucially, it still gathers the full f/1.8 worth of light. So on the one hand, it's more difficult to achieve a shallow DoF (for blurry backgrounds). However, if you're shooting in low light conditions such as a dimly lit venue, you can shoot wide open without having to wrestle with wafer-thin DoF. It's also helpful for shooting macro, where you want as much in focus as possible!
6. Is the G7 good in low light?
Having a smaller sensor means that there is less surface area upon which to capture light, so Micro Four Thirds cameras can't be pushed to the same ISO extremes as APS-C or 35mm-equivalent cameras. If massive dynamic range is crucial to your work then you may need to consider other options, but if you don't expect your camera to see in unreasonable darkness then it should be more than up to the task.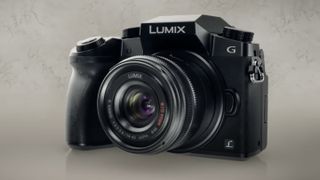 7. What lens comes with it?
The Panasonic G7 comes in a kit with the Panasonic 14-42mm f/3.5-5.6 lens, which gives you an equivalent 28-44mm angle of view in full-frame terms. As with most kit lenses it's not the brightest in the world (the lower the f/ number, the lower the light it can shoot in), but straight out of the box it gives you a very useful working range, from a decent wide angle (to a near-nifty fifty "standard" view. It's incredibly light and compact, features optical stabilization to keep your shots steady, and its autofocus is pretty snappy.
8. What other lenses can I use?
The Panasonic G7 uses the Micro Four Thirds lens mount, which is an open standard. This means that anyone can make lenses for it, meaning that the platform has more lenses that just about any other mount. There are native lenses from Panasonic, Olympus, Sigma, Tamron, Samyang / Rokinon, Laowa and plenty of other manufacturers. The mount can also accommodate virtually any DSLR lens via inexpensive adapters, so you can use everything from Canon EF and Nikon F to vintage lenses like M42 and OM optics.
9. So, the G7 is still a good buy in 2020?
For video, the Panasonic G7 is still a capable camera that can produce fantastic results in both 4K and 1080p. It definitely feels its age when it comes to stills, and there are better options for pure photography, but the G7 made its name as a 4K body – and it remains an amazing and affordable camera for cutting your teeth in video.
10. Are there any other cameras I should consider?
For video, if you're looking to shoot in 10-bit, 4K up to 60fps, anamorphic video and super slow-motion up to 240fps, the Panasonic GH5 is a great option. If stills are more your thing, the Olympus OM-D E-M10 Mark IV gives you a 20.4MP sensor, incredible 5-axis in-body image stabilization (which will steady any lens you mount) and a stylish, compact body. Also worth considering is the Canon EOS M50, which has a 24.1MP sensor, fantastic autofocus, and slow-motion up to 120fps in 1080p.
Read more:
The best Panasonic camera: from long zoom compacts to Lumix mirrorless
Should I buy a Panasonic GH5?
Olympus OM-D E-M10 Mark IV review
Canon EOS M50 review