Now that November has begun, those distant sleigh bells are jingling, ring tingle tingling ever louder. Whether you're gasping in delight at each Christmas advert that comes on the TV, or groaning in despair as rows of Christmas decorations fill each shop, the fact is that Christmas is just around the corner. If one of your loved ones is a keen photographer (or you just simply fancy buying yourself a pick-me-up to carry you through the Christmas season), we've collected some of the most quirky and unusual photography lover gifts for Christmas here.
Whether you're looking for a quirky Lomo lens, a DIY camera you have to construct yourself, or an outdoor camera that doesn't even have a viewfinder, we've got the best unusual Christmas gifts right here!
• Read more: Best Christmas gifts for photographers
Best unusual Christmas camera gifts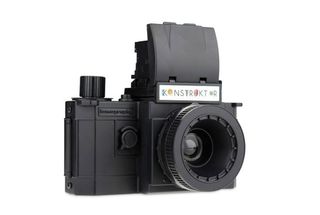 1. Lomography Konstruktor Flash DIY SLR Camera
It doesn't get much more unusual than a DIY film camera
Inexpensive camera
Tons of DIY fun
Bare bones features
Room for user error during construction
For just over £30, as the model name suggests, the appeal here is being able to build your own camera utilising the plastic kit shell provided. The upgraded version of the Konstruktor even comes with a PC socket for flash photography, though you'll need the hot shoe adaptor in the optional accessory kit (another £17). However, we found there were a lot of plastic panels, parts, screws and springs to put together so this is one that will reward those with a degree of patience as well as constructing dexterity. Unsurprisingly, like the camera body itself, the lens here is plastic and we get another fixed focal length 50mm lens boasting an f/10 aperture. On a positive note we enjoyed using the waist level viewfinder and the through-the-lens viewing that comes courtesy of the spring loaded mirror level. Very Heath Robinson it may be, but it's not without charm if you don't mind putting the initial work in.
2. Lensbaby 50mm Spark Selective Focus lens
This affordable Lensbaby is super easy to use
Affordable
Fun and unusual effect
Plastic build
As one of the most affordable Lensbaby special effects lenses, the Lensbaby Spark is a great choice for photographers who want to start experimenting on a budget. While the plastic build might feel slightly on the cheap side, this super light lens is really easy to use and virtually unbreakable (this clumsy author speaks from experience…). To create the selective focus effect, you simply squeeze and tilt the lens to move the 'sweet spot' of focus around the shot. While this lens is popular for portrait photography, it's also good fun to try it out on other genres as well.
3. Lomography Belair X 6-12 City Slicker
Medium format film photography in a panoramic format
Affordable medium format option
Panoramic format available
Could be cheaper
The grand adventure of medium format photography is permanently etched on many photographers' wishlist. Even if you've already accepted that a £5,000 / $5,000 digital medium format camera is a little out of your reach, vintage medium format film cameras aren't exactly covered by warranty and can sometimes be a bit hit or miss. However, you can pick up the Lomography medium format camera for just £200. Able to shoot in 6 x 12 panoramic format, as well as square 6 x 6 and regular 6 x 9 formats, this is a great quirky medium format camera to experiment with.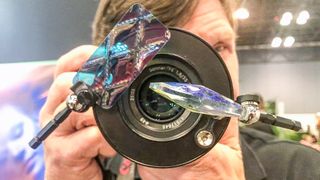 4. Lensbaby Omni Creative Filter System
Take your portraits to the next level with these wacky filters
Lots of creative possibilities
Highly adjustable
Two separate lens thread sizes
If you want to add instant pizazz to your images, then the Lensbaby Omni Creative Filter System might be just what you're looking for! To use this product, you simply screw one of the filter rings onto the end of your lens and then use one of the three magnetic Effects Wands to distort the light as it enters the lens. Similar to the common DIY hacks of holding transparent colorful sweet wrappers or CD discs near the lens, this filter system helps to take your photography to the next level.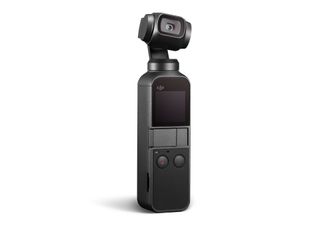 5. DJI Osmo Pocket
A weird cross between an action camera and a gimbal
Really small
Easier to set up than separate camera and gimbal
Great 4K video results
No live streaming
The Osmo Pocket is essentially an action cam, but it is not designed to look or function quite like any action camera we have seen before. The stick like device combines a miniature video camera with a motorized gimbal stabilizer, so that you get extraordinarily smooth shots when shooting handheld action sequences. And the stick-like design not only makes this a joy to hold, it also helps ensure this is, as its name suggests, a really pocketable device.
6. Lomography Spinner 360°
We couldn't possibly think of a weirder product to be honest…
Great fun
Creates panoramas out of 35mm film
Bit of a one trick pony
If we were going to rank these products by their oddness levels, this Lomography product would be number one with a bullet. Simply put, this strange little device allows you to shoot 360 degree panoramic shots on 35mm film by using the pull cord. One of the coolest aspects of this product is that the entirety of the film is exposed, which means you can see the sprocket holes in the final image. With a standard 36 exposure film roll, you can shoot up to eight panoramic photos. We have to be honest, the author of this article is seriously tempted…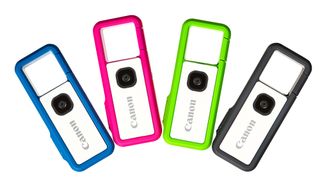 7. Canon Ivy Rec Outdoor Camera
This low-tech outdoor camera is perfect for kids
Affordable
Unconventional design
Built-in Wi-Fi and Bluetooth
No screen to check photos
This is probably about as basic as a digital camera can get. Think of it as a stripped down action camera, that's had its viewfinder taken away. It shoots HD video and can take 13 megapixel stills using a fixed lens that offers a wide-angle of view that is equivalent to a 25mm. Its most unusual feature is the analog 'viewfinder', which also doubles up as a built-in clip that can easily attached to clothing and backpacks.
8. Lensbaby 60mm f/2.5 Twist lens
Want swirly, whirly bokeh? Look no further
Creamy bokeh
Effect can be limiting
Like many of Lomography's unusual products, this lens is inspired by 1800s inventor and physicist Joseph Petzval. The Lomography Twist lens separates subjects from their background by creating beautifully swirly bokeh. It's important to note that this lens should only be used on full frame cameras, as APS-C sensors will significantly reduce the swirly bokeh effect.
Read more
Best stocking stuffers for photographers
Best camera in 2019: find the best camera for you, and the best price too!
Best camera straps