DJI dropped the 'Osmo' name across its OM Mobile 4 smartphone gimbal which launched in August 2020, and a little over a month later, it's followed suit with its latest launch, the Pocket 2. In turn, the successor to its Osmo Pocket camera-on-a-stick system, which captures super steady despite its pocketable size is now just the Pocket 2.
This time around, DJI's loaded its steadied video camera with a bumped-up 64MP sensor and video recording up to 4K resolution. You can also pick it up in a smart creator combo system, which costs more but levels up the Pocket 2, turning it into a pocketable rig.
Additionally, DJI promises improved focus on the Pocket 2 in the form of Hybrid 2.0 AF, live streaming support, and more microphones for better sound recording.
At $349 / £339 for the base pack, and $499 / £469 for the Creator Combo, there's nothing cheap about DJI's latest pocketable steady cam — so does it make sense or would you be better off using your smartphone?
Creator Combo - a YouTuber's Dream
If you're a YouTuber who relies on an action cam like a GoPro Hero 9 Black or DJI Osmo Action for all your on the fly B-roll, but long for features like autofocus and wireless mic recording, the DJI Pocket 2 Creator Combo ($499) will be exactly what you've been waiting for. Compact enough to fit in a jacket pocket, and better than action cameras when it comes to stabilization quality, it could be the perfect boost for vloggers in need.
In the box, you get the Pocket 2, a Mini Control Stick, case, tripod mount, wrist strap, wireless microphone, windshield (dead cat), wide-angle lens, tripod as well as a Do-It-All Handle, which sports a mic-in jack.
The Pocket 2 goes from being a selfie vlogging camera to a camera person with all these add-ons, with smartphone app support enabling object tracking and more. Stand it up, fire up the app, set it to follow your face and you can talk, move about and stay in frame, complete with a live-preview on your phone to put your mind at ease that it's tracking is on-point.
Perhaps the smartest thing about the design of the DJI Pocket 2 is how in its Creator Combo guise, it becomes so much more than the sum of its parts - something of a Megazord pocket studio system. The case magnetically secures the 15mm ultrawide lens, has a spot for the tripod legs, the clip-on mic, and tightly contains the DJI Pocket 2 itself.
Design
While the DJI Pocket sports similar dimensions to its predecessor, measuring 12.5cm tall and weighing 117g, if you use it with the Do-It-All grip (only included in the creator combo), a fair amount of length is added to the package. Nevertheless, this is still a pocketable system, so the name isn't as misleading as, say, the Blackmagic Pocket Cinema Camera 4K or PCC 6K.
There's a screen, a section below it which sports an optional joystick and focus mode button, as well as a record and function button, which switches between taking photos and shooting videos. There's an exposed microSD card slot along one side, so action cam fans who need something submergible, this isn't it, and the USB port for charging is at the base.
Features and modes
Despite its 64MP sensor, the DJI Pocket 2 captures photos with a resolution of 16MP, using four-in-one pixel binning. It also shoots 4K, 2.7K, and 1080p video at up to 60fps, with support for 24, 25, 30, 48, and 50fps capture too. These framerates coupled with the fact DJI has loaded up a Pro Mode with a flat color profile means the Pocket 2 clearly has videographers in mind. As for slow-motion video, it's captured at up to 240p at FullHD resolution.
The new support for live streaming means Facebookers and YouTubers in need of wireless broadcasts are catered for. There's also RTMP support, so other services including Twitch can be streamed to.
Additional modes which we've seen before include Timelapse, Motionlapse and Hyperlapse, as well as panorama for photos and countdown. A new story mode feature stitches together clips into a montage video, as well as an HDR video capture feature promised in an upcoming software update.
Camera specs
The DJI Pocket 2's 64MP sensor spreads all that resolution across 1/1.7 inches, and as mentioned, shoots 16MP stills by default. This may sound big compared to the 1/2.3-inch sensor of the original Osmo Pocket, but with smartphones like the Huawei Mate 40 Pro pushing sensor sizes up to 1/1.28 inches, depending on your phone, on paper, the Pocket 2 might be a downgrade for certain users.
Nonetheless, compared to other all-in-one camera options like the original Pocket and action cams, the Pocket 2's imaging credentials stack up well.
The camera lens sports a 93-degree field of view (20mm equivalent) and an f/1.8 aperture, while the sensor sensitivity climbs up to 6400.
Additionally, the small, sometimes fiddly touchscreen is welcome, giving you a priceless preview of what you're shooting, and the on-screen autofocus box helps you lock-on to subjects with a degree of confidence.
Stabilization
First thing's first, as a gimbal system, the 3-axis Pocket 2 handles walks, wobbles, and heavy steps better than anything else that matches up to its tiny size. Instantly, this earns it a place as a handy tool for any run and gun shooters in need of something dinky.
Working across three modes, Follow (camera remains horizontal), Tilt locked (up/down rotation disabled), and FPV mode (total freedom of movement), it's essential users get to grips with these before setting off, or they could scupper the final footage they're going for.
The results are categorically great, with none of the juddery artifacting heavy electronic image stabilization generates, as found across most action cameras and smartphones.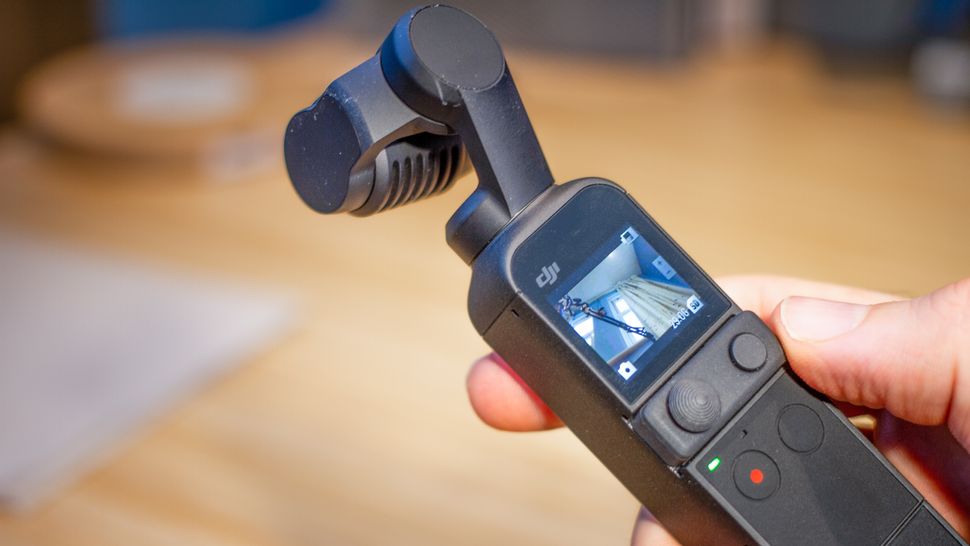 Video quality and functionality
The DJI Pocket 2 can capture impressive depth of field for such a small camera when shooting relatively close-up vlog content, and its focus is strong too, making it a marked improvement over the Osmo Pocket.
The tracking function is also great. Place the Pocket on a tripod (standard thread fitting) and you'll be able to walk around or move from side to side while the head follows you, and so long as you've got the app fired up, it keeps you center-frame throughout. Occasionally, with random objects, it lost its tracking, however with faces was relatively failsafe.
Where the Pocket 2 falls down is noise handling and dealing with high-contrast scenes. In darker environments, or even when capturing dark objects in well-lit scenes, the grain is undeniable. If you need A-grade video quality, therefore, that isn't what this camera is about.
There are easy ways for editors to boost footage from the Pocket 2. If you're happy shooting in 4K, applying some noise reduction, and dropping output to 1080p, it handles the noise most of the time. Additionally, flattening the look to the cinematic D-CLike color profile helps final output as well, though you'll struggle to pull back blown out skies on a sunny day.
7-minute sample video showing the DJI Pocket 2 in operation, with and without the wireless mic, with and without the wide-angle adaptor in a variety of environments, and in different modes.
On that subject, the DJI Pocket 2 also has a penchant for prioritizing faces (which can be turned on and off in the settings), and this is great, unless of course, that face is backlit. As you can make out from the sample video, vlogs shot in backlit environments are a struggle - especially with the ultra-wide clip-on lens element, which magnetically attaches to the front of the Pocket 2. It's a real shame the HDR feature isn't available yet - it's due to land in January 2021, so we weren't able to see if that improved things. Additionally, unless the ultrawide lens is absolutely perfectly fitted, footage shot on it looks significantly duller and softer than the main lens.
This might all sound like dealbreaker territory, but it isn't.
No camera this portable can nail backlit scenes, and vloggers will love how it makes faces look even at the expense of a blown-out sky. The Pocket 2 captures skin tones with flattering coloration, and the level of smoothness is unparalleled. Slowed down footage shot at 60fps make for luxurious pans that look like they were captured on a slider, there's plenty of clarity to the Pocket 2's videos and DJI's color profiles are characteristically refined.
Sample vlog shot with the DJI Pocket 2, featuring a video review of the Samsung Galaxy S20 FE
With less electronic stabilization (processing) needed than other pocketable video options, thanks to that gimbal system, processing applied to footage is minimal, leaving plenty of room for edits.
Sound quality also impresses, with the wireless mic and on-body mic both performing respectably. We didn't feel the wireless option was needed when hand-holding video, but really came into its own when using the tracking feature and taking a step back. The DJI Pocket 2 became our own private camera person.
As for photos, frankly, if you're shooting in automatic mode, your smartphone can do a better job if you're using a 2020 flagship. That said, fire up Pro mode and the gimbal-grade stabilization will enable longer shutter speeds for anyone looking to get creative.
Battery and additional specs
With small size comes a small battery, and the 875mAh non-removable cell inside the Pocket 2 doesn't fill us with confidence when looking at the numbers alone. That said, provided you're shooting at 1080p resolution, the DJI Pocket 2 can keep shooting for around two hours, if of course, you have a memory card that can keep going for that long. Ramp up the resolution, and that time goes way down, with the device either overheating or the battery dying after around an hour.
With support for up to 256GB storage, DJI recommends UHS-1-grade microSD cards, and with a four-minute 4K file clocking in at around 2.5GB, if you want to shoot at full-resolution, you probably shouldn't scrimp on card capacity.
DJI Pocket 2: verdict
The DJI Pocket 2 is a best-in-class tool when it comes to combining stable video and pocketable size. In turn, it's an obvious choice for anyone who wants a pull-out-and-shoot small camera for handheld video work. Bought as part of the Creator Combo, adding external audio to the mix is a piece of cake, and there's also a handy ultrawide lens attachment that definitely drops quality, but adds field of view.
Despite some real highlights: shallower depth of field than expected and nippy focusing, not to mention great object tracking and color reproduction, noise handling isn't a highlight on the Pocket 2. Backlit scenes also lack in dynamic range at the time of writing, though this is being addressed in an upcoming software update that will be live by 2021.
Negatives accounted for, for day to day use though in good lighting, the convenience, versatility, and stabilization offered by the DJI Pocket 2 can't be overstated though. After all, nothing much can do all the things it can and still slip into a jacket pocket.
Read more:
The best DJI Osmo Pocket accessories
Best action cameras
Best gimbal stabilizers for smartphones and cameras
Best GoPro accessories
The best waterproof cameras
The best camcorders