Love Nikon? Love retro? Then this Nikon Zf vs Z fc head-to-head is for you, as we compare and contrast the Big N's immensely popular classic-looking cameras.
On the surface, both bodies offer very similar propositions – and obviously very similar looks – but beneath the hood these are two incredibly different camera systems. Like the old (and suitably retro) Transformers tagline, this Nikon Zf vs Z fc comparison proves that there's more than meets the eye!
The Nikon Zf and Nikon Z fc are two of the best retro cameras on the market right now, but they are substantially different in just about every department other than looks. Here's how it all breaks down…
Nikon Zf vs Z fc: Specifications
Swipe to scroll horizontally
Nikon Zf vs Z fc

| Header Cell - Column 0 | Nikon Zf | Nikon Z fc |
| --- | --- | --- |
| Sensor | 24.5MP full-frame CMOS (FX) | 20.9MP APS-C CMOS (DX) |
| Processor | Expeed 7 | Expeed 6 |
| Autofocus system | Hybrid phase/contrast 273 points | Hybrid phase/contrast 209 points |
| ISO range | 100-64,000 (exp. 50-204,800) | 100-51,200 (exp. 204,800) |
| In-body image stabilization | 5-axis, up to 8 stops | N/A |
| Electronic image stabilization | Yes | Yes |
| Max video res | 4K 60p | 4K 30p |
| Viewfinder | 0.5-in 3.69-million-dot OLED | 0.39-in 2.36-million-dot OLED |
| LCD | 3.2-in articulated, 2,100k dots | 3.0-in articulated, 1,040k dots |
| Max burst | 7.8fps RAW+JPEG, 30fps JPEG only | 11fps |
| Max shutter | 1/8000 sec | 1/4000 sec |
| Memory card(s) | 1x SD UHS-II, 1x Micro SD | 1x SD UHS-I |
| Size | 144 x 103 x 49 mm | 134.5 x 93.5 x 43.5mm |
| Weight | 630g body only | 390g body only |
Nikon Zf vs Z fc: Sensor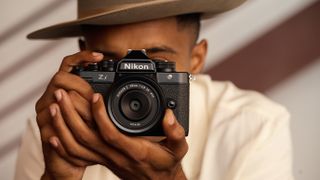 This one is the biggie: the Zf features a full frame 35mm sensor with a resolution of 24.5MP, compared to the Z fc's APS-C cropped sensor with 20.9MP. (For reference, the Zf possesses the same sensor as the Nikon Z6 II while the Z fc has the same sensor as the Nikon Z50).
While both cameras have relatively conservative resolutions, the Nikon Zf is capable of pixel shift shooting to produce 96MP photographs. This uses the sensor-shift stabilization system to shoot up to 32 images, to artificially increase the sensor area. (Unlike cameras from other manufacturers, though, these are not combined in-camera and must instead be post-processed in Nikon's NX Studio software. Both you and your subject must also be perfectly still, limiting its applications.)
When it comes to sensor size, a larger sensor means you can expect a generally higher degree of image fidelity. Obviously the increased resolution produces slightly larger images with slightly more pixels, but those pixels will also be packed with more data – meaning higher quality, more flexibility for editing and post-production, and more latitude for low light (more on that in the ISO section below).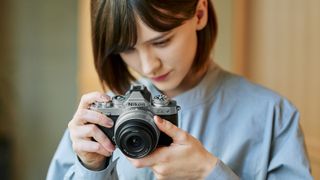 A smaller sensor renders less depth of field at equivalent focal lengths, due to its crop factor (which here is 1.5x) – so shooting at 50mm on the Z fc will produce less background blur and subject separation than it would on the Zf.
That same crop factor also increases the effective focal length of lenses. This can be a bonus if you want more reach; for example, a 400mm lens will behave like a 600mm on the Z fc (multiplying the focal length by the 1.5x crop factor). Conversely, though, this makes it harder to shoot wide, as a 24mm lens will behave like a 36mm.
Something to be aware of is that Nikon produces lenses for each sensor format; FX lenses are for its full frame cameras, while DX lenses are for APS-C cameras. DX lenses are designed to be more compact, to better balance with smaller DX bodies, but DX lenses can be used on FX cameras and vice versa.
However, the elements in a DX lens are made to cover the smaller image circle of an APS-C sensor – so when mounting one on an FX body, it will automatically switch to a cropped shooting mode (meaning you won't get the full resolution of your sensor).
Nikon Zf vs Z fc: Body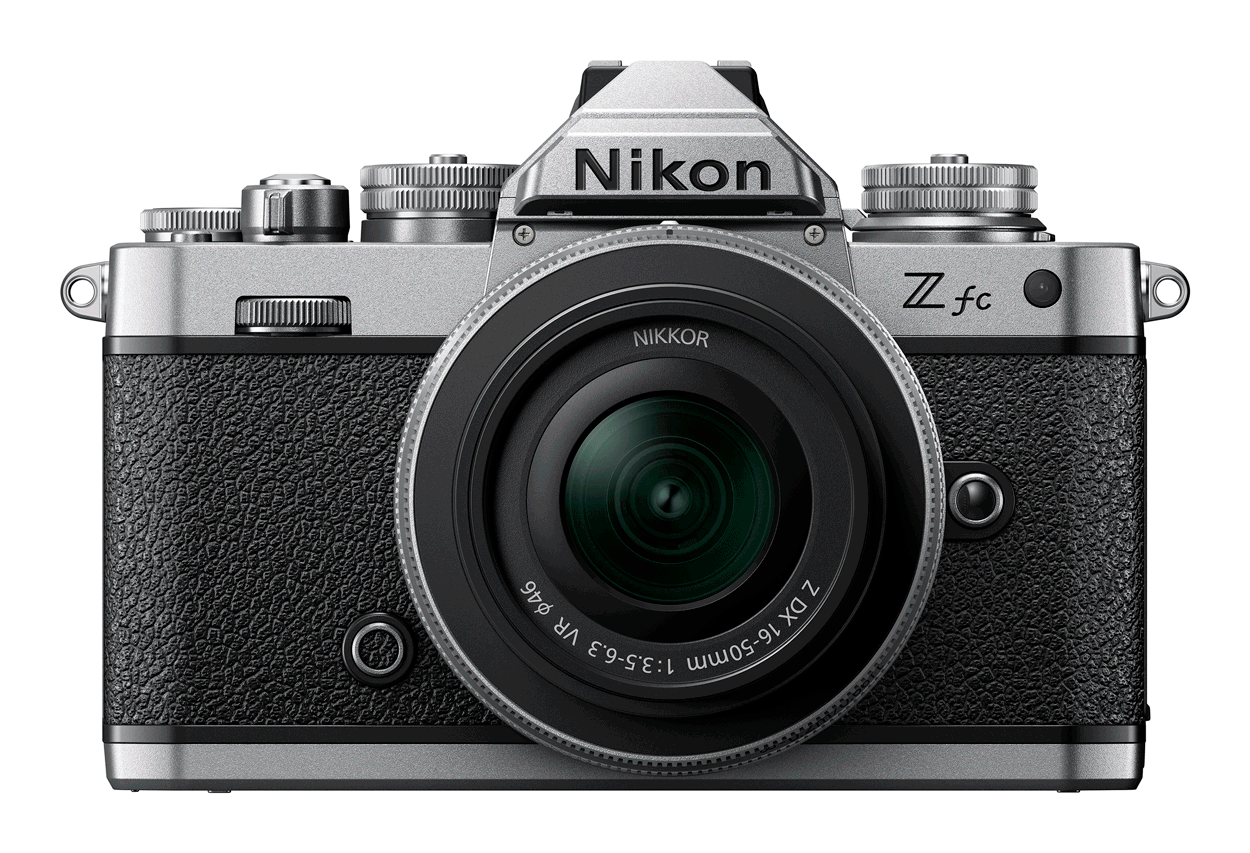 Both cameras feature similarly stylized retro bodies, fashioned after the much loved Nikon Df – which itself was a digital reimagining of the iconic Nikon FM2 film camera. As such neither camera has much of a front grip, though this actually encourages proper camera craft (as you should take the weight of the camera by cradling the neck of the lens in the "scoop" between your thumb and index finger, rather than the handgrip, for maximum stability).
Designed to look like Nikon's film SLRs from yesteryear, both bodies feature classic-looking, satisfyingly clunky and chunky ISO and shutter speed dials. There is also an exposure compensation dial, and a very vintage-feeling LCD panel on the top plate to indicate the f-stop (a concession to the lack of aperture rings on Nikon's Z lenses).
Where both bodies have been designed to pass the eyeball test, though, in the hand the Z fc feels much lighter thanks to the plastic materials used everywhere but the top plate. It's only slightly smaller in dimension, at 134.5 x 93.5 x 43.5mm (compared to the 144 x 103 x 49 mm of the Zf), but is significantly lighter at 390g (versus 630g)
The Zf opts for a magnesium alloy body that is heavier and more substantial, with dials that are made of brass – so they will wear with use, just like vintage film cameras. The full frame body also features a thread on the shutter release so that you can screw in a soft shutter button for maximum luxury.
Depending on your territory, both cameras are available in a variety of colors; some of these are retailer-exclusives, others can only be purchased directly from Nikon's online store. The Nikon Zf is currently offered in a black body with seven colorways on the leatherette (black, dark blue, grey, dark red, brown, orange, dark green) while the Nikon Z fc is offered in a black body with black leathertte, or a silver body with seven colorways (black, white, pink, turquiose, grey, brown, sand).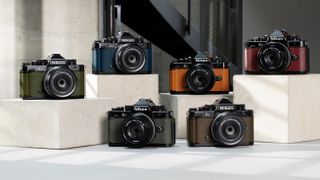 Nikon Zf vs Z fc: ISO sensitivity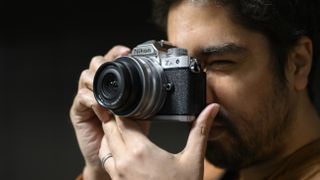 While it's not a night-and-day difference, there's no question that the Nikon Zf outclasses the Z fc in terms of ISO capability.
This is true in terms of sheer sensitivity, with the full frame camera offering an ISO range of 100-64,000, which is expandable at both ends for a maximum range of ISO50-204,800. The APS-C camera, meanwhile, has a slightly more constrained sensitivity of 100-51,200 – and can only be expanded at the top end, to ISO204,800.
Larger image sensors also have the benefit, due to their greater surface area (and larger individual photosites), of gathering more light, resulting in cleaner images especially when the ISO is increased.
In all, this means that the Zf will offer slightly better performance in low light shooting situations – though in all honesty, this really isn't enough of a difference to be a deal-breaker.
Nikon Zf vs Z fc: Burst shooting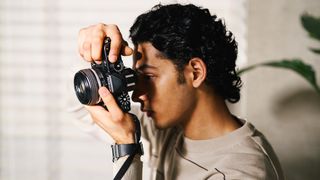 There's a very interesting split between the two bodies when it comes to continuous shooting. For RAW shooters the Z fc has the advantage, as it can capture bursts of 11fps where the Zf maxes out at 7.8fps. However, if you want to shoot JPEG only, then the Zf can fire off bursts at 30fps.
While neither camera is really designed to be used for sports or wildlife, the Zf benefits from having the processor of the flagship Nikon Z8 / Z9 and the sensor of the Z6 II – all of which are geared towards sequential shooting. And while it's disappointing that the top speed is just 7.8fps for RAW+JPEG, the 30fps option is still great to have.
Still, if you want the maximum number of RAW frames per second, the Z fc clearly edges it here.
Nikon Zf vs Z fc: Video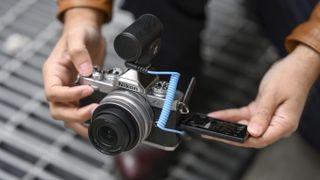 Again, neither model is intended as a pure video or vlogging camera. They both still offer perfectly fine performance for everyday use, though there are distinct differences in their capabliities.
The Zf, as you'd expect, has the superior specs. Capable of 4K (oversampled from 6K) up to 60p and FullHD up to 120p, it can record in H.265 (8-bit / 10-bit) or H.264 (8 bit), with Log shooting. ISO is limited to 100-51,200.
The Z fc can capture 4K up to 30p and FullHD up to 120p, in H.264, with an ISO range of 100-25,600.
Both cameras possess a microphone jack, to connect an external mic, but lack a headphone jack. They are each limited to a maximum recording time of 29m59s per single video file.
Nikon Zf vs Z fc: Stabilization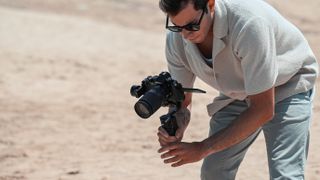 Image stabilization is a powerful tool in counteracting camera shake when moving or handling the camera, for both stills and video.
The Nikon Zf boasts a 5-axis in-body image stabilization (IBIS, known as) system that offers up to 8 stops of compensation (when used with compatible lenses). In Nikon parlance this is called VR, for Vibration Reduction.
In addition to the sensor-shift stabilization, the Zf also benefits from electronic image stabilization (e-VR, in Nikon speak) for capturing video. This can be enabled on top of standard VR to offer even more stability, by cropping into the footage.
The Z fc doesn't feature any IBIS / VR, so there is no compensation for camera shake when shooting stills, but it does offer electronic stabilization when capturing video.
Nikon Zf vs Z fc: Memory card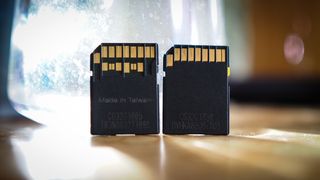 Both cameras accept SD cards, though it's worth noting that the Zf supports faster UHS-II cards while the Z fc only supports the UHS-I standard. In practical terms this means that the Zf can write to the card faster (so there is less buffering time after you finish taking a photograph or recording a video), which makes its 30fps burst shooting possible.
In some sense this really becomes more of a factor when it comes to transferring your cards onto a computer or hard drive, as the faster UHS-II standard means you can download files much more quickly.
Notably, while the Z fc only has a single card slot, the Zf offers a secondary slot – but curiously, this comes in the form of a microSD card rather than a second full-fat SD. We'll need to test its efficacy further, but right now it's difficult to categorize this as a true redundant backup since it won't be able to keep up with 4K 60p video or those aforementioned 30fps bursts.
So, while the Zf technically has two card slots, this isn't the clear win that it might otherwise be. Twin SD cards would have made much more sense!
Nikon Zf vs Z fc: Viewfinder & rear screen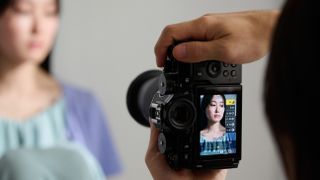 Both cameras feature fully articulating touchscreen displays on the rear, offering maximum flexibility for shooting video. This is also a huge advantage for shooting stills, enabling you to photograph using the back screen from multiple angles.
The Nikon Zf has a larger and more detailed LCD screen, at 3.2 inches and 2.10 million dots, while the Z fc's is a 3-inch, 1.04 million-dot affair. Obviously, having a larger display and twice as much resolution is a big plus for the full frame camera.
It's a similar story when it comes to the electronic viewfinder (EVF), where the Zf has a 0.5-inch OLED with 3.69 million dots compared to the 0.39-inch, 2.36-million-dot OLED finder of the Z fc.
Nikon Zf vs Z fc: Overall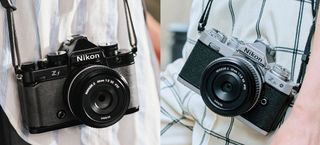 Both cameras look absolutely gorgeous, but there is no question that the Nikon Zf is technology superior in almost every way. The Nikon Z fc's sole specs advantage is that it shoots more RAW photos in a single burst, but otherwise if you're looking for performance then the Zf is the outright winner.
Its oversampled 4K 60p video and 10-bit codecs give it the clear video advantage over the 4K 30p 8-bit nature of its little brother. And while there is only a 3.6MP benefit to resolution, the full-frame nature of the Zf's sensor gives it a clear advantage – and that's before factoring in the 96MP pixel shift capability.
All that said, the Zf's advantages come packaged in a physically larger and heavier body. Conversely, the Z fc is a lean, lightweight machine that's much more compact and nimble – though this does come with the caveat that there are a lack of DX (APS-C)-sized Z lens choices at the moment, so you may end up with a small body that's slave to big full-frame lenses.
(In a broader sense, both cameras suffer the same fate of being distinctly retro-looking bodies without many distinctly retro-looking lenses – so there exists an aesthetic mismatch in both cases.)
In all, if you want a gorgeous classic camera with as much horsepower as possible, the Nikon Zf is a well-specced full frame camera with some great features. If you want something that's more compact, but is still very capable and looks just as cool, the Nikon Z fc is for you.