The best wireless printer means you can free up your desk from tangled wires, and print from your smartphone, tablet, laptop or other devices over Wi-Fi, wherever you are in your home or office. And we've got the cream of the crop right here.
Our carefully curated list features all the top models from Canon, HP, Epson and other respected brands. These are the best wireless printers for a range of uses, whether you're a home worker, a small business owner or a photographer looking to print your images.
So how do you choose the best wireless printer for you? Well, if you're printing a lot of photos, then you'll want to look at the maximum resolution to ensure that the printer is capable of rendering your images in all their pixel-perfect glory. However, if you're more likely to be printing high volumes of documents, it makes more sense to look at print speed and ink efficiency.
We've included the key specs so you can compare the different models, and have also added the physical footprint of each one, in case you're working with limited space. Read on to discover the best wireless printer models for your needs.
Best wireless printers in 2023
Why you can trust Digital Camera World Our expert reviewers spend hours testing and comparing products and services so you can choose the best for you. Find out how we test.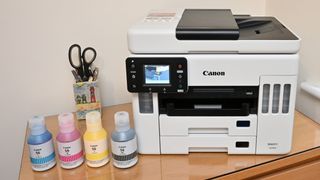 If you're going to be a doing a lot of printing day to day, especially for business use, we recommend the Canon MAXIFY GX7050. As the "maxify" name implies, this is a printer made for high-volume work. Built like a tank, it just prints and prints, doing so speedily and efficiently. While the initial cost of the printer is higher than others, it uses high-volume, refillable 'Megatank' bottles, which are much cheaper over the long term than messing about with cartridges. As is the case with all modern Canon printers, it has full wireless integration with the Canon PRINT app, and the MAXIFY also offers Apple AirPrint and Mopria compatibility. You can even fax it, if you like!
It's not the highest-resolution printer around, and certainly not the highest-resolution printer on this list. If you're looking to print your photos at home in high quality, we'd suggest considering one of the other options, as this isn't the right printer for that. It's perfect for businesses or at-home workers who need to do a lot of printing day to day, and as long as the initial outlay is within your budget, it'll fulfil that brief perfectly. For more details, read our Canon MAXIFY GX7050 review.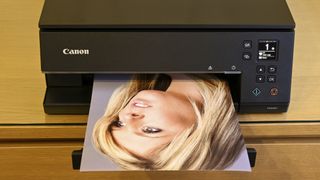 Canon has a long and illustrious history with five-ink printers. They feature pigment-based black for crisp, high-quality mono text documents, along with dye-based cyan, yellow, magenta and black inks which are specially formulated for delivering superb color photo quality. The TS6320/6350 builds on the rich PIXMA heritage to give excellent performance with brisk print and copy speeds.
Smart handling touches include a motorized output tray that extends automatically when you print, an internal input cassette that's ideal for regular paper, and a rear-feeder which is perfect for slotting in photo paper as and when you need to. Automatic duplex is also featured.
You can wirelessly print, copy, scan and access the cloud with the Canon PRINT app, although you need to use genuine Canon ink cartridges for scanning to the cloud and email to be enabled. Wireless printing via AirPrint (iOS) and Mopria (Android) is also available. For more, read our Canon PIXMA TS6320/6350 review.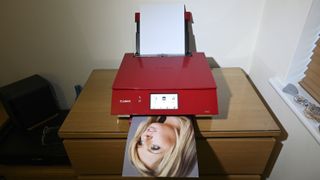 A step up from Canon's five-ink printers, this model goes one better with six separate ink cartridges. Along with the usual mix of pigment-based black and dye-based CMYK, it features an additional 'photo blue' ink for more vivid photo output with even smoother graduations. In our view, it's the best A4/letter sized photo printer on the market, but equally adept at document printing.
Mono and color print speeds are fast and there's an auto duplex facility. A motorized tilting front panel and output tray add refinement, along with auto paper width detection, which can save setup time when using different types of paper. Dual input paths include an internal cassette and rear feeder.
You can control the printer from a smartphone or tablet, complete with print, copy and scan functions and linking to the cloud via the Canon PRINT app, or print with AirPrint and Mopria. For more, read our Canon PIXMA TS8320 review.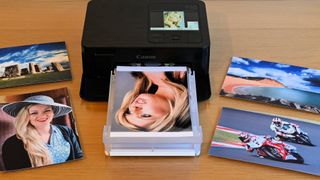 If you want something small and light for printing photos, which is easy to move from room to room, or to pack in a travel bag, then the Canon Selphy CP1500 is a good, reasonably cheap option.
Note that this isn't an inkjet printer, but uses dye-sublimation cartridges, which come in a paper with the special paper it uses. That means you don't get messy ink fingers like you can with inkjet cartridges, and the running costs are relatively affordable. On the downside, the results aren't as high quality as other printers on this list, although they're perfectly fine as long as you're not using them for professional work.
The big thing to watch out for is that although this printer supports Wi-Fi printing, there's no Bluetooth option. Also, there's no battery; although you can buy a rechargeable one separately, this is very expensive, and so most people are just going to save the money and use this plugged into the mains. For more details, read our full Canon Selphy CP1500 review.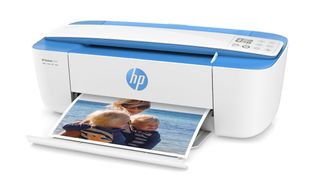 Amazingly compact and lightweight, this wireless printer can nonetheless create anything from 3x5-inch to full A4 or 8.5x14-inch documents. However, due to the downsized design, there's no flatbed scanner. Instead, you need to feed individual pages for scanning through a motorized transport system at the top. The printer is available in white, or white with either blue or 'sea foam green' accents, to fit in with your home décor. Ink is housed in a pigment-based black cartridge and tri-color dye-based cartridge.
A neat Wi-Fi advantage is that HP's Instant Ink program is available which, for a small monthly fee, automatically alerts HP when you're running low on ink, triggering the sending of replacement cartridges in the post. Further Wi-Fi bonuses include easy printing from your smartphone or tablet, and HP's mobile solutions including AirPrint, Wi-Fi Direct, HP ePrint and HP AiO Printer Remote app, which includes scanning to email.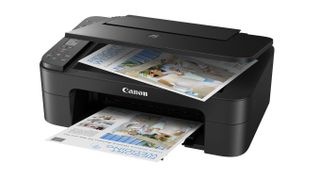 There's no point spending a lot on a fast, flashy printer if you only need to print the occasional few pages or photos. This entry-level PIXMA printer is relatively cheap to buy and it's quite compact too, so doesn't take up much space.
Unlike most PIXMA printers, it only uses four inks, which are contained in just two cartridges - one for black and the other being a tri-color cartridge holding cyan, magenta and yellow. This can increase running costs if you print a lot of one particular color, but at least XL (extra-large capacity cartridges) are available.
Print speeds are a bit on the slow side and duplex printing can only be done manually but, overall, it's a neat budget printer that produces good-quality output. It also enables printing and scanning to the cloud via Canon's PRINT app, with AirPrint or Morpria.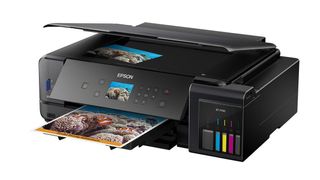 The vast majority of home Wi-Fi printers can only create Letter-sized A4 output, whereas specialist 13-inch A3+ professional photo printers are expensive to buy. This Epson printer strikes a good balance. It enables A3/11x17-inch printing, as well as panoramic or banner printing up to 11.7x44 inches in size.
Meanwhile, the EcoTank system based on large ink tanks rather than conventional cartridges gives it plenty of stamina for the long haul. The printer is supplied with enough ink to create 14,000 mono or 9,000 color documents, or up to 3,400 6x4-inch photos. Scanning and photocopying is available but the built-in scanner is only a normal page size. Wi-Fi bonuses include the Epson iPrint app for remote printing and the Creative Print app for creating photo prints, greeting cards and coloring books from your Facebook photos.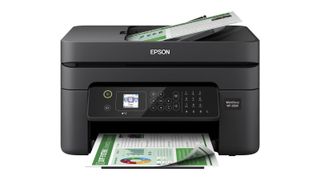 Building on the versatility of most all-in-one printers that feature a built-in scanner for photocopying or scanning documents and pictures, this Epson model adds a 30-sheet auto document feeder. This makes it much less of a chore to scan or copy multi-page documents or a stack of pictures.
What's more, it also has built-in fax capability, so it can send and receive faxes directly via a phone socket, rather than needing to operate through a mobile or desktop app. The printer makes the most of Wi-Fi too, with Wi-Fi Direct. You can also send documents to print from smart devices using Epson's iPrint app, while Epson Email Print makes it possible for the printer to receive files from almost anywhere around the world. With only four inks on tap, it's not ideal for photo printing but does a good job of both mono and color documents.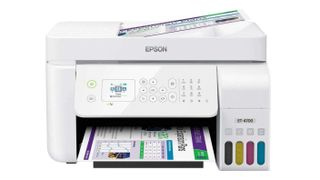 The accepted selling model for inkjet printers is that manufacturers sell the hardware relatively cheaply and make their money on ink cartridge supplies. Epson EcoTank printers take a different approach. They're pricey to buy but come with relatively huge bottles of ink, which pour into separate tanks, leaving cartridges out of the equation altogether. Indeed, this printer comes with enough ink for printing up to 4,500 mono pages or 7,500 color document pages.
Other high-volume-friendly features include auto duplex printing, a 30-sheet auto document feeder and direct faxing with a 100-name/number speed dial memory. Wi-Fi Direct is featured, for peer-to-peer connectivity without a Wi-Fi router, and you can print from smart devices using the Epson iPrint app.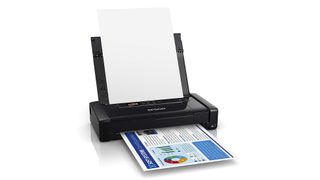 If you want a printer that takes up the minimum space on your desktop, or that you can take with you on your travels, this is it Able to handle glossy photo paper as easily as it does plain A4, the Epson WorkForce WF-110W is a hugely useful compact printer, with a rechargeable Li-ion battery built in.
Able to connect via Wi-Fi and Wi-Fi Direct, it's an easy printer to set up and get started with, producing prints that a highly detailed and look fantastic (albeit doing so a little slower than some printer). Its inkjet cartridges are a little on the expensive side, so factor that in before making a decision as this is the kind of cost that will mount up over time.
• See also Best compact printers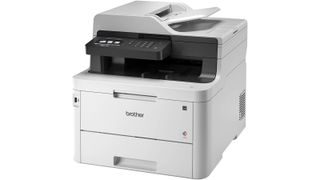 Like other low-cost 'laser' printers, this Brother model is based on an LED array rather than actual laser technology. Even so, it's a fast, high-performance printer, capable of delivering mono or color prints at up to 25 pages per minute. You can photocopy or scan to your computer, as well as sending direct faxes, all of which take advantage of a built-in auto document feeder.
A 3.7-inch touchscreen makes for easy menu navigation. Running costs are fairly competitive for mono printing but a bit pricey for color. The printer is well-connected, adding NFC to the usual range of USB, Wi-Fi and Ethernet options. This makes it easy and secure to print from smart mobile devices.
Read more:
• Everything photographers need to work at home
• The best large format printer
• The best photo printing online: top services from around the web
• The best photo printer: desktop photo printers compared
• The best portable printers
• The best all-in-one printer
• Best scanners for documents & photos
• The best film scanners
• Best indoor security cameras
• Best outdoor security cameras
• Best 3D printers