The best underwater fishing cameras offer an ingenious way to catch more fish. By giving a clear view of what's happening beneath the surface, they're likely to pay for themselves over time. Plus, they're a ton of fun to use!
At their simplest, such systems are comprised of an underwater camera and a monitoring screen connected by a cable, which can be extended or retracted courtesy of a spool (much like a fishing line). This involves manually raising and lowering the camera by hand.
Some cameras, meanwhile, can be deployed on the line, to work alongside your bait, and some mimic regular floats. They may also feature extra lights for dark waters. Some even provide footage in real time, usually via a dedicated app.
Below you'll find the best underwater fishing cameras on sale today. We've included models at a range of price points, to suit different purposes. And towards the end of our list, we also share some alternatives to fishing cameras, such as a drone, a sonar imaging camera or a diving camera to stalk your prey.
Best underwater fishing camera in 2023
Why you can trust Digital Camera World Our expert reviewers spend hours testing and comparing products and services so you can choose the best for you. Find out how we test.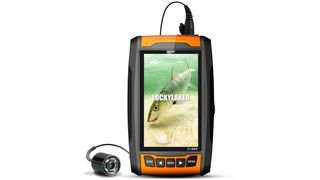 Designed for use in clear water, this setup features a camera, slender 20m (65 foot) cable on a reel, plus a 4.3-inch LCD resembling a typical digital camera back. There are operational buttons provided to remotely take the shot, not just review it. Functions include video recording and still picture taking, with the ability to view both on screen. The unobtrusive camera element features four infrared LED lights ranged around its lens, enabling fish to be observed even in darker waters.
Battery life is good for up to four hours of use when fully charged, with a USB cable helpfully provided. Plus if you choose, you can mount the monitor section on the handle end of your rod, so you're not distracted from the sport itself.
GoFish is an American company, and its solution is to mount the camera on your line so that you can use it to capture footage of you striking your fish, or gain intel as to where the fish are and just how interested they are in your bait.
The GoFish Cam works wirelessly, although you can't stream footage when underwater (that's physics for you). What you can do is set the device up to beam footage back to your phone once the camera is above water. Video is recorded continuously in one-minute segments, and backs up to a microSD card.
Incredibly the device is tested for use down to 150m (500 feet), plus there's a built-in green light to aid visibility when night fishing. This in itself will even attract some species of fish!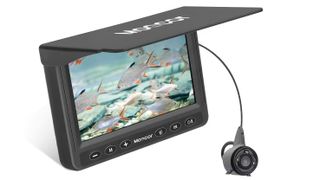 With a 4.3 inch monitor on a reasonably generic monitor, the Moocor doesn't look anything special at first glance, but to the ice fisher it's a potential game changer. Neatly tucked to the back of that screen is 15m / 50ft of cable, for a start, which connects into a neat little camera housing that has been designed with cable clips at different points so the HD camera can be angled according to conditions.
There are also three IR lights around the lens which can be enabled according to conditions. We also liked the combined screen shade / cover; using displays in bright conditions is never easy and this definitely helps. If fishing in clear ice water, you may also appreciate the 4x digital zoom to see closer into the waters without disturbing the fish.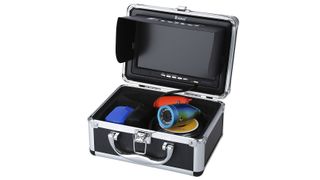 Everything you need for remote underwater fish watching within the one easy-to-transport tackle box-like aluminium case, complete with a 7-inch, 16:9 ratio LCD screen cleverly built into the underside of the lid.
The case itself, not just the camera included, is further claimed as waterproof, though it's not clear to what extent. Its 1/3-inch CMOS sensor camera can shoot both video and stills and features 12 infrared LEDs to allow fish to be seen more clearly beneath the surface.
It's worth noting however that in infrared mode, the image captured is in black and white. While camera is attached to a monitor via 50 metre cable and wheel, to get you started, one 4GB SD card is included along with lithium ion battery and charger. In short, an all-in-one solution, easily packed or unpacked.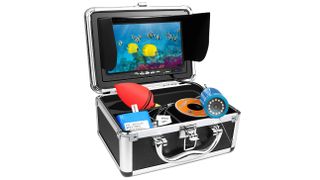 Offering a very similar specified – and indeed nigh identical looking – box of tricks to the Eyoyo offering, for a price within the same ballpark, Anysun's claim is that its IP68 certified waterproof camera system is so sharp you'll be able to clearly see the fish actually bite your bait.
Added to this, its chunky 12-volt battery will last an impressive 9 to 12 hours' worth of angling. With a 7-inch monitor boasting a sun visor and 1,000 lines of resolution, you basically have everything we need to record and view what's up to 15m below the surface – even if the water itself is murky.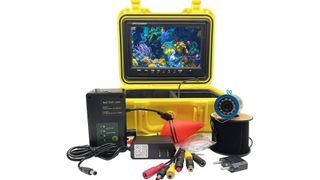 There's a lot to like about the latest version of the Mingbosky Portable Underwater Fishing Camera. It can function at up to 50ft (15m) or 100ft (30m), depending on model. It comes with a cable to match, allowing you to view the action on the included nine-inch monitor, which comes with a removable sun-visor. We also like how short springs at the end of the camera enable easy turns in the pipe, which is especially useful in hard-to-reach locations
The inclusion of 12 LED lights and 12 infred lights help it see more clearly in the dark. The 4500 mAh rechargeable battery can be used for 6-8 hours on a single charge. And it can operate between -20- and -60°C, making it suitable for ice fishing. Finally, it all comes in a lovely aluminium suitcase.
Best underwater fishing camera alternatives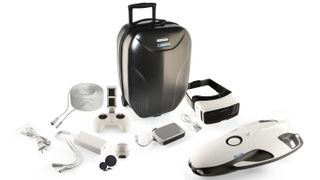 Our final three selections aren't fishing cameras per se, but they may help in your fishing endeavours. First of all, if you're looking to catch bigger ocean-bound dwellers, then an underwater drone could be your step-up product.
Included in this package are not just the 12-megapixel sensor, 4K resolution camera-incorporating drone and handset, but also some VR goggles/headset, a 64GB memory card and 210ft tether. Also impressive is the ability for the PowerRay to transmit images via Wi-Fi up to a distance of 262 feet, plus it's usable to depths of 30m. Yes, it's expensive, but if you're serious about getting deep into your hobby there is a lot of scope here.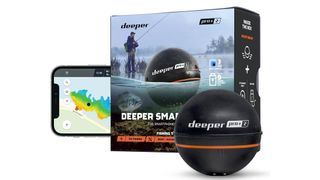 If you're looking deep underwater solely for the purposes of fishing, then actually seeing into the murky depths might not be the ideal solution; sonar imaging may be more useful. You'll be pleased to hear you don't need dolphin-like intelligence to interpret the reflected sounds of nearby fish; instead modern tools will examine the sub-surface environment and highlight targets for you, more than likely with fish icons.
The Deeper Pro Plus 2 use multiple beam frequencies and its own AI to tell you where fish are, presenting it as clearly as possible on your phone screen with GPS data. All this in a ball which weighs 90g (3.2oz) and goes on the end of your line, but can broadcast (and hear) three beam frequencies for up to nine hours to help you identify fish with a precision of between one and 2.4cm (depending on the depth). The visuals here will also help a fisher identify the bed and vegetation. So you'll use your time better, even if you're not looking your targets in the eye with a camera.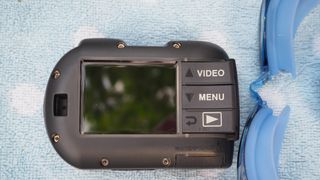 Finally, you may be considering going on a dive to survey a location, and check out its suitability for fishing. In which case, this lovely underwater compact is worth a look.
It's depth-rated to an impressive 60m/200ft, and can also withstand a 1-metre drop all from a device. Plus, where many toughened compact cameras will shoot underwater, their buttons and controls can be small and fiddly: not so here. A simple layout of three large piano keys on the rear panel and just a large shutter button up top make it all easily usable while wearing dive gloves.
Images are captured by a 16MP Sony 1/2.3-inch sensor that can also capture 4K video. It's fronted by a wide-angle lens with a 100-degree field of view. Built-in Wi-Fi allows you to wirelessly preview, download and share photos and videos
The battery is built in and good for over three hours use, while 64GB of internal memory takes care of image and video storage (note there's no removable media option). For more details, see our SeaLife Micro 3.0 underwater camera review.
Read more:
The best underwater housings for cameras and phones