The best trail camera in 2023: Menu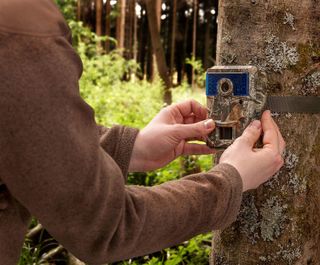 Top picks ↵
1. Best overall: Bushnell Core DS-4K No Glow
2. Best night and day: Spypoint Force-Pro
3. Best mid-range: Spypoint Force-20 Trail Camera
4. Best for beginners: Stealth Cam DS4K Ultimate
5. Best entry level: Stealth Cam G42NG
6. Best with cellular: Spypoint Link-Micro-S
7. Best for solar power: Spypoint Solar Dark
8. Best for a color screen: Browning Strike Force HD Pro X
9. Best value overall: Bushnell Prime L20 Low Glow
FAQs
How to choose
How we test
After trying and testing many trail cameras – also sometimes known as a camera traps – we've picked the top choices that will suit anyone on any budget. These cameras use motion or heat detectors and can be placed in a natural environment and left to trigger themselves the moment an animal crosses nearby, working night or day to capture animals shy of human disturbance.
The best trail camera is hardy and weatherproof, something we test, with a rugged build that can handle water, snowfall, and extreme temperatures. They're also camouflaged to fit in with their surroundings, and even if you don't want to shoot wildlife (if you do, you'll likely call them 'game cameras'.)
Photographers' alternatives are the best telephoto lenses but unlike the best cameras for wildlife, trail/game cameras are designed to be left in a location over time and occasionally monitored for signs of life.
A good trail camera can lie in wait for days or weeks until something comes by to get its attention, so we look for long battery life in our tests. Some use rechargeable batteries, while others rely on trusty AAs. Others are even solar-powered, and each approach has its merits.
In this guide, we've picked the best trail cameras right now, including both budget buys and high-end models with the latest features, including some of the best cellular trail cameras. If you're not sure what to look for, though, skip ahead to our section on how to choose the best trail camera.
best trail camera: our top picks
The best trail camera in 2023
Why you can trust Digital Camera World Our expert reviewers spend hours testing and comparing products and services so you can choose the best for you. Find out how we test.
The best trail camera overall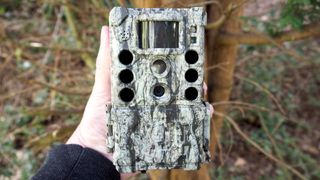 We think the Bushnell Core DS-4K No Glow is the best trail camera overall for most people. The clever touch is the fact that it includes dual sensors, one for the day and one for the night. The day sensor prioritizes sharpness and vivid color, while the night sensor focuses on high-contrast clarity, and promises clear images at distances of up to 110ft in the dark.
Our only issue when testing was that the screen could have been slightly bigger than 1.5 inches, but this isn't something you need to use much so we will let that slide.
This trail camera is built to survive inclement weather, and its 'No Glow' LED lights are just that, meaning that wildlife won't be put off by them. It can capture 4K video (or Full HD video at up to 60p), with audio too, and having 32MP at your disposal with a trigger time of 0.2 seconds pretty much seals the deal. In short, this is everything you need a trail camera to be.
The best trail camera for 4K night and day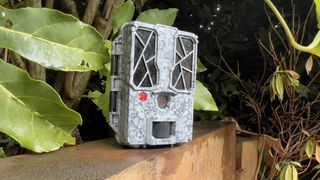 The Spypoint Force-Pro is relatively expensive, but it does enable you to capture great-looking footage at a whopping 4K resolution (or 30 MP stills). Its basic LCD menu is easy to use and you can set it up in minutes to record animal action all day and night. We found while testing that it lacks a solar panel of the similarly priced Solar Dark, but the quality of its clips is superior to that trail camera.
As reflected in its price, the Spypoint Force-Pro is the most powerful Spypoint trail camera. This power is present in good quality 4K footage and 30 MP stills. On the downside, the monochrome LCD is fairly simplistic and you can't view the SD card's footage on the screen (like you can with the similarly priced Spypoint Solar-Dark's color display).
You also have to buy batteries for the Force-Pro (while the Solar-Dark can coast along on its built-in rechargeable battery which is topped up by a solar panel). However, the Force-Pro produces much better-looking footage than the Solar Dark so it gets an extra star and a much stronger recommendation.
The best trail camera for a mid-range price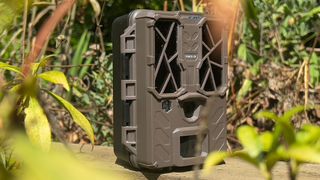 This is our top recommendation for a mid-priced trail camera is the Spypoint Force-20 trail camera. With quite an affordable price tag, you get a built-in 20-megapixel camera and the ability to illuminate night-time subjects without unduly distracting them – thanks to what are described as 48 'super low glow' LEDs.
What makes it 'mid-range' is the inclusion of an LED display (though a small one, at 1.5-inches) which makes for an easier setup experience than budget models. We found it took decent images and clips and liked the fact that data was included on the footage (including an icon for moon phase).
Video is a high definition 1280x720 pixels rather than Full HD, while the motion-activated sensor can register subjects up to 80ft away. And a certain amount of flexibility is offered via the addition of a time-lapse recording mode.
The best trail camera for beginners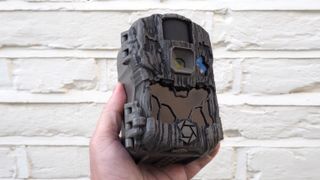 With up to 32-megapixel stills combined with up to 4K videos at 30fps, the Stealth Cam DS4K Ultimate is a capable contender for covert observation and great for beginners. It has a rugged, hard plastic shell with a rubberized inner that protects the camera element, and the operation is as straightforward or customized as you need it.
You can set up the camera to be always on, choose certain times of the day or night for it to be operational, as well as alter the resolution of stills or tweak the duration of any video, as well as selecting capture with the audio or without.
Add in the ability for time-lapse operation and the automatic enhancement of images while reducing blur – an issue if capturing subjects in motion in complete darkness – and we have to say this is one of the most comprehensive feature sets to be currently found on a trail camera in its price bracket.
The best entry level trail camera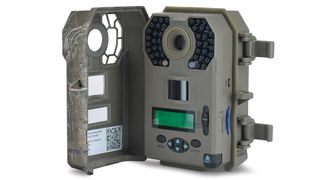 If you're getting started with trail cameras, you'll love this affordable entry-level model from US brand Stealth Cam. It offers a 10-megapixel stills option – you can also opt for 8MP, 4MP or 2MP shots from the unit – plus HD quality video with between and five and 180 seconds of audio.
With a respectable trigger response time of 0.5 seconds, there is a backlit LCD for making selections from the camera's menu, plus a 16:9 image ratio. As with competitors, 'no glo' (hence the 'NG' suffix) infrared flash can illuminate subjects up to 100ft away, while this camera purports to offer advanced blur reduction.
Usefully, there is an external power jack for operation via a 12v battery; otherwise power comes courtesy of 8x AAs. Durable weatherproofed housing is a must, and thankfully included here.
Best with cellular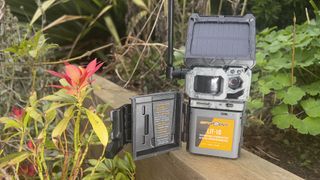 The Spypoint Link-Micro-S-LTE has some key advantages over some of the other trail cameras in the Spypoint range, as it can send images via cellular connection like the best cellular trail cameras.
We loved being able to transmit photos of wildlife straight to our smartphones, moments after they were captured. Thanks to the solar panel, you also don't have to keep relying on AA batteries, and this makes it an independent trail camera you can leave alone for days.
The main downside of the Link-Micro-S-LTE is that it can't capture video clips, so if you want to record video this isn't the best trail camera for you. But it is a great choice if you want a trail camera you can leave without worrying about the battery, and you like the idea of having images sent straight to your phone via a cellular connection.
The little Spypoint LINK-MICRO-LTE is a much simpler proposition than many of the other trail cameras on this list. It doesn't shoot video for example, just 10MP stills, though it can do so with an impressive trigger time of 0.5 seconds. You can also set the camera to trigger multiple photos once its infrared system detects motion, allowing you to get a series of images in quick succession.
In an unusual touch, the Spypoint LINK-MICRO-LTE also comes packaged with a preactivated SIM card that can transfer photos straight from the camera to your phone. A little odd perhaps, but a nice addition. It's fully controllable via the Spypoint apps too, letting you properly incorporate your smartphone into your workflow.
The best solar powered trail camera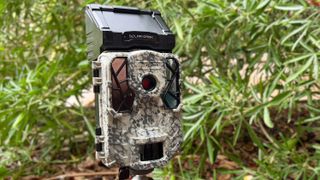 The biggest strength of the Spypoint Solar Dark trail camera biggest is the fact that it has an internal battery that can be topped up by a solar panel. This saves the expense and time of buying and charging batteries and gives you a low-maintenance camera that will shoot for nights on end – something that's helped by the 42 LEDs on either side of the lens that illuminate your subject during night shoots.
We liked that it was supplied with a memory card, though we found that, set to instant, the 16GB filled up very fast so you might want to invest in a bigger memory card or tweak the settings to force a longer gap between capturing clips.
It is a relatively expensive trail camera because of the solar element, and the cost of the camera doesn't necessarily reflect the quality of the footage that it produces. If power isn't so important to you, you might find the cheaper Spypoint Force-20 to be a more sensible option.
The best affordable trail camera with color screen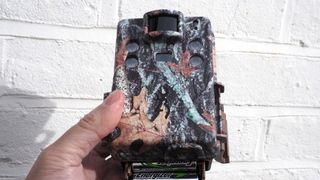 The Browning Strike Force HD Pro X is another brick-like trail camera designed for remote surveillance and observation, day and night. While the operational controls are bare bones and require an initial degree of familiarization, the provided screen is, unusually in this price bracket, a color one, which we much appreciated when we tested it.
You need your own SD card (we were impressed to see it can manage up to a 512GB capacity) and six AA batteries to power it. A nice touch is that the battery holder can be ejected from the base without changing the mounting position if needed. The screen can also be used to help with framing as it is external – unusual but appreciated.
Overall it's a good value option for those looking to take their initial steps in the trail camera / remote surveillance world – or those simply wanting an affordable fuss-free device that will do the job.
The best value trail camera overall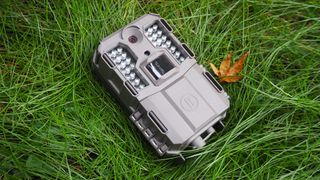 The Bushnell Prime L20 Low Glow is a sturdy plastic trail camera offering an easy-to-use option for those looking to get started with surveillance observation or wildlife watching. The camera offers IPX6 levels of water tightness to protect it against rainfall, and a set of batteries can last up to 12 months of use.
When we tested the camera we found that its black and white nighttime images were good but not astounding, while the daytime images recorded in full color were about the same level. That said, the trail camera can capture an image of something you wouldn't otherwise be able to record, rather than achieving a crystal clear result that you'd want to hang on your wall.
The remotely activated Bushnell Prime L20 Tan Low Glow is built for use in the great outdoors and comes with the added peace of mind of a two-year warranty. This budget-priced Bushnell option is worthy of recommendation.
FAQs
What is the difference between a game camera and a trail camera?
These are more or less the same thing. You are more likely to see the term 'game cameras' used by hunters, while photographers and scientists are more likely to use the name 'trail camera.' People also sometimes say 'camera trap,' which can refer both to this kind of camera and to a device designed to trigger a traditional camera.
Which is better, a trail camera or a security camera?
It depends on what you're looking for. While there are similarities, security cameras are usually designed to work with live recording or alert systems which isn't needed for a trail camera, but security cameras also expect to be near – often within WiFi range – of the home. Finally, trail cameras are often camouflaged, while most of the cameras in our outdoor security cameras guide are deliberately visible as a deterrent.
Do trail cameras work in the dark?
Yes, most trail cameras have night vision. A built-in but invisible infrared light illuminates the subject, with a typical range of around 60-80ft (25 meters). It's not the same as a the best night vision goggles in terms of speed, but it will keep a record on the memory card.
How long should you leave a trail camera?
Many users agree that months at a time is reasonable, especially if animals in the area you are capturing images are easily spooked by the scent you leave. A cellular trail camera means it is possible to leave a camera and check the images.
What is the best deer bait for trail cameras?
Location is more important than the brand of bait, but a mix of ground and whole chestnuts is a good choice. Try and place it in a route the deer already need to go for camera positioning and place the bait there to slow them in front of the camera.
How to choose the best trail camera
Just like regular cameras, trail cameras with higher megapixel counts will produce images of greater quality and detail. But other specs you want to look out for include the focal length of the lens, as this dictates the field of view. The wider the angle, the more of a scene you'll capture, but this will mean an animal will have to get closer to make for a usable picture.
Another important factor is the trigger time; how fast after detecting something will a trail camera capture an image? With how quickly wildlife moves, every millisecond really does count. It definitely needs to be less than a second, otherwise, all you'll end up with are images of animals' back feet disappearing from the image.
Some trail cameras also have an infrared flash, which illuminates scenes on a wavelength that wildlife won't notice. If you're after nocturnal subjects, this is definitely worth getting.
Don't forget that trail camera aren't designed to be monitored continuously, so don't have high-quality view-finders. Some don't even have screens, which can make menu operation harder but save some cash.
If you're interested in checking the results often, without coming back to the camera – which can disturb wildlife habitats – then look for a cellular trail camera. We can tell you from experience how disappointing it is to miss out on pictures because you leave your scent all over an otherwise promising location.
Many trail cam models can be bought in multi-packs – allowing you to buy two, four, or more trail cameras together at a discount – so that you can monitor several locations simultaneously.
How we test trail cameras
When testing and reviewing trail cameras, we look for good image quality, battery life, rugged weatherproofing, and user-friendly operation. We also keep an eye on sensor range, camouflage, and options for remote control and image transfer. We examine the specifications and, where possible, try the cameras out on location in different weather conditions. Given the importance, we also test the true battery life.