The best camera for food photography is essential for appetizing food photos, whether you're taking snaps of your dinner for Instagram or you're taking it a bit more seriously, you'll want to make your food look as delicious as it deserves.
Getting your food to look fantastic can be quite a challenge. Some food may be a tasty treat, but getting that across in a picture isn't always easy. Bad lighting, dodgy angles, and the wrong kind of gear can leave you disappointed with the results.
That's where our list comes in to help - at least with the last point. We've selected a wide variety of different cameras and types which are all suitable for food photography in one way or the other. Whether you're a phone snapper, a beginner looking to step it up, or somebody more advanced, you'll find something to meet your needs here.
With all that in mind, keep reading to discover our choices for the best camera for food photography…
The best cameras for food photography in 2023
Why you can trust Digital Camera World Our expert reviewers spend hours testing and comparing products and services so you can choose the best for you. Find out how we test.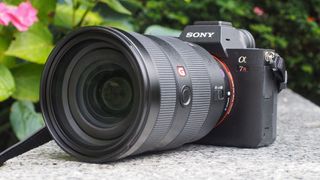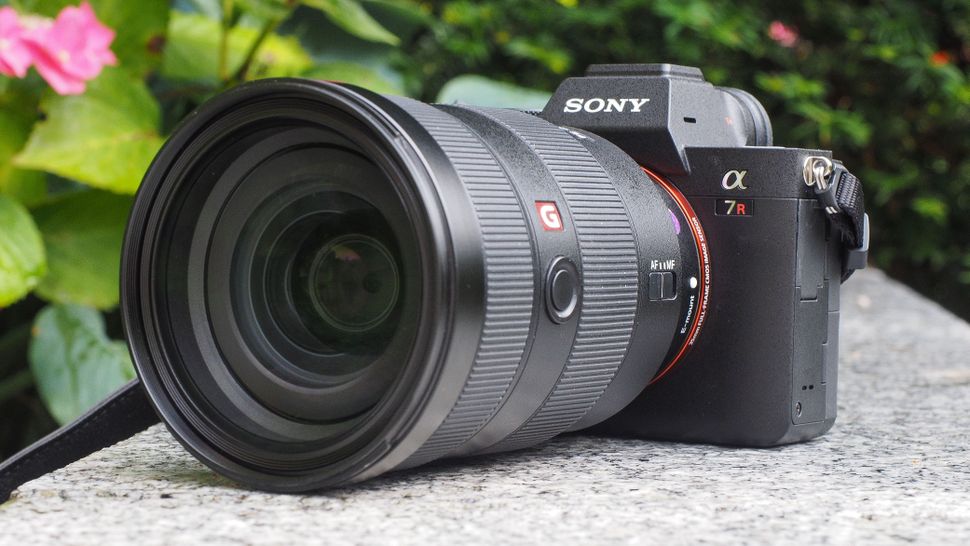 Sitting on its own in the resolution stakes for a full-frame camera, with 61 megapixels to play with, your food photographs will sparkle with dazzling detail. It's also got a great array of AF points right across the frame to help with composition, while there's a decent selection of macro optics available should you want to invest.
Manual focusing is made easy with both focus peaking and the ability to zoom right into the scene for checking critical focus. The screen is a decent performer, though as it only tilts it's not quite as handy as those with fully articulating devices.
The biggest drawback here is likely to be the high price the Sony A7R IV commands. If you're a dedicated food photographer, you might think it is worthy of the investment, however.
Read our full Sony A7R IV review for more details.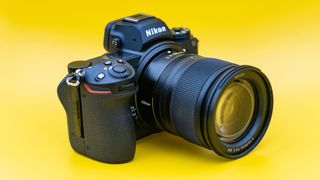 Here's another full-frame mirrorless camera boasting a very high resolution. At 45.7 megapixels you've got lots of scope for capturing fine detail, as well as cropping to enhance your composition.
There's also a fantastic spread of AF points right across the frame, while manual focusing benefits from focus peaking and a focus magnifier too. Like the Sony, the Z7 II's screen only tilts, so that's something to take into consideration.
Nikon has only just launched macro lenses for its Z series, but you also have the option to use DSLR lenses via the F-mount adapter, giving you much more flexibility.
If food photography is just one of the genres that you like to shoot, the Z7 II is a sensible choice since it's a good all-rounder across a number of subjects.
Read our full Nikon Z7 II review for more details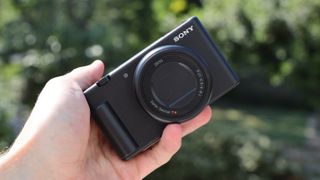 If it's not just stills which are your concern when it comes to food photography, then the Sony ZV-1 II is a fantastic option.
This little pocket wizard is mainly designed to appeal to vloggers. Those with a penchant for food could perhaps make use of the product showcase mode which is designed to use the optimal settings for product review-type videos.
The good news is that the ZV1 is also a very capable stills camera too, so you get the best of both worlds. It offers very close focusing, good manual focusing options, an articulating screen, and a good spread of AF points across the frame.
A smaller sensor than most of the cameras in this list is potentially the only major downside to this model, but the trade-off is that it'll fit neatly into your pocket.
Read our full Sony ZV-1 II review for more details.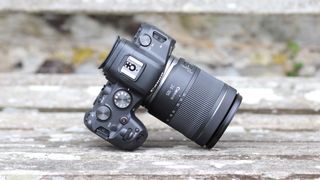 Canon's latest mirrorless marvels show off a fantastic about of photographic prowess. The Canon EOS R6 Mark II has a lower resolution than its stablemate, the EOS R5, but it's available at a much more affordable price.
You get a good range of manual focusing options, but it's the incredible 6072 autofocus points across the entire frame which really help it to stand out. There are some macro lenses available in the RF mount, but you can also use Canon's DSLR lenses via an adapter which are even more numerous.
Another great benefit of the EOS R6 is its fully-articulating screen, which is extremely helpful for composing from those awkward angles. Like the Nikon Z7 II, the Canon EOS R6 is a good all-rounder, so if you also want to photograph other subjects, you won't be disappointed.
Read our full Canon EOS R6 Mark II review for more details.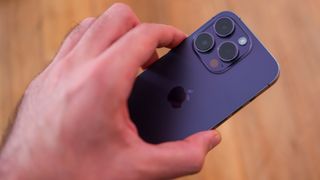 The iPhone 14 Pro definitely boasts the best iPhone camera yet making it the best iPhone for photography by far. The resolution of the main camera has been bumped from 12MP to 48MP and the selfie camera is better at autofocus and close-up shots.
In 2022, Apple introduced a larger 1/1.28-inch sensor that outdoes the Galaxy S22 Ultra. It has a similar lens with an f/1.78 lens and a 23mm focal length, seven optical elements, and sensor-shift optical stabilization making for very smooth videos and low-light photos. With the added digital lens, the iPhone 14 Pro crops into the inner 12MP of the main camera sensor to create a native 12MP two-time telephoto image. This punches into 48mm – perfect for portraits. The iPhone 14 Pro also features an action mode, which adds GoPro-style stabilization to 2.7K video content for high-motion shooting.
Read our full Apple iPhone 14 Pro review for more details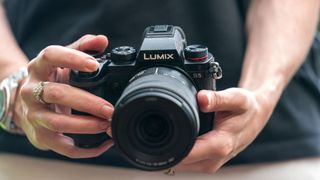 If your idea of good food photography goes hand in hand with traveling across the country and beyond to find it, a small system camera such as the Panasonic Lumix S5 is a great flexible option.
It boasts a full-frame sensor in a body around the same size as some of Panasonic's models with a much smaller sensor. That makes it great for detail and use in lower-light situations, especially as the resolution has been kept to a sensibly modest amount.
Being part of the L Mount lens Alliance gives you lots of flexibility when it comes to lens options, including several of which are designated macro options. There are also useful manual focusing options, such as focus peaking, while the AF points are spread usefully across the frame.
A fully articulating touchscreen comes in handy for shooting from awkward angles, making this a great all-round choice for food photography.
Read our full Panasonic Lumix S5 review for more details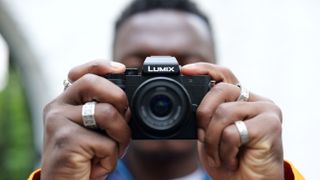 This is another great option for everyday or travel use. This light and highly portable Micro Four Thirds camera come with the advantage of a flexible range of native lenses, which also includes several Macro options.
The fully articulating screen comes in handy when composing from strange angles, while there's a good array of manual focusing options here. AF points might not be as numerous as some of the other cameras mentioned here, but they are spread well across the frame to give you a good choice.
Having a smaller (than full frame) sensor may put off some, but with an overall small system, it's a great option for those who want to travel to find their food photography destinations.
Read our full Panasonic Lumix G100 review for more details
---
How to choose the best camera for food photography
Choosing the best camera for food photography isn't necessarily as simple as picking one of the best mirrorless cameras, the best DSLR, or the best compact cameras. Although the cameras in those guides are great, they are often all-rounders that perform well in a number of areas but don't necessarily excel at food photography.
It's therefore worth thinking about the following features if food is your preferred genre:
Resolution: To really make your food photography sing, using a camera with a high-resolution sensor will show it off in super-fine detail, perfect for making sure every crumb is shown off to perfection.
AF points: When you're composing your food images, sometimes the object you want to focus on will be in the far edge of the frame. Therefore, a camera that boasts a good spread of focus points across the frame will make things a lot easier.
Screen: Food photography is often shot while the camera is mounted on a tripod, allowing you to adjust the composition of the food while keeping the camera steady. It also allows you to use lower ISOs for the best-quality imagery. Therefore, a high-resolution screen is a must. It's also helpful if it can be rotated or tilted to allow for awkward compositions.
Manual focusing: options For a precise focus on often small details, manual focusing is a great option. Look for cameras that help with that. Easy manual adjustments, focus peaking, and being able to zoom into the scene (focus magnifier) are all extremely beneficial.
Macro lens / close-focusing: For finely detailed shots, nothing beats a dedicated macro lens. Look for cameras that support that type of lens. If you're using a fixed lens camera, look for those which offer close focusing.
Food modes: Many modern cameras and smartphones have dedicated food modes. This isn't essential by any means, but if you're going to spend a good amount of time photographing food, a mode like this can come in handy.
Remote control possibilities: As already mentioned, you'll often find you'll be shooting food photography while the camera is mounted on a tripod. Having the ability to remotely trigger the shutter is therefore very helpful. Most modern cameras have compatibility with a smartphone app which can be used for just that purpose.
How we test cameras
We test cameras both in real-world shooting scenarios and in carefully controlled lab conditions. Our lab tests measure resolution, dynamic range, and signal-to-noise ratio. Resolution is measured using ISO resolution charts, dynamic range is measured using DxO Analyzer test equipment and DxO Analyzer is also used for noise analysis across the camera's ISO range. We use both real-world testing and lab results to inform our comments in buying guides.
Read more
The best books on food photography
The best lenses for food photography
10 tasty food photography tips
A day in the life of professional food photographer Donna Crous