What's the best Samsung phone that money can buy today? Whether you want to spend top dollar on the very highest specs, or prefer a budget friendly model that provides all-round value, we present our top picks for you in this article.
Overall, the best Samsung phone right now is the Samsung Galaxy S22 Ultra, with fantastic cameras and top build quality. It is expensive though, so if you don't want to spend that much, we recommend the Samsung Galaxy S20 FE, which the one of best camera phones despite being a very affordable price.
Alternatively, you might want to dip your toes into the cool, inviting waters of one of the best fold phones. Samsung is currently leading the folding phone market, offering both the Samsung Galaxy Z Fold 2 and the Samsung Galaxy Z Flip 5G.
Either way, you'll find the best Samsung phones below at the very best prices. And we'll give you all the information you need to make an informed choice.
Also see: Samsung Galaxy S22 vs S22 Plus vs S22 Ultra
Best Samsung phone in 2022
Released in February 2022, the Galaxy S22 Ultra is hands-down the best Samsung phone that money can buy today.
Its four-camera system is top-notch, featuring wide, ultra-wide, telephoto and super-zoom sensors. The first of these boasts a 108MP sensor, with an f/1.8 aperture, Dual Pixel AF, and an 85-degree field of view. The 12MP ultra-wide camera features an f/2.2 aperture and a 120-degree field of view. There's also one 10MP telephoto with an equivalent three times zoom (f/2.4) and another 10MP telephoto with a 10 times zoom (f/4.9). And that's not to mention the selfie camera, with its 40MP resolution, f/2.2 aperture and 8K video capture at 24fps.
More broadly, this is a large, stylish and powerful smartphone. Its 6.8-inch AMOLED screen is to die for, with smooth motion, vivid colors, impressive brightness, and 500 pixels per inch resolution.
The improved S Pen stylus is brilliant, and gives you the kind of productivity you previously only got with a Galaxy Note. There's a powerful 5,000mAh battery to keep it going for hours, and the design and look of the phone is simple but, to our eyes, very stylish.
In short, you're getting the very highest specs of any Samsung phone on the market today, and they all work together brilliantly in practice to offer a top class experience.
In full: Samsung Galaxy S22 Ultra review
Until last month the Samsung Galaxy S21 Ultra was the flagship model, and it remains a stunningly sophisticated device with a lot to offer. This camera phone features four rear cameras, including a 108MP f/1.8 main camera, a 12MP f/2.2 ultra-wide camera and two 10MP telephoto cameras – one with an f/2.4 aperture and 3x optical zoom and one with an f/4.9 aperture and a huge 10x optical zoom.
You also get a fantastic 6.8in screen. The Dynamic AMOLED 2X display features a 120Hz refresh rate for smooth scrolling and gaming experiences, HDR10+ support, 1500-nit peak brightness and a 1440 x 3200 resolution.
In full: Samsung Galaxy S21 Ultra review
If you're looking for one of the best camera phones for telephoto capabilities, then the Samsung Galaxy Note 20 Ultra might be right up your alley. Featuring a triple rear camera, the Note 20 Ultra has a 108MP f/1.8 main camera, a 12MP f/2.2 ultra-wide camera and – the pièce de résistance – a 12MP f/3 camera with 5x optical zoom and 50x digital zoom. The Samsung Galaxy Note 20 Ultra comes in three colors, including Mystic Bronze, Mystic White or Mystic Black. While the Note 20 Ultra is a little pricey, we've definitely seen the handset begin to fall since it first appeared on the market back in April 2020.
In full: Samsung Galaxy Note 20 Ultra review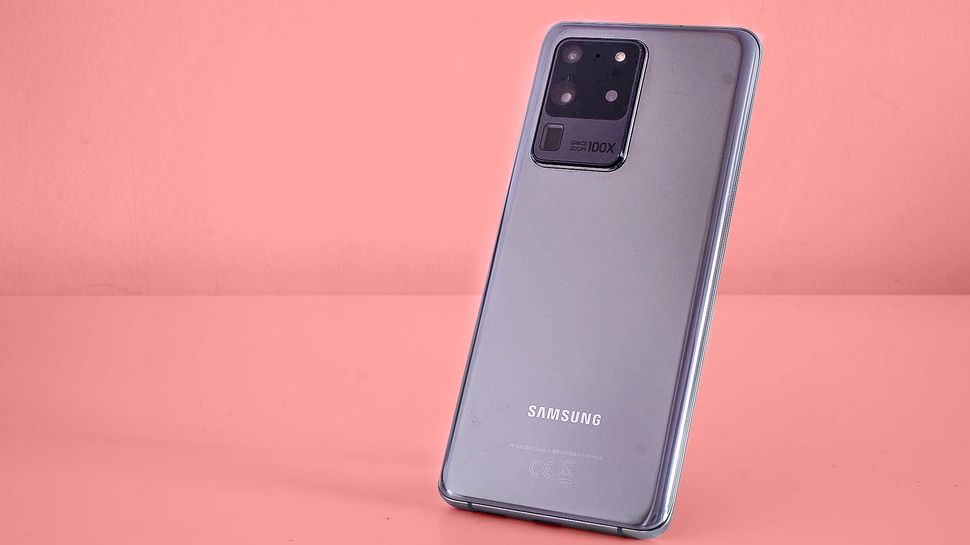 The Samsung Galaxy S20 Ultra 5G might not be the latest in its lineup, but it's still one of the best Samsung phones. Its 108MP camera proves to be more than a numbers play. And while the 100x zoom may not deliver at the extreme end, it's more than capable of giving you great-looking telephoto images. This, however, is a phone with foibles – namely the inconsistent image processing and battery life – but these will surely be fixed with firmware. The 8K is more limited you might hope, the 120Hz mode is best avoided for most, and the cost is restrictively high for many. However, the hardware is a league above that of the Galaxy S20 and S20 Plus. And judged on its picture performance, when everything clicks, it is almost certainly the best Android camera phone ever – and the best 5G camera phone, to boot.
In full: Samsung Galaxy S20 Ultra review
If you love the high-end capabilities of the Samsung Galaxy S20 family, but you can't quite justify the price, then the Samsung Galaxy S20 FE is still one of the best Samsung phones. Retaining many of the features that made the Galaxy S20 so popular, the Galaxy S20 FE features a 6.5" 1080 x 2400 Super AMOLED display with a buttery smooth 120Hz refresh rate. Meanwhile, the camera setup is equally impressive, boasting a 12MP main camera, a 12MP ultra wide camera and an 8PM telephoto camera. Inside the handset, you'll find either the Snapdragon 865 or Exynos 990 chipsets (the Snapdragon handsets will feature 5G). If you're looking for one of the best Samsung phones at a great price, you'll struggle to do better than the S20 FE.
In full: Samsung Galaxy S20 FE review
On paper, the 7.6-inch screen-size might not sound much bigger than a 6.7-inch phablet, but it feels like a whole new product category (it is). By folding, rather than flipping, this is smaller than some, but encloses a screen 1.4 times bigger than the giant Galaxy Note 10 Plus. The crease down the centre of the screen can be used to side-by-side some apps, making this live up to 'small tablet' more than any other phone. Full-screening an app makes for amazing photo editing and you'd be churlish to notice the slight bend; similarly gaming doesn't only get a lot of real estate but also 120MHz for fluid visuals. A smaller outer screen means you don't even need to open the device for most uses – checking messages and framing photos are easily achieved while the phone is still closed.
In full: Samsung Galaxy Z Fold 2 review
While it's certainly a nostalgic form factor, the Galaxy flip – now with added 5G – hasn't been on the line up long and benefits from all the lessons Samsung learned after their first Fold. The flip does pose problems for a lot of phone features, such as notifications, so hidden under the shell is a tiny 1.1-inch Super AMOLED display, just opposite the main cameras, which can muster a couple of lines of text. It also allows square selfies to be caught with the main cameras without opening the camera. It is a bit of a shame there is no telephoto camera, as the same money would get you more optical oomph with a Samsung Galaxy 21 Ultra but ultimately it's the design, not the megapixels, which will impress your entourage, as will the 'mystic' bronze or gray casings that also pack a decent 3,300mAh battery – enough that 5G will speed you up, not slow you down.
Read more
Best budget camera phones
Best iPhone for photography
Best burner phone
Best 5G phone
Best phablets
Best flip phones
Best selfie sticks
Best phone tripods and supports
Best gimbals for video
Best add-on lenses for phones
Best iPhone power banks
Best phone cases
Best camera for TikTok
Best TikTok lights