The focal length of your lens determines how wide or telephoto it is, with lower numbers such as 16mm being super-wide for squeezing in more of the scene and higher values like 200mm being very telephoto or 'zoomed in'.
• Photography cheat sheet: focal lengths explained
The focal length will be written on your lens, though if you're using a camera body with a cropped sensor, you'll need to multiply this value by the crop factor to get your full-frame equivalent focal length.
On Sony and Nikon APS-C compact cameras, this is 1.5x, but on Canon APS-C cameras it's 1.6x, and on Micro Four Thirds it's 2x.
How perspective affects landscapes
While wide-angle lenses are the go-to optics for landscape photography, you can get distinctive results by trying telephoto lenses, too.
In this image of Corfe Castle in the UK, shot with a telephoto at a focal length of 200mm, the perspective has been compressed – making the yellow gorse and the castle feel a lot closer together as well as eliminating much of the dead space in the scene.
Scroll down to see the results when the same scene was shot at different focal lengths, and how you could incorporate these aesthetics in your photography…
1. 15-35mm – Ultra-wide to wide-angle
A wide-angle lens offers a wider angle than the human eye can see, so are great for squeezing in loads of the scene in front of you. Around 24-35mm (full-frame) is considered a wide-angle, with anything below 20mm classed as ultra-wide.
2. 50mm – 'standard' focal length
50mm on a full-frame camera, or 35mm on an APS-C, is called the standard focal length, as it's very close to the angle of view that the human eye can see. Shots taken at this focal length will look more natural.
• What's the best 50mm lens?
3. 70-400mm – Telephoto 'long' lens
You might think a telephoto lens would be a strange choice for landscapes, but they can capture some wonderful scenes, help you hone in on a focal point, compress the perspective and cut out dead space.
3 pro tips for shooting super scenics
1. Use a weather app
Weather can change fast, so be sure to check the conditions as close to your shoot as possible to get the most accurate forecast. Great shots can still be taken in poor weather, though, so don't let the rain deter you from heading out with your camera.
2. Balance longer lenses
Larger lenses like this 70-200mm f/2.8 lens come with a tripod collar foot. You'll want to make sure this is where you attach your tripod mounting plate so that the lens is evenly balanced and that you're not putting excess strain on the camera mount.
3. Hire a lens for special occasions
Top-tier lenses can cost a small fortune, so if you only need your lens for a short amount of time, whether it's a wide-angle tilt-shift optic for capturing architectural shots (above), or a 400mm f/2.8 telephoto for sports or wildlife, you might be better off hiring specialist lenses for the length of your photoshoot.
It is actually really economical to rent lenses: sites like hireacamera.com offer a wide range of lenses, across the major camera and lens brands, for rates that are a fraction of the retail price.
Read more:
The best lenses for landscape photography
The best DSLR camera
Best mirrorless camera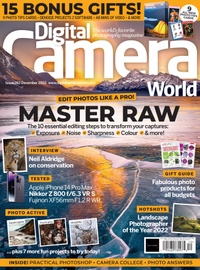 Digital Camera World is the world's favorite photography magazine and is packed with the latest news, reviews, tutorials, expert buying advice, tips and inspiring images. Plus, every issue comes with a selection of bonus gifts of interest to photographers of all abilities.