Mother's Day falls on Sunday 10 May this year, and even though many of us might be spending it in lockdown, you can still celebrate your mom with a special gift – such as a photo book. While usually you might take your mom out for brunch and reminisce about childhood memories, a photo book is the perfect way to celebrate your relationship when you can't see each other face to face.
If you love the idea of collecting your favorite memories with your mom and uploading them to a stylishly designed photo book, but you're not sure where to start, then you're in luck. We've created many photo books in the process of creating our best photo books buying guide, so we've picked up a few handy tips along the way.
• Read more: Everything photographers need to work from home
Photo books are all about handpicking your favorite memories and storing them in one place. No one wants to spend Mother's Day away from their mom, but creating a photo book filled with special memories might help to lift both you and your mom's spirits in these difficult times.
How to make a photo book
Creating the perfect photo book design is all about knowing what you want to say and how you want to say it. Do you want to do a deep dive into your childhood photos and reproduce them in a cohesive manner? Or do you want to take images from a recent trip together? Or perhaps you think she'd love to see recent photos of her grandkids now that she can't see them as often.
Either way, before you even think about opening a photo book manufacturer's website, it's best to decide what theme you want your photo book to have. After all, you can always create a second photo book if you've got too many images for just one!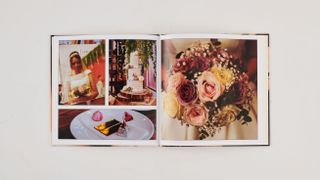 01. Find your photo book provider
There are so many photo book suppliers to choose from that this can often be the most overwhelming part! Luckily, we've thoroughly tested our favorites in our best photo book guide. However, you can also see some of the best deals below. If you're looking for something cheap and easy-to-create, we really like Mixbook. However, if you want a super high quality book, then we'd recommend CEWE (although they're only available in the UK).
02. Select your photos
Before you even think about powering up the photo book creator tool on your chosen website, we recommend selecting all the photos you want to use first. If most of them are on your phone, then this is the perfect time to transfer them across onto your computer so that they're ready to go.
Alternatively, if you need to digitize some childhood pictures, then you might want to check out our best film scanners and best all-in-one printer guide.
03. Choose your photo book design
Most photo book websites are filled with hundreds of different designs, which can be somewhat overwhelming when you first scroll through the site. However, most providers will split their photo books into different sections, such as weddings, travel, family and more.
Choose the most accurate section for you and then scroll through until you find something that catches your eye. While there will be many designs with bold, brilliant colors, we'd actually recommend starting off with something simple. Not only will this give your photos their chance to shine, but you'll also be able to add your own design flourishes in later.
04. Arrange your photos
If you were going to read an ordinary book, you'd expect there to be a coherent narrative there, so you'll want to do the same with your photo book. While we're not asking you to construct storylines worthy of your favorite soap opera, there are still ways that you can create a story that will lead your viewer through the photo book.
The easiest way to do this is pay attention to the chronology of your photos. For example, if you're uploading images from your childhood, then start off with your baby pictures and then work your way up to graduation/ wedding photos.
05. Choose some design flourishes
Most photo book websites allow you to customize your design with stickers and text, which means you can add an extra layer of sophistication to your design. However, don't be tempted to overload your photo book with them – less is definitely more! Instead, choose select pages and add an elegant sticker for a final touch.
06. Enjoy your brilliant photo book design!
Once you've finished designing your photo book, the only thing left to do is order it and wait for it to arrive. To ensure that it reaches your mom in time, you might want to send it directly to her house so that it's there for Mother's Day.
Read more
Best photo frames in 2019: hang your images in style
Best digital photo frames
Best photo calendars: create your own 2020 calendar
The best photo printing online - where to order your photo prints
Best photo albums