There are currently 270 Underground, 112 Overground and 45 Docklands Light Railway Stations in the city of London, UK. The Tube Mapper Project follows photographer Luke Agbaimoni's journey as he gradually captures moments at each and every station.
In 2018, there were 5 million users experiencing the London Underground every day, so it's not surprising that many start to notice aesthetically pleasing aspects of their journeys: the symmetrical passageways, the historic architecture and the new layouts. There truly is beauty in what would first appear as mundane.
The aim of the Project is to capture and share some of these visually enjoyable observations. It began over four years ago, just before Agbaimoni's first child was born. He realized that the free time he used for creative cityscape photography at dusk was likely to disappear, so he devised a new project that would fit more comfortably around his schedule. The idea has been growing ever since.
Top tips for shooting on the London Underground
Check permissions
Permission will vary depending on where you live, but always check first. If you want to film or take photographs on London's TfL network, for instance, you must ask permission ahead of time from the TfL Film Office.
Talk to people
People might question why you're taking shots of them; if you're challenged, explain what you're doing and even show them the image. If they object, simply delete it and move on.
Watch your gear!
Stations are busy places, and unfortunately can be a hive for pickpockets, so always go with someone or keep your gear close at hand.
Luke's shots of his favorite Tube stations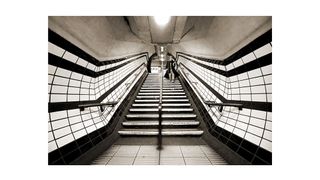 01 Goodge Street

"The corridors of the London Underground are filled with history. Wandering around makes you appreciate the surprising beauty of the tiling. I love how the curves in this photo echo the movement in the woman's swishing coat. This photograph was taken using a Sony A7R II with Sony FE 16-35mm f/4 ZA OSS lens at 16mm; 1/160 sec at f/4, ISO5000."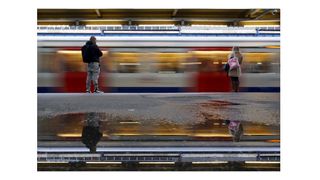 02 South Kensington
"I have a collection of photos I call 'Waiting for Trains'. I started capturing these images as it's a nice way of creating dramatic light, even in the middle of the day. I also love the technical challenge of capturing long handheld exposures. This shot hugely benefitted from a wet puddle on the platform. This photograph was taken at 16mm, 0.4 sec at f/14, ISO250."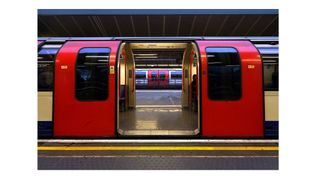 03 Stratford
"I love it when the doors on both sides open, creating a temporary bridge to the opposite platform. This event only happens at a few Tube stations and Stratford is probably the best location to capture it. The difficulty here was waiting for a train to zoom past while the doors remained open. This photograph was taken at 16mm; 1/160 sec at f/6.3, ISO1600."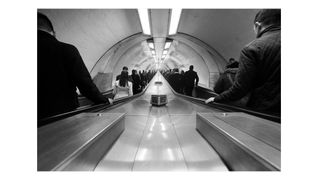 04 Bank
"Sometimes we get so used to our journeys that we begin to see patterns in them. I love how it is not just the shapes in the architecture that are symmetrical, but also at times the movements and behaviors of those who commute on it. This photograph was taken at 16mm; 1/160 sec at f/4, ISO3200."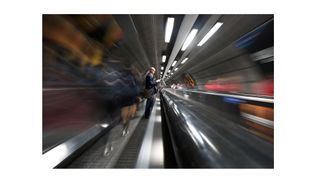 05 Waterloo
"A tricky long exposure capturing the movement on a travelator between Bank and Monument. I leant on the handrail for extra stability. I love how the image feels like the commuter is calm and focused on reading as the world rushes by. This photograph was taken at 16mm; 1 sec at f/10, ISO200."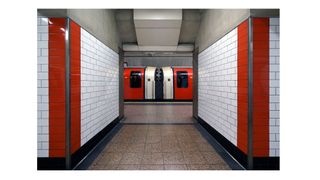 06 St Paul's
"This photo was the beginning of my challenge to capture trains in a way that they add to the symmetry of the scene. I love how the red and white tiles continue with the train, transforming the final image into something more abstract. This photograph was taken at 16mm; 1/160 sec at f/4, ISO 3200."
Read more:
Best Sony cameras
Best Sony lenses
Best cameras for street photography
Best lenses for street photography