Whether you're an enthusiast or a keen amateur photographer, photo sharing platforms offer you a chance to showcase your skills to the photography community and the rest of the world – and building a photography website is the best way to do this.
Beyond making it easy to share images, the best photo sharing platforms provide ways for users to organize their photographs in a way that makes them easy to display whenever required.
When it comes to choosing between the range of sites available, you have to consider which services you want to use, as each photo sharing platform
will have strengths and weaknesses in specific areas.
Each site is feature-rich and most are free, with extra storage space and other additional perks available for a price. Things you need to consider are: shareability, storage space, image quality, ease of use, privacy options and cost.
Using a photo sharing platform will create an instant portfolio for a photographer at any stage of their career. Many sites allow you to use templates to customize your landing page, keep photos in separate albums, and append comments to each shot.
Because so many of these customizable options are pre-loaded, you can set up an online photo gallery in just a few minutes – far quicker than it takes to design a custom website.
Because of their built-in search tools and high placement in search engine rankings, photo sharing sites can bring more people to your photos without much effort having to be expended on your part.
And if you've named and tagged your photos appropriately, it's possible they'll see more traffic on a photo sharing site than they would on your own custom domain.
Things to consider before uploading images
Set yourself apart from the work of other photographers by having a clear identity. Over the years you may have shot images across a variety of genres, but from a professional point of view it's best to showcase the genre that best defines you.
If you need to show two or three styles, it's best to put them in separate galleries rather than together on the landing page.
Don't assemble your portfolio on your own: when looking at our own work, we tend to be blinded by our own biases. An outside perspective is the best way of overcoming this.
Talk to different people – even those who aren't interested in photography; this will give you a view of what a general audience would be looking at.
To get started, we suggest gathering your best 10 to 12 images and then building it up from there. Keep your style consistent so your viewers will return for more.
Which image sharing site is best for you?
Get your portfolio out there with one of the four best options available – all you'll need is a computer, internet access and an evening's worth of spare time…
01 Flickr
Best for: Storage space; volume of images
When Flickr was introduced in 2004, it caught on like wildfire and is one of the most popular online photo sharing sites ever. The Free account permits up to 1,000 images to be in your portfolio, while Pro account users get unlimited storage.
Image presentation is beautiful and there are great community features, with photo interest groups covering almost any topic.
On the downside, Flickr does tend to alter its price plans and perks, and Free account users have to endure some adverts, as well as little to no control of their portfolio's overall layout.
02 500px
Best for: Getting and increasing exposure
Launched in 2009, 500px is used by leading photographers to share and discover images, increase exposure, take part in photo contests, and license their photos through distribution partners.
500px's clean interface and community driven voting system means it's home to some of the best work from top pros.
Full stats and analytics are available for all images in your portfolio; one downside of 500px is that you can't have a giant user base that will automatically see the images you post, and the site doesn't really have a community aspect.
03 Pinterest
Best for: Organising and sharing ideas
Think of this as the digital version of a pinboard or corkboard… somewhere you can pin up interesting ideas to share with others.
When considering the reasons you want to use a photo sharing site – showing friends and family your latest creations; hoping to get increased recognition for your photography; or looking to sell some of your images – Pinterest will be useful for the first of these, but not for the last two.
The platform is particularly useful for photographers to research, collate and seek feedback on new and inspiring photographic techniques.
04 Unsplash
Best for: Turning professional
The Unsplash platform features stock photography at its best. The images you typically see on this site are high quality, taken and shared by leading creative photographers.
Unsplash is therefore an ideal space for publications, bloggers and small businesses to collaborate with top-rank photographers.
Because you can only upload and publish 10 photos a week, Unsplash isn't ideal for personal photo storage and backups; but it is the perfect way for up-and-coming photographers to get the exposure they need for starting to get paid work.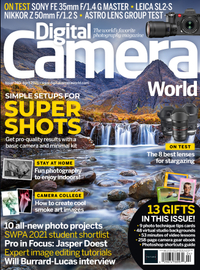 Digital Camera World is the world's favorite photography magazine. Every issue is packed with the latest news, reviews, tutorials, expert buying advice, tips and inspiring images. Plus, every issue comes with a selection of bonus gifts of interest to photographers of all abilities.
Read more:
Best website hosting sites for photographers: get your portfolio online
Best free cloud storage options for photographers: platforms and apps
Best online photography courses – from beginner guides to masterclasses
Best password managers
Best student laptop
Best photo editing software
Best website builders for photographers