Move over Facebook, YouTube and Instagram, the hottest platform right now is TikTok . If you are aged over 21, then you may be forgiven for not knowing much about TikTok. It is a video sharing platform, that allows you to share video clips that are a maximum of 15 seconds long. There are now 500 million people wordwide that have TikTok on their smartphones - and it is currently the top free application on the Apple App store.
• Read more: TikTok lights
But as a photographer or videographer, is TikTok another platform that you need to add to your social media mix? We talked to top influencer Jacob Riglin, aka @Jacob, who thinks that it is. He has amassed over 337,000 followers on the platform. His post showing his favorite photographs from 2019 has been seen by almost half a million people.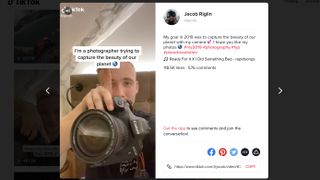 "TikTok is the perfect place to share your photography skills - here I feel like I have the opportunity to share a different perspective of what I do", says Jacob "I've been using it for a while and I enjoy posting photography tips and tricks on how to maximize the potential of your smart-phone.
"I tend to share a lot of travel content from some epic destinations along with the shots of some extreme sports activities, like skydiving. I feel like these all work really well together and keep my page diverse enough to resonate with different audiences.
"Feedback so far has been fantastic. I am gradually starting to understand the type of content my followers love but I also enjoy experimenting with content that is new and different from the usual.
"From my experience, TikTok offers a fresh, new place for talented photographers to get their creative skills noticed and appreciated. Other platforms are becoming incredibly saturated making it hard to get noticed. TikTok is still so unique and exciting that it really provides an equal opportunity to anyone that puts the time and effort in, to blow up and become a very successful creator on there".
See Jacob's tips of things he has learned so far from using TikTok to promote his photography…
8 tips for using TikTok to promote your photography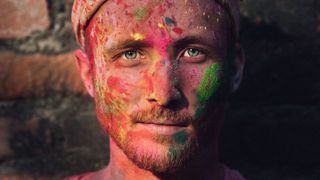 Keep up with trends in music, use tracks that are up and coming or currently going viral on TikTok.

Think outside the box, try and create unique and original content that will engage the viewer.

Keep your videos short enough to be easy and fun to watch. I found 8-13 seconds in the prime length.

Add value to the viewer and share any tips and tricks that you've learned along the way, such as in this example.

Think about your niche in photography and how you could translate it into a video format

Keep consistency in the content you post (for the most part). Consistency gives the viewer a reason to follow you as they know what to expect from your channel. If you post loads of different types of videos your audience is going to be less likely to follow you and engage with your content. This clip is a good example of my style.

Don't just copy ideas. It's so easy to see a video that has blown up and to think you'll just do the same thing. The most important thing is to tweak and adapt that successful concept into something that is unique to you. That way you are still following a trend but putting a unique spin on it

Have fun! So simple but so important, I have had so much fun creating my videos and seeing my audience engage in them and I think that is so important. If you love the content you are creating your audience will too.
Read more
Go viral as a photographer: 6 steps for improving your social media performance
10 tips for Instagram success with your photography