In the cut-throat smartphone world, you have to innovate or die. With Sony continuing to face fierce competition from the likes of Apple, Samsung, Google and OnePlus in the high-end sector, the company has carved out a niche for its flagship Xperia 1 series: make it appeal to pro photographers and videographers. 2019's original Xperia 1 set the initial bar high in this regard, incorporating pro-level camera and video features not seen in the flagship sector. The Xperia 1 II (pronounced Xperia 1 mark II) carries on where the original Xperia 1 left off, being positioned not as just a camera phone, but rather a device with features that draws tech and can complement Sony's RX line of premium compact cameras, and even the company's high end Alpha interchangeable lens cameras. Sony even claims the Xperia 1 II has been developed with significant input from the company's Alpha camera division.
But is all this enough to justify the hefty £1,099/$1,199.99 RRP?
Design and features
As with the original Xperia 1, the mark II immediately stands out thank to its 21:9 screen ratio. It's a subtle difference compared to the 19:9 and 20:9 screen ratios more usually found on competing phones, but it gives the Xperia a noticeably narrower 71.1mm width compared to the likes of the S20 Ultra 5G with its 76mm-wide form. The thinking behind going for a 21:9 screen is that it perfectly matches the standard 2.35:1 'Cinemascope' ultrawide video format used in movie making, as one of the Xperia 1 II's key features is its ability to be used as a secondary video monitor on Alpha-series interchangeable lens cameras.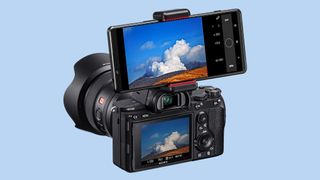 The notch-less screen design helps preserve an uninterrupted visual display to enhance this feature, and the visible area is only slightly rounded at the corners, so there are no distracting intrusions into the screen. The flat screen also doesn't drop off at the edges, as with a phone like the P40 Pro or Galaxy S20. The 6.5-inch OLED display boasts an incredible 1644 x 3840 resolution, which equates to 4K along the longer side. The screen supports HDR, and its color gamut is large enough to display 100% of the DCI-P3 color space, and partial coverage of the much larger REC.2020 color space. You even get two screen color modes: Standard is tuned to match that of Sony's Bravia TVs, giving a punchier viewing experience at the expense of some color accuracy. Then there's Creator mode, which has been tuned in collaboration with Sony's Professional team to give faithful image and video color reproduction.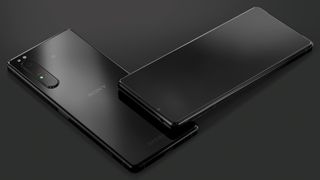 Another key - pun alert - feature of the Xperia 1 II versus rival phones is the inclusion of a proper physical camera shutter button. It's a feature that's almost become extinct from modern phones, so much so that it takes a little getting used to. Even experienced photographers have grown accustomed to a completely screen-based shooting experience, but once you revert back to the Xperia's physical shutter key, it adds a real ergonomic benefit. It's two stage - half press to focus - action gives it even more appeal when compared to simply mapping one of the volume keys as a shutter button.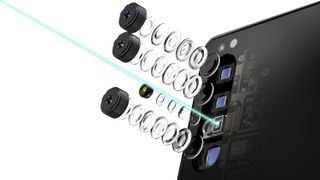 The Xperia 1 II's rear camera bump includes three rear-facing cameras and a depth-perception time-of-flight lens. The three main cameras have focal lengths chosen to match popular 35mm camera lenses. The primary camera uses a 24mm-equivalent lens, the telephoto camera equates to 70mm, giving just under 3x optical 'zoom', while the ultrawide camera is equivalent to 16mm.
In an attempt to make image quality from all three cameras as consistent as possible, Sony has resisted the current trend of going for a sky-high 50+ megapixel sensors and pixel-binning the final image down to a lower resolution. Rather, all three cameras capture at a simple 12MP. Sony's reasoning for this is it can maintain a significantly higher pixel readout from having fewer pixels to deal with, thereby increasing burst capture speed and avoiding any rolling shutter distortion when shooting video.
However, while the three cameras do capture at the same resolution, image quality won't be identical, as the sensors themselves are different sizes. The primary 24mm-equivalent camera uses a 1/1.7-inch Exmor RS sensor with 1.8um pixels and an f/1.7 aperture - a healthy upgrade over the 1/2.6-inch 12MP primary camera in the original Xperia 1. The 16MP ultrawide snapper uses a 1/2.55" sensor with an f/2.2 max aperture, while the 70mm-equiv. telephoto camera is based on a relatively small 1/3.4-inch sensor fronted by an f/2.4 lens.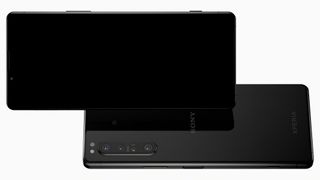 Both the primary and telephoto cameras get optical image stabilisation, and all three cameras feature phase-detection autofocus with 247 AF points spread across nearly 70% of the image frame. Autofocussing also benefits from Sony's Real-time Eye AF tech, which tracks the eye of a human or animal subject. Sony is claiming improved subject detection reliability to ensure your subject is always in focus, regardless of its position or size in frame. The AF system is also fast enough to cope with the Xperia 1 II's incredible 20fps continuous shooting ability. Autofocussing and auto exposure is calculated up to 60 times per second, ensuring consistent image quality throughout a burst of images.
The original Xperia 1 stood out thanks to its comprehensive image and video control, and the mark II is no different. The standard photo app is great for most users, enabling easy switching between the three cameras. But for complete control over your image and video settings, there are the separate Photo Pro and Cinema Pro apps. These use a totally different interface to the standard camera app, bringing advanced settings right to the forefront of the shooting experience. In Photo Pro you'd be forgiven for thinking you were shooting with one of Sony's high-end Alpha cameras, as controls for metering, autofocus, exposure compensation, white balance and all other manual shooting settings are front and centre. Likewise, Cinema Pro offers up controls for resolution, frame rate, ISO, focusing and even color grading presets when shooting video.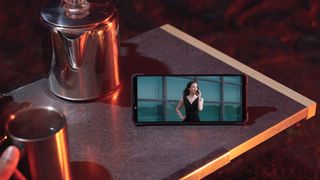 Sony hasn't neglected audio, either. You get dual front-facing stereo speakers - a real rarity these days in the quest for notchless screens and maximum screen-to-body ratios. Sony has even brought back the 3.5mm headphone jack for the Xperia 1 II - something that was missing from the original Xperia 1. Sony is claiming that this traditional analogue audio port provides reduced L-R signal crosstalk for lower background noise when compared to a conventional USB-C-to-3.5-inch adapter.
Moving away from the phone's imaging and video capabilities, the Xperia 1 II is equipped with Qualcomm's latest top-tier Snapdragon 865 SoC, enabling 5G connectivity. The phone is also IP65/68 rated for dust and water resistance, and is equipped with Corning Gorilla Glass 6 on the front and back. Inside is a 4,000mAh battery supporting 21W fast charging and 11W wireless fast charging. Just one storage option is available: 256GB, and it's accompanied with 8GB of RAM. There's also a microSDXC slot to expand your storage by up to 1TB.
Performance
Fire up the standard camera app and the Xperia 1 II operates pretty much like any other top-end camera phone from 2020. Its responses are instantaneous, while autofocus is extremely accurate and reliable. Sony's Real-time Eye AF is also incredibly effective, first tracking a face when your subject is slightly further away, transitioning to focus on an eye once your subject is closer to the camera. Moving though frame rarely confuses the system, and you have to look almost completely sideways for the AF to lose track of an eye, and even then it maintains face recognition.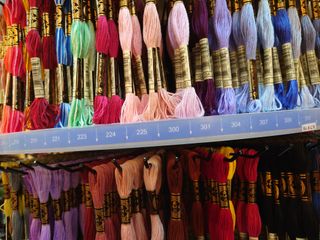 Sony's Photo Pro app is also a welcome inclusion for enthusiast photographers, giving lots of control over shooting settings. The 4:3 image preview leaves plenty of space on either side for touch buttons on the 21:9 display, making settings easily visible and touchable. How often you'll actually want this level of control when shooting with a phone camera is debatable, as the fact remains that a super-slim and slippery camera phone is far from the most ergonomic tool for creative photography.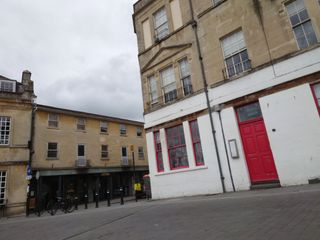 We tested the Xperia 1 II alongside another flagship phone released at almost the same time: the Huawei P40 Pro Plus. For all its issues with Google services, this is still a worthy benchmark for camera tech and image quality, and it's a phone that competes directly with the Xperia 1 II.
At first glance, images from the Xperia 1 II hold up well to those shot on the P40 Pro Plus. Exposure metering is reliable, and while the Sony tends to produce slightly darker images overall, on the whole they look marginally more faithful than the Huawei's brighter shots.
However, dynamic range is lacking in shots from the Xperia. It's by no means bad, but many camera phone users will have likely grown accustomed to the powerful HDR algorithms boasted by newer smartphones which light up every last pixel. By comparison, the more old-school exposures from the Xperia, though mostly accurate, can simply look muted and lacking immediate 'pop'.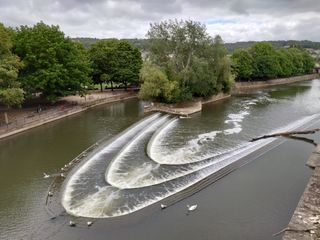 View images from the primary 24mm-equivalent camera more closely and detail levels are very good, but again, things could be better. While the P40 Pro Plus's primary camera uses a 50MP sensor, it pixel bins down to around 12.5MP, creating similar sized images to those shot with the Xperia. But even then, the Xperia can't quite resolve the same degree of fine detail as you get in the Huawei's images. It has a tendency to over sharpen some high-contrast boundaries in an effort to compensate, but this just gives a jagged and over processed look to some image areas if you look closely enough.
The image quality gap closes when you shoot in low light, as the Xperia produces impressively low levels of high ISO image noise, though the P40 Pro still resolves slightly more fine detail.
Switch to the ultrawide camera and Sony trails the P40 Pro's ultrawide snapper. Image noise is more apparent, as is chromatic aberration towards the corners of frame, and fine detail is more limited, especially in shadow areas. The Sony's 70mm-equivalent telephoto camera, though inevitably not as sharp as the 1/1.7-inch primary camera sensor, does produce results very similar to those from the Huawei's 3x zoom camera and is a very worthy inclusion.
Sony's rapid 20fps burst shooting mode is, frankly, insane. You'll need to be in the separate Photo Pro app with the drive mode set to Continuous Hi in order to get maximum shooting speed, as the standard camera app shoots roughly half as fast. But once it's ready to rock, the Xperia 1 II can machine gun fire off shots at up to 200 frames in a burst. Use this in conjunction with the telephoto camera and the phone is genuinely useful for capturing a fast-paced sporting moment or wildlife, giving you a fighting chance of getting your subject in focus and positioned just right in frame as it passes by.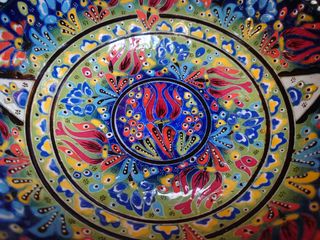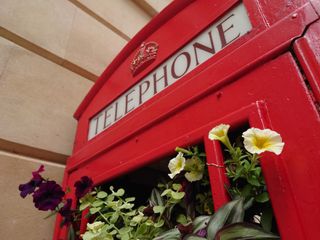 We weren't able to fully test the Xperia's video capabilities, but its 4K footage looks sublime on such a high resolution screen, while the Dolby Atmos stereo speakers give better audio playback than most current phones can manage. The display's wide color gamut, motion blur reduction and faithful color reproduction are also welcome features for enthusiast videographers, though if you're that serious about video post processing, you're probably not going to be editing on a screen as small as this.
Verdict
You've got to hand it to Sony for continuing the Xperia 1's lineage of offering a photo and video capture experience tailored towards enthusiasts and pros than just your average user. By prioritising screen accuracy over eye-popping wow factor is a refreshing rarity in the flagship sector, with only Apple really coming close with the iPhone 11. Sony is also on top for image and video app control, giving you a shooting experience that really does remind you of using the touchscreen and live view of an Alpha 7-series mirrorless camera. Features like Eye AF and the lightning-fast burst shooting ability are also welcome additions that help separate the Xperia from its rivals.
However, it's no use having fancy extras if you don't nail the basics, and in terms of basic image quality, the Xperia 1 II doesn't quite hit the mark. Though Sony's image processing can be commended for its realism and exposure/color faithfulness, and image quality holds up well in isolation, the same scenes snapped with a phone like the P40 Pro or S20 Ultra look brighter, punchier and generally more appealing to the average user. We've praised the iPhone 11 Pro Max for following a similar path to the Xperia of prioritizing realism over wow factor, but the Xperia's shots can sometimes look more dull than realistic - something that can't be said of the iPhone's images. This isn't to say the Xperia's image quality is bad - far from it - but in such a competitive market, even slightly shortcomings are enough to stand out next to such accomplished competition, especially when the competition costs similar money.
If you prioritize pro camera features and image accuracy above all else, the Xperia 1 II is definitely worth shortlisting. However, a more typical user is likely to find a phone like the S20 Ultra or P40 Pro gives more pleasing images, even if they're not quite as true to life.
Read more
Apple iPhone 11 Pro Max review
Samsung Galaxy S20 Ultra 5G review