Sigma's 12-24mm Mk II lens gained an excellent reputation for maintaining stellar image quality and handling with a wide maximum viewing angle. This is the Sigma 12-24mm f/4 DG HSM | A, the newer 'Art' edition from the company's Global Vision line-up, retaining the same zoom range but adding a host of improvements, going head to head with the likes of Canon's EF 11-24mm f/4L USM lens. Does it have what it takes to compete with Canon's own-brand wide zoom?
A standout upgrade in the new lens is that it has a constant rather than variable aperture rating, which is generally preferred by enthusiast and professional photographers. The revamped optical path incorporates an extra-large diameter aspherical element and five premium FLD (Fluorite-grade Low Dispersion) elements. Fluorine coatings are applied to the front and rear elements, and the mounting plate is weather-sealed, so this lens is more than equipped for outdoor adventures.
The makeover also includes an upgraded autofocus system. It's still an ultrasonic ring-type arrangement but with increased torque. The newer lens is also compatible with Sigma's optional USB Dock, which is useful for applying personal customisations and firmware updates.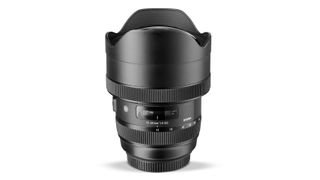 Performance
There's excellent sharpness in the central region of the frame and, considering the ultra-wide maximum viewing angle, it doesn't drop off too noticeably towards the edges and corners. Indeed sharpness across the frame closely matches that of Canon's much pricier 11-24mm lens. Even so, corner-sharpness lags behind similar full-frame lenses, which is a little disappointing though hardly deal-breaking.
The lens comes with a built-in hood for controlling stray light, though be aware that there is no filter thread attachment. The moulded aspherical front element is precision-engineered, and components are made from Sigma's 'Thermally Stable Composite' material. For a seriously 'ultra-wide' zoom, it's the best buy on the market.
Read more: