There's nothing new about telephoto zooms with a range of around 80-400mm or 100-400mm, but they tend to be quite large and heavy. Canon and Nikon's current offerings for their DSLR cameras weigh in at 1,640g and 1,570g respectively, and they're both very pricey to boot. Back in 2017, Sigma launched its 'light bazooka' 100-400mm which, although having a narrower f/6.3 aperture rating at the long end of the zoom range, is only about two-thirds of the weight and less than half the price. Sigma has now brought out a similar lens for mirrorless cameras, available in Sony E and Leica L mount options. Tipping the scales at 1,140g (Sony) or 1,135g (L-mount), the Sigma 100-400mm f/5-6.3 DG DN OS Contemporary keeps the weight off but boasts a redesigned optical path, a new autofocus system and a customizable AF-Lock button.
Specifications
Mounts: Sony E, Leica L
Full frame: Yes
Autofocus: Yes
Image stabilization: Yes
Lens construction: 22 elements in 16 groups
Angle of view: 24-6 degrees
Diaphragm blades: 9
Minimum aperture: f/22-29
Minimum focusing distance: 1.12-1.6m
Maximum magnification ratio: 0.25x
Filter size: 67mm
Dimensions: 86x197/199mm (L/Sony E)
Weight: 1,135/1,140g (L/Sony E)
Key features
Sony mirrorless shooters already have the option of buying the high-performance Sony FE 100-400mm f/4.5-5.6 GM OSS, which isn't much heavier than the Sigma lens but very much more expensive at around £2,100/$2,500. Despite costing well under half the price, the Sigma packs in some up-market features. There's a fast and virtually silent stepping motor autofocus system, complete with an electronically coupled manual focus ring which operates with excellent precision. As well as an AF/MF switch, there's an autofocus range limiter which operates either side of 6m, and an AF-Lock button which can be customized for other functions.
As with the older DSLR-mount 'DG OS HSM' edition of the lens, the new one features an optical stabilizer with switchable static and panning modes. One thing that's missing in the new lens is dual switchable 'Custom' modes which, in the older lens, enable you to alter parameters like autofocus speed and how visible the stabilization effect is in the viewfinder, using Sigma's optional USB Dock. Indeed, the Sony E-mount version of the new lens doesn't even have a compatible USB Dock, and there aren't any teleconverter options, although a USB Dock and both TC-1411/TC-2011 1.4x and 2x teleconverters are available for the Leica L-mount edition.
Whereas the older lens for DSLRs featured four SLD (Special Low Dispersion) elements, the new DN edition supplements these with a top-grade FLD ('Fluorite' Low Dispersion) element as well. The FLD element is one of the largest-diameter pieces of glass at the front end of the lens.
Build and handling
Build quality feels very good, despite the relatively lightweight construction. There's a sturdy brass mounting plate which comes complete with a weather-seal. Sigma's TSC (Thermally Stable Composite) is used in the build, and the barrel also features a magnesium alloy section, to which you can fit Sigma's optional TS-111 tripod mounting ring (£139/$130). We criticized the older DSLR version of the lens for not having an optional tripod mounting ring, so we're pleased to see it's available for the DN edition. The foot of the ring is directly compatible with Arca-Swiss style mounting plates.
Canon's original 100-400mm lens had a trombone-style push-pull action for adjusting the zoom setting. A bit of a Marmite feature, some loved it, others hated it. While Canon has reverted to a more conventional twist-action zoom ring on its latest 100-400mm lens, the Sigma offers both. You can either zoom with the large, forward-mounted zoom ring, or you can simply push the front section of the lens forward or pull it back. Indeed, the bayonet-fit hood has an integral finger/thumb groove for zooming in this way.
Performance
Autofocus speed is rapid and, in the Sony E-mount version that we tested, well able to track fast-moving subjects. Optical stabilization is worth about 4-stops on its own, and works even better in conjunction with in-body stabilization, where featured in the host camera body.
While the lens is relatively compact and lightweight, it certainly goes large on image quality. In our lab tests and real-world shooting, it proved consistently sharper than the older DSLR-based lens at the centre, middle and edge regions of the image frame, throughout the entire zoom range and aperture range. Color fringing is even more negligible than in the older lens, although pincushion distortion can be marginally more noticeable in the 300-400mm sector of the zoom range. Overall, this lens punches above its weight and price tag for performance and image quality.
Sample images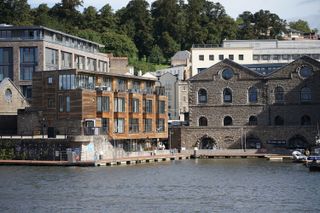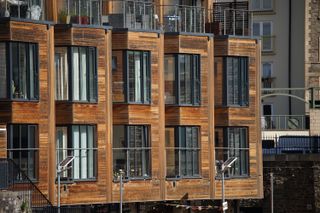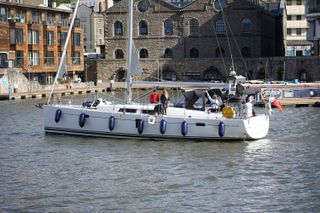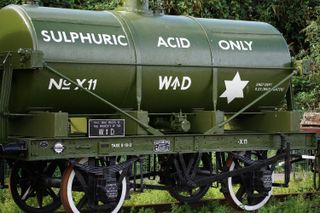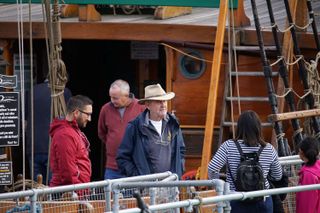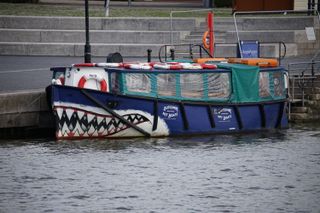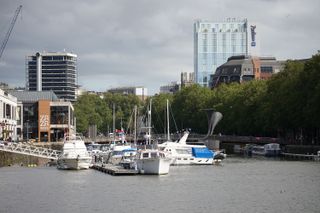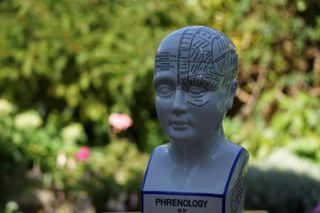 Lab tests
Sharpness:
The sharpness scores in the two graphs below are produced by shooting a monochrome test chart covered in multiple sharp boundaries between black and white. This image is then assessed by specialist software, with the extent of blur on the contrast boundaries at the centre, mid and edges of the image converted into a spatial frequency value to determine how many line widths per picture height the lens is capable of resolving. A higher spatial frequency corresponds to a greater number of finer lines over a given distance that the lens can resolve - this number is the sharpness score.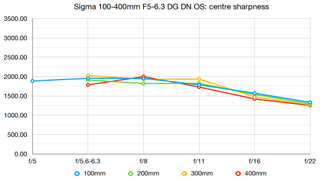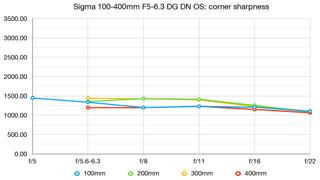 Centre-sharpness is best in the 200-300mm sector of the zoom range but, overall, sharpness is very impressive at all focal lengths, across the whole image frame. Crucially for a relatively 'slow-aperture' zoom, sharpness is very good when shooting wide-open.
Fringing:
The chromatic aberration scores are calculated using the same chart we use for measuring sharpness. This time the processing software assesses the sharp black-white contrast boundaries and determines the width in pixels of the colour fringe that divides black from white - the larger the width of the fringe, the greater - and worse - the fringing score.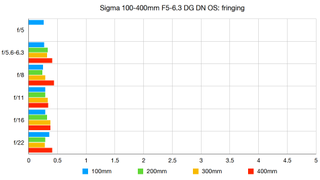 Color fringing is entirely negligible, even at the extreme edges and corners of the image frame. This holds true throughout the entire zoom range and at all available apertures.
Distortion:
At the top and bottom of our lens test chart are horizontal black bars that run its full width. A lens that bulges these lines towards the edges of frame produces barrel distortion, the degree of which is indicated by a negative score. Shrinking (pincushion) distortion, usually produced by a telephoto lens, produces a positive score. The higher the number - positive or negative - the greater the distortion. A score of zero indicates no distortion.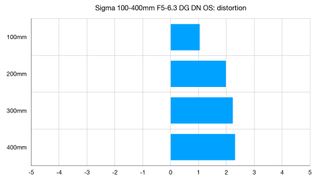 Pincushion distortion can be slightly noticeable at longer zoom settings but is quite uniform and very easy to correct at the editing stage.
Verdict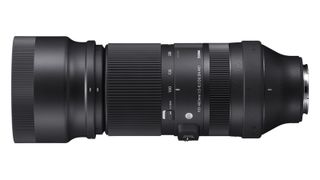 Typical of Sigma's 'Contemporary' line of lenses, the 100-400mm DG DN OS aims for good performance in a compact and lightweight package, at a competitive asking price. It comes up trumps for image quality, delivering excellent sharpness and contrast, while keeping colour fringing, distortions, ghosting and flare to a minimum. It's pricier than the original DSLR-mount DG OS HSM version of the lens but the boost in image quality makes it well worth the extra outlay.
Read more:
The best Sony lenses: top lenses for Sony mirrorless cameras
The best budget telephoto lenses
The best lenses for bird photography
The best monopod: the perfect support for telephotos and low light