Watch this video from Niall Hampton, Editor of Digital Camera magazine, on teleconverters and the 5 things you need to know about them.
A teleconverter or extender (as Canon calls them) is a gadget that fits between the lens and the camera body to magnify the image made by the lens. A teleconverter sounds like the ideal solution for getting closer to a subject with your lens.
• See the Digital Camera World A-Z Dictionary of photography jargon
In practice, though, teleconverters have disadvantages, including the effect they have on your lens's maximum aperture and often on the overall optical quality of your photos.
And you need to choose wisely, as the best teleconverters will not work well with all lenses and cameras. At one time, they were sold as inexpensive gadgets that were widely compatible with different camera systems and lenses, but these days lens and camera designs are more complex, with sophisticated electronic data transfer and, sometimes with protruding rear lens elements. There are few 'generic' teleconverters still on the market and these have to be chosen with care to match your lenses.
But teleconverters have not disappeared. They have taken on a new role, mostly in long-range sports and wildlife photography. A high-quality 'dedicated' teleconverter can massively increase the reach of a telephoto lens and saves the expense and weight of carrying bigger, longer telephotos.
• Check out our full guide to the best teleconverters for your camera to see what's available for your system and the different lenses available.
So what do you need to know when choosing a teleconverter for your DSLR or mirrorless camera system?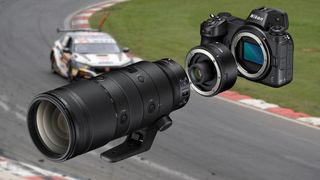 1) Teleconverter magnification
Why you can trust Digital Camera World Our expert reviewers spend hours testing and comparing products and services so you can choose the best for you. Find out how we test.
Teleconverters come in three strength settings. 1.4x is the most common: it gives a useful increase in magnification without a big penalty in usability or image quality. They increase the focal length of the lens it is used with, so a 300mm becomes a 420mm – and a 70-200mm becomes a 98-280mm zoom
2x converters (also known as doublers) are popular too because they double the focal length, although the image quality may not be as good.
Some makers, such as Nikon, produce intermediate 1.7x teleconverters.
2) Teleconverters affect the maximum aperture
Because the lens's image is being enlarged, the effective lens aperture is decreased. A 1.4x teleconverter brings a one-stop reduction in maximum aperture; a 2x teleconverter brings a two-stop reduction.
So if you use a 1.4x converter on a 300mm f/4 it becomes a 420mm f/5.6. And if you use a 2x teleconverter on a 70-200mm f/2.8 it becomes a 140-400mm f/5.6.
This means that teleconverters work best with lenses that have a wide maximum aperture to start with. You may need to accept either slower shutter speeds or higher ISO settings, and you won't be able to reproduce the shallow depth of field effects you normally get with that lens.
Cheat sheet: what are f-stops?
3) Teleconverters and autofocus compatibility
This reduction in maximum aperture could affect your camera's autofocus system, since some older systems won't work with apertures lower than f/8; you may have to resort to manual focus. Many modern autofocus systems, however, especially on the latest mirrorless cameras, now go way beyond that, so it may no longer be an issue.
You should also make sure that your lens's aperture control and any image stabilisation will still work as normal (you won't have a problem with teleconverters manufactured by the maker of your lens) and that the lens will still supply correct EXIF (shooting) information to the camera.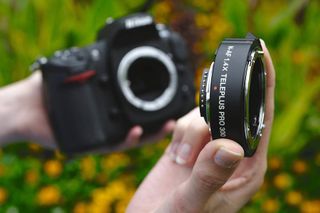 4) Teleconverter compatibility
This is an important point. Lenses and lens mounts are far more complicated than they used to be, so you can't assume any teleconverter will fit any lens. Far from it. In fact, the list of compatible lenses is often quite short.
The main camera and lens makers to list the lenses their teleconverters are compatible with (our guide to the best teleconverters lists compatibility information, where available). However, this information may be harder to check if you buy a cheap, generic third-party teleconverter online, for example.
5) Teleconverters can affect optical quality
Apart from the loss in maximum aperture, the biggest drawback of teleconverters is a potential loss in image quality. This is because you're effectively magnifying the central part of the image captured by the lens, along with any defects or aberrations.
Dedicated 'matched' teleconverters will be designed to optically complement the lens they're attached to, but cheaper generic teleconverters won't be.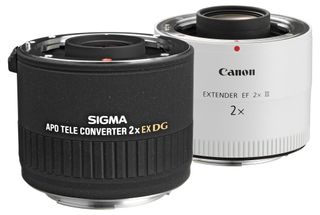 6) Own-brand teleconverters
Most camera and lens makers offer teleconverters for use with a small selection of their own telephoto or super-telephoto lenses. The teleconverter's optical layout will be optimised for those lenses. Autofocus, image stabilisation and exposure controls will work as expected too. Canon, Nikon, Olympus, Panasonic, Fujifilm and other camera manufacturers make teleconverters with their cameras and lenses. Lens manufacuturers, notably Sigma, make teleconverters to work with Sigma lenses on a number of different camera body mounts.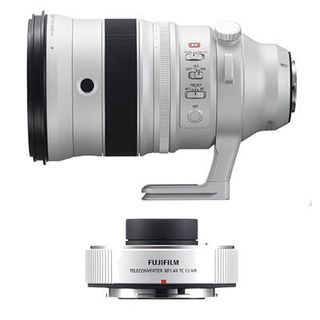 7) Dedicated teleconverters
Dedicated, or matched, teleconverters are custom-designed for one specific lens, and offer a good solution for photographers who don't want to compromise own quality but do need to travel light.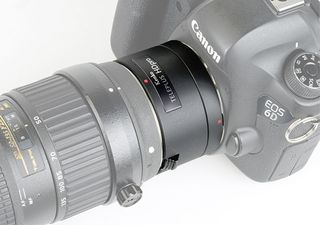 8) Generic third-party teleconverters
Third party teleconverters, such as those made by Kenko, are designed to offer a low-cost option. These are available in a number of different mounts - the mount for the lens it is used with is almost always the same as the camera mount the pair are being fitted onto. You need to check compatibility with your camera and lens carefully before buying.
Read more:
• Best teleconverter for your camera
• Best telephoto lenses for Nikon
• Best telephoto lenses for Canon
• The best budget telephoto zoom lenses
• The best 70-200mm telephoto zoom lenses
• The best 150-600mm lenses