There are many Samyang lenses available in Canon-mount but, apart from the recent 14mm, all are purely manual-focus.
That's not necessarily a drawback for street photography, as manual-focus lenses tend to have a long rotational travel in their focus rings, and a fluid feel to their movement. The Samyang 35mm f/1.4 AS UMC AE is typical in this respect, and features a focus scale with depth of field markings for apertures of f/2.8, f/5.6, f/11, f/16 and f/22.
For enhanced focusing accuracy, the lens also features built-in electronics that activate the focus confirmation lamp in the viewfinder. Many Canon-fit Samyang lenses require you to set the aperture manually, using an aperture ring on the lens body. With no electronic linkage, the aperture can't be displayed in the camera's viewfinder or LCD, and you can't set the aperture from the camera. The 'AE' (Auto Exposure) edition of this lens enables camera-based aperture control, as well as use of the lens in all P, Av, Tv and M shooting modes.
Build quality is impressive and the lens has a solid feel. However, it's one of the outright biggest lenses of its type, at 83x110mm and is almost as heavy as Canon's 35mm f/1.4.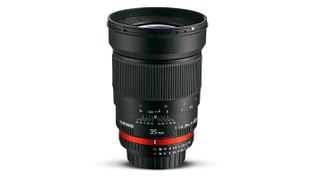 Performance
In our lab testing of the Samyang 35mm f/1.4 AS UMC AE Canon-fit, we found sharpness and contrast to be disappointing at wide apertures, but much improved from f/2.8 all the way to f/22. Colour fringing is minimal, even at the extreme corners of the frame but, while barrel distortion is well controlled, it's technically a little worse than similar lenses from other manufacturers.
Its filter thread is way bigger than you might expect on a 35mm lens, at 77mm, and the lens comes supplied with a good-quality petal-shaped hood for keeping out stray light and controlling reflections. It's also worth noting that while the lens's construction feels strong and durable – not least because of its size – it doesn't have weather-sealing, so it'd be worth thinking twice before you take it out into really rough conditions.
Read more:
Best wide-angle lenses for Canon