Olympus has announced its latest flagship professional camera, the Olympus OM-D E-M1 Mark III – which boasts a number of remarkable specs, including a world-best 7.5 stops of in-body image stabilization, which makes it possible to shoot handheld astrophotography.
The Olympus OM-D E-M1 Mark III is a return to form factor for the company's pro offering, going back to the same compact chassis as the Olympus OM-D E-M1 Mark II that weighs in at just 504g body only. Disappointingly, though, it also uses the same 20.4MP sensor as its predecessor.
• Hands on: Olympus OM-D E-M1 Mark III review
However, it ports across some of the new hardware features from the heavyweight 2019 "flagship reimagined" Olympus OM-D E-M1X (a confusing sister product, which features a pro DSLR-sized frame). These include a joystick and dedicated ISO button, along with a more robust shutter mechanism that's rated to 400,000 actuations (doubling the Mark II's 200,000).
The E-M1 Mark III boasts a brand new TruePix IX processor, which means that it can also incorporate some of the E-M1X' cutting-edge software technology (which required a pair of Truepic XIII processors to execute, illustrating just how powerful the new chip is).
These include features like 50MP handheld and 80MP tripod High Res Shot (both achieved via pixel shift), modes like Live ND Filters (offering up to 5-stop virtual neutral density filters), significantly improved AF tracking and acquisition, custom AF targeting (enabling you create bespoke AF-point groupings, such as vertical lines) and an improved Pro Capture mode (which records 35 images when the shutter is half-pressed, and now up to 120 afterwards).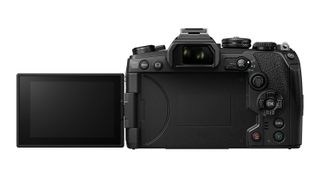 The E-M1 Mark III also maintains flagship features such as 60fps burst shooting with locked AF/AE, and 18fps burst shooting with AF/AE and tracking, along with 4K and C4K video up to 30 frames per second, 1080p video up to 120 frames, on-chip phase detection autofocus with 121 cross-type points, and world-class weather sealing.
Still, arguably the most significant feature added to the E-M1 Mark III is the aforementioned stabilization improvement – which provides 7 stops of stabilization as standard, and 7.5 stops when paired with Olympus' Sync IS professional lenses. This facilitates the new Starry Sky AF mode – one of a number of nods towards astrophotographers, whom Olympus appears to be targeting with its new camera.
Starry Sky features a bespoke algorithm that can perform precision autofocus on even the smallest stars – and in its Speed Priority mode capitalizes on the IBIS for handheld astro shooting with a wide-angle lens. Meanwhile, the Accuracy Priority mode uses a fine-tuned focus scanning for shooting specific stars with telephoto lenses.
The Olympus OM-D E-M1 Mark III is available from late February for $1,799 / £1,599.99 / AU$3,099 body only, in a kit with the Olympus 12-40mm f/2.8 Pro for $2,499 / £2,199.99 / AU$4,199, or with the 12-100mm f/4 Pro for $2,899 / £2,499.99 / AU$4,799.
Preorder the Olympus OM-D E-M1 Mark III at Adorama
Preorder the Olympus OM-D E-M1 Mark III at Park Cameras
Read more:
Hands on: Olympus OM-D E-M1 Mark III review
The best cameras for professionals in 2020: which pro camera system is best?
Olympus 12-45mm f/4 Pro lens is as light as an apple!