Nikon doesn't just make cameras. It also makes these premium Nikon Monarch HG 10x30 binoculars. Although more associated with cameras in the mind of the paying public, Nikon is unsurprisingly world class when it comes to lens technology. For those seeking a small yet powerful and sturdily constructed pair of premium grade binoculars to stash in a jacket pocket or bag when not in use, its Monarch HG series, from which we've selected the 10x30 model here could be said to 'royally' suit. A slightly higher priced 10x42 option is also available, alongside 8x30 and 8x42 alternatives.
As with all binoculars, that '10x' figure refers to the magnification factor provided, while the '30' refers to the size of the objective lens in use – here 30mm. Theoretically, the bigger the lens the wider the field of view and also the brighter the view is. For its decidedly compact size, the Nikon Monarch HG 10x30 could be said to deliver a respectably wide field of view. Indeed Nikon states it matches the performance of its own 42mm model, just in a more compact package.
Specifications
Magnification: 10x
Objective diameter: 30mm
Field of view at 1000m: 121 metres /362ft
Closest focusing distance: 2 metres/ 6.6ft
Eye relief: 15.2mm
Weight: 450g
Dimensions: 119x126x47mm
Key features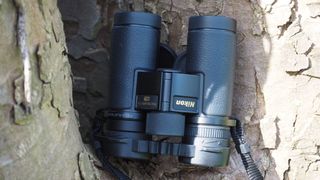 Feeling comfortable in the hand and with the requisite non-slip rubberised exterior to prevent any fumbling, in the case of the Nikon Monarch HG 10x30, it's as much about portability and convenience, as it is a class leading optical performance. Part of the central idea here is that this option apes the performance of Nikon's Monarch HG 42mm diameter version, but in a smaller format.
We get the extras here we'd expect to find at this price and when considering a pair of binoculars for outdoor use too – namely a degree of water proofing and fog proofing. Also highlighted here – it's literally emblazoned on the lens barrel – is Nikon's Field Flattener Lens System, which it claims, in conjunction with the Monarch HG's 30mm wide field of view, helps maintain sharpness right to the lens' periphery. The field of view is therefore said to be a match for its 42mm models. Overall, we were well impressed with the clarity provided.
Focusing is intuitively and ergonomically achieved via a large centrally located wheel, with a dioptric adjustment ring provided on the right eyepiece. It requires the eyepiece to first be extended before this ring can be unlocked and adjusted by hand – which is all well and good in avoiding it accidentally being jogged, when hauling the unit in or out of a jacket pocket or rucksack. Bundled in the box along with the strap is a semi hard carry case for added protection when transporting the device, should it be required.
Build and handling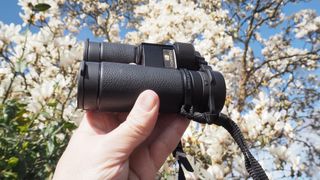 The Nikon Monarch HG 10x30 offers its users both lens and eyecup covers, the former of which simply hang loose from the lenses when the binos are in use, while the latter are detachable, yet can be threaded through the provided neck strap for added security, so they don't get accidentally left on a rock or a tree stump when out in the wilds.
Whether you're viewing with or without spectacles, the length of the eye relief is adjustable here, with an anti clockwise twist of the eyecups extending them outwards. The inter-pupillary distance or spacing is also manually adjustable, with the construction featuring a central folding mechanism in order that we can get the binos to better match up with our own eyes. Focusing when panning is simplicity itself, so we don't lose sight of our visual quarry.
Performance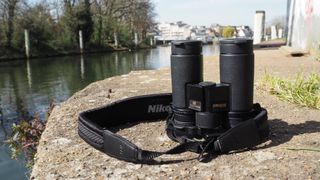 Despite the compact proportions, the view through the Nikon Monarch HG 10x30 is surprisingly crisp and clear. We couldn't hope for a sharper resolving power. We compared it with a 10x42 Nikon Prostaff 3S binocular we had to test alongside this, and for us the clarity of the Monarch HG 10x30 edges it. The construction here uses extra low dispersion 'ED' glass elements that corrects chromatic aberration that can cause colour fringing – something we occasionally noticed between areas of high contrast when alternatively using the Prostaff 3S. Comfort is provided for users of the Nikon Monarch HG 10x30 by a soft-to-the-touch padded neck strap, while the modest 450g weight won't cause anyone aching limbs during a stroll through the local woods or walk by the river.
There's no screw thread on the body for attaching the binoculars to a tripod, should one wish to do so, but fortunately an adapter is available as an optional extra. That said, the weight is so manageable here we could use the binos for prolonged periods without feeling discomfort.
Verdict
If you're a wildlife watcher or nature lover who demands ultimate clarity but doesn't want to lug around a huge pair of binoculars with which to achieve it, the compact, magnesium bodied, fog proofed to 16,000ft Nikon Monarch HG 10x30 comes highly recommended. Sharpness across the frame betters physically larger models, suggesting its multi coated optics, resolving power and Field Flattener Lens System are not to be sniffed at. This Nikon is a veritable pocket rocket for birders, hikers and more.
Read more:
• Best binoculars
• Best budget binoculars under $100
• The best monoculars in 2021
• Best binocular harness
• The best spotting scopes
• The best opera glasses
• The best night vision goggles and binoculars
• The best telescopes for astrophotography
• The best microscopes in 2021
• Best borescopes and inspection cameras
• The best portable hides for wildlife photography