The Panasonic Lumix S1H might look like a 'video' version of its 24-megapixel Lumix S1 mirrorless camera, and in the past it has been pretty difficult sometimes to unravel the different video credentials of Panasonic's Lumix G cameras. This time, though, the difference is clear – the Lumix S1 is a stills camera that's pretty good at video; the S1H is most definitely a video camera that also happens to be pretty useful for stills.
It's not just us saying that. The Lumix S1H is the first mirrorless camera to get Netflix 'A' approval as a primary camera for filming original Netflix productions, and the cheapest too, mixing with far more expensive rivals like the Arri Alexa 65, Red One and Sony Venice.
Its video specifications are impressive enough, but with plenty of rivals snapping at its heels, it also relies on other key cinematography features to make its mark – many of them alien to stills photographers, but essential to professional film makers.
The Panasonic Lumix S1H is perhaps a little too big, heavy and specialised to figure highly amongst the best mirrorless cameras all round, but it looks a strong candidate for our list of the best 4K cameras for filmmakers, and perhaps even best cinema cameras.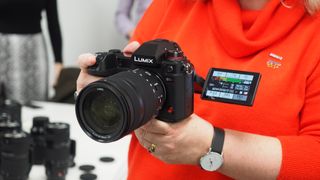 Specifications
Sensor: 24.2MP full frame CMOS
Image processor: Venus
Autofocus: 225-area DFD contrast AF
ISO range: Dual Native ISO, 100-51,200 (50-102,400 exp.)
Max image size: 6,000 x 4,000
Metering modes: 1,728-zone, multi, center weighted, spot, highlight,
Video: 6K (5.9K) 3:2 24p, 5.9K 16:9 up to 30p, C4K/4K UHD up to 60p, unlimited recording time
Viewfinder: OLED EVF, 5.76m dots, 100% coverage, 0.78x magnification
Memory card: 2x SD/SDHC/SDXC (UHS II)
Max burst: 9fps AFS/MF mode, 5-6fps AFC/Live View
Connectivity: Wi-Fi, Bluetooth
Size: 151.0 x 114.2 x 110.4mm
Weight: 1,164g (including battery and memory card)
Key features
Panasonic aims to deliver cinema quality video with the Lumix S1H, and it has the features to back that up.
The headline spec is its ability to capture 6K video (yes, 6K), either in a 3:2 ratio at 24p and 10-bit 4:2:0 quality, or 5.9K in a conventional 1:9 ratio at 30p/25p/24p. At this level, though, processing power is the limiting factory, so with 6K or 5.9K capture you're restricted to the cropped Super 35mm format.
The bit-depth is important. 8-bit capture is OK for video footage that's not going to be heavily edited or 'graded' later, but if you're going to apply heavy adjustments and especially if you're going to use V-Log modes, you really need the extra bit-depth of 10-bit capture to avoid banding, clipping and other artefacts.
The intention with the 6K capture is not necessarily to produce 6K movies, but to offer extra cropping wiggle-room during editing for 4K output.
The S1H does offer full frame (uncropped) capture for 4K, with 4:2:2 10-bit internal recording and speeds up to 60p. You can use 60fps capture and playback for fast action, or 30fps playback for a 2x slow motion effect.
The 4:2:2 figure refers to the way colors are compressed. 4:2:0 compression is the standard method for internal recording with most cameras, but 4:2:2 is less compressed and offers better quality – it's also relatively uncommon for internal recording.
Processing all this video data needs powerful processing hardware, which also throws out a lot of heat. Many video cameras have continuous filming time limits, either to avoid extra taxes on 'video' cameras or just because they get too hot.
The S1H has no such limitation. You can film for as long as you like, and heat is dissipated by a silent internal fan – the first use of a fan in a mirrorless camera, though they are found on broadcast and cinema cameras. This is one reason why the S1H is a lot thicker than the regular S1.
Other features include built in V-Log/V-Gamut modes with 14 stops of dynamic range. It's pretty hard to judge footage shot with V-Log mode in-camera as it looks flat and unsaturated, but you can download and install Panasonic's VariCam LUT library to preview the final footage via the camera's LUT View Assist mode.
Finally, the Lumix S1H offers Dual Native ISO, where it switches between two noise control circuits depending on the ISO setting. It has a base ISO 640 Low ISO circuit for the lower end of the ISO range, and a base ISO 4000 High ISO/low noise circuit for better image quality at high ISO settings.
Build and handling
The difference in size between the Lumix S1H and the regular S1 is immediately obvious. The S1H has a much thicker body, which leaves room on the top plate for a larger status panel. This has changed from the regular black-on-green LCD display of the S1 and S1R to a white-on-black (or blue, with the backlight activated) display with larger characters.
Round the back, there's a robust-feeling vari-angle display rather than a tilting screen, which can flip out sideways and forwards. This has an unusual feature – it's mounted on a 'tray' which can be pulled out from the back of the camera so that the screen clears the cable sockets on the side of the camera. This is a neat feature that could prove essential when the S1H is mounted on a rig and wired up to external recorders, monitors and mics.
The air vents for the cooling system are at the side, between the screen and the camera body. Apart from making sure they're not covered, you can forget about these as you don't really notice them when you're filming and shooting.
Perhaps the biggest different from the regular S1 and S1R, however, is the video interface. This is designed for videographers not stills photographers, so shutter speeds are swapped for 'shutter angles' and there's an 'iris' setting not an aperture setting.
Compared to its rivals in the mirrorless camera market, the S1H feels big, heavy and a perhaps a little unwieldy at around 1.6kb – but this is no run-and-gun vlogging camera – it's going to be used in a rig or on a tripod and is designed for a kind of filming where the cameras are normally much larger and heaver than this.
Perhaps it's worth it. Design-wise there are some nice flourishes for vloggers as well as filmmakers. For example, there's a big red record button on the front as well as tally lights on both sides to let both the operator and the presenter know that the S1H is recording. That's a great idea, but the most obvious is the bigger 1.8-inch status display on its shoulder, which is twice the size of its sister cameras and holds a lot more information. It's also got a slightly bigger grip than the S1 and S1R.
Performance
We can't say much about the video performance right now as we will have to wait for a full review sample to become available for proper testing, but first impressions are that for stills photography the S1H handles and performs just like the Lumix S1. It's interesting that Panasonic has stuck with its own contrast based DFD (Depth from Defocus) AF system, which is fast enough to rival phase-detect AF systems in good light but does slow down and occasionally hunt for focus it dimmer lighting.
We expect the S1H to offer the same all-around image quality as the S1, but perhaps with an improvement in high ISO performance thanks to the Dual Native ISO technology.
It's surprising that Panasonic has swapped to dual SD/SDHC/SDXC UHS-II card slots in a camera designed for high-end video and cinematography. We were told that even for 6K capture it didn't really warrant the newer and faster CFexpress card support in the S1 and S1R, and that this was only necessary for these cameras' high-speed RAW capture (we assume the S1R in particular, we presume. Panasonic says UHS-II SD cards are fast enough and that videographers will want identical card slots as they frequently use matched memory cards for shooting.
Early verdict
With the Lumix S1H, Panasonic has used its considerable video experience to bring many of its high-end VariCam features to the Lumix S range. The controls, the interface and certainly the hardware have been build for video and cinematography, and the fact it's also a very serviceable 24MP stills camera is a bonus. But with the cheaper and smaller Fujifilm X-T3 also able to shoot 4K 60p 10-bit 4:2:0 (internal) and 4:2:2 (external) video and Blackmagic building raw video capture into its cameras, the S1H is only one of several options for higher-end video makers.
Read more:
• These are the best 4K cameras for filmmaking right now
• We round up the best cinema cameras on the market today
• How to choose the best mirrorless camera to buy