The Fujifilm X-T4 is the new flagship camera in the Fujifilm APS-C X-mount mirrorless camera range. It takes over from the X-T3, adding a series of key features that make the X-T4 perhaps the most advanced, most desirable and most powerful APS-C camera on the market right now.
Full frame mirrorless cameras may be the ones that grab all the headlines, but APS-C cameras offer almost the same image quality, and pretty well all the features and performance, at a much lower price. And right now, the brand new Fujifilm X-T4 looks to have everything that any amateur, enthusiast and expert could want.
We looked at a pre-production sample so we haven't been able to carry out a full test yet, but from what we've seen so far the Fujifilm X-T4 looks set to be one of the best mirrorless cameras on the market, undoubtedly one of the best Fujifilm cameras and almost certainly on our list of the best cameras for enthusiasts.
The video specifications alone, as with the X-T3, will qualify this camera as being one of the best 4K cameras for filmmaking as well as the best cameras for vlogging. As you'll have gathered, the Fujifilm X-T4 is an important camera!
Specifications
Sensor: 26.1MP APS-C X-Trans CMOS 4 sensor
Image processor: X Processor 4
AF points: 117/425/91 point hybrid contrast/phase AF
ISO range: 160 to 12,800 (exp 80-51,200)
Max image size: 6,240 x 4,160
Metering modes: 256-zone multi-pattern, centre-weighted, spot
Video: C4K & UHD at 60/50/30/25/24p
Viewfinder: EVF, 3.69m dots
Memory card: 2x SD/SDHC/SDXC (UHS II)
LCD: 3-inch vari-angle touchscreen, 1.62m dots
Max burst: 30fps (electronic shutter, 1.25x crop mode) 15fps (mechanical shutter)
Connectivity: Wi-Fi, Bluetooth
Size: 134.6 x 92.8 x 63.8mm
Weight: 607g (body only)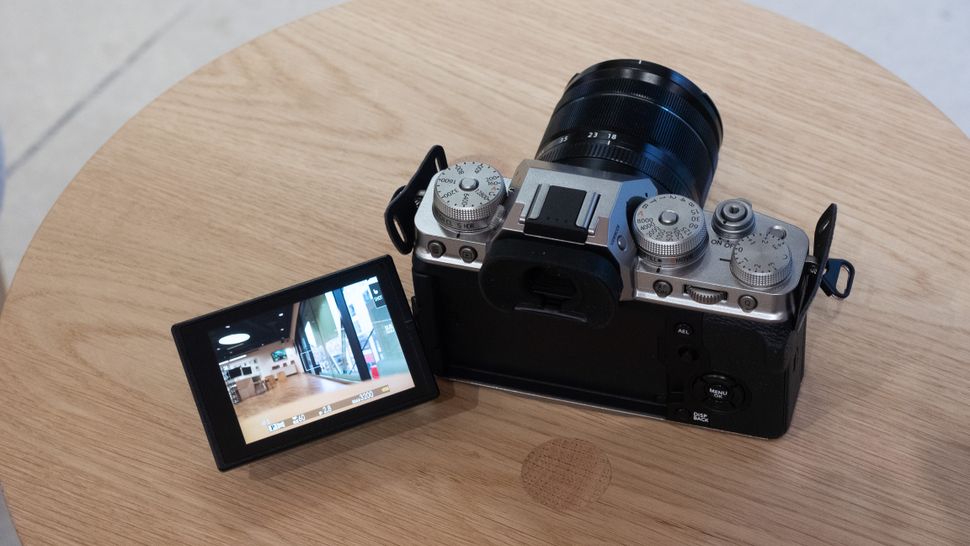 Key features
The Fujifilm X-T3 had so many advanced features it was hard to know where to start… and the X-T4 makes this harder still.
We'll begin with the things that are the same. The X-T4 uses the same 26.1-megapixel X-Trans sensor as the X-T3, with the same X Processor 4 image processing and the same hybrid phase detection/contrast AF system. The video specifications are largely unchanged too, but the X-T3's 60p 4K video and 10-bit internal recording was so far ahead of its time – and still is –  that the X-T4's video capture is still very advanced for this market.
The things that are new are mainly physical, but at least as important as megapixels and autofocus points.
First, the X-T4 now has in-body image stabilization. Fujifilm first used this on its bigger and heavier X-H1 model, but the IBIS unit in the X-T4 is smaller, lighter and more efficient – and Fujifilm claims up to 6.5 stops of shake compensation even with unstabilised Fujinon prime lenses. 
Second, a new shutter unit offers a much quieter action and a higher continuous shooting speed of 15fps, compared to 11fps on the X-T3. You can use the electronic shutter at up to 30fps in the camera's 1.25x crop mode, but the mechanical shutter is better suited to fast-moving subjects. The new shutter also has a much longer life – 300,000 actuations compared to 150,000 on the X-T3.
Third, there's a new NP-W235 battery that offers up to 500 shots on a charge in normal mode and 600 in 'economy' mode. It's not quite up to DSLR standards, but it's a big improvement over the 390-shot battery life of the X-T3. 
Fujifilm has added another new feature to the X-T4 – a vari-angle screen. It's not the 3.5-inch 16:9 screen seen on the Fujifilm X-A7 and X-T200, but Fujifilm says it needed to use a regular 3-inch screen to allow enough room for the D-pad controller on the back of the camera.
Other improvements include a new ETERNA Bleach Bypass cinematic Film Simulation mode, a new autofocus algorithm for better face and eye detection and some revised external controls, notably a new Still/Video lever on the top of the camera.
Build and handling
The Fujifilm X-T4 has the same classic rectangular design and external exposure controls of previous Fujifilm X-series cameras. It's a paradox of modern camera design that it takes a mirrorless camera like this one to truly replicate the handling of a classic 35mm film SLR – digital SLRs are just too bulky.
Where other cameras use mode dials, Fujifilm's exposure controls are strictly old school. There's a shutter speed dial on the top and a physical ISO dial and most (though not quite all) Fujifilm lenses have manual aperture rings. Each of these controls has an 'A' setting, so you can quickly swap between full manual control, aperture priority, shutter priority, program AE and auto ISO. 
This design means the camera settings are always visible and can be changed even without switching the camera on. You don't need a mode dial, and this leaves the twin control dials available for other functions.
Best of all, this control layout really encourages you to think properly about exposure control and the camera settings.  It's not old fashioned for the sake of it but, we would say, a more expensive but better way to design camera controls.
The X-T4 is a little bigger than the X-T3, but not by much. It's a couple of millimetres wider and a few millimetres thicker, but this doesn't hamper the handling at all – if anything, the extra size makes the X-T4 that little bit 'grippier' and gives the controls more room to breathe.
The shutter action is extremely quiet. Mirrorless cameras use focal plane shutters which normally make a bit of noise, but this one is extremely unobtrusive.
For horizontal shooting and video, the new vari-angle screen won't offer much advantage over a tilting screen, as used by the X-T3, but it comes into its own for vertical shots and generally when shooting in tight corners at awkward angles.
There is a new VG-XT4 battery grip accessory for the X-T4 which adds duplicate vertical controls and two extra batteries to effectively triple the battery life to 1,450 shots. Once attached to the base, it feels a very snug fit on the X-T4 body, and although the grip is available only in black, it suits the black and silver bodies equally well.
The dual card slots sit behind a separate door to the battery compartment, which we like. The battery itself is physically larger than the NP-W126S cell used in the X-T3 and other X-series cameras, so they are not interchangeable, but the longer life of the new NP-W235 battery is important, so it was a change worth making.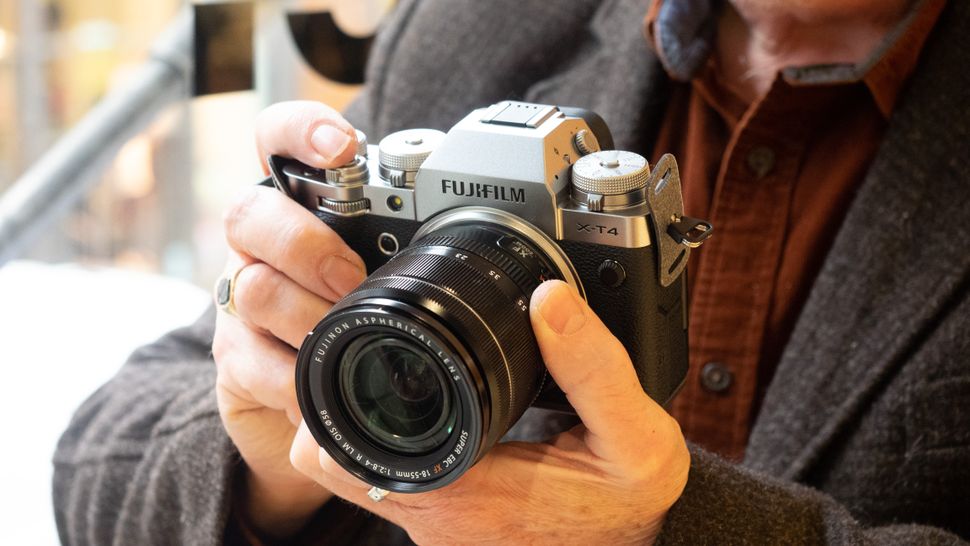 Performance
We were only able to try the X-T4 for a short time at the launch event, and the camera we used was a pre-production sample without the final firmware, so we can't yet offer any comments about the final image quality and camera performance, but we can show some sample (non final) images.
Image 1 of 7
Image 2 of 7
FujiFilm X-T4 sample images (pre-production)
Image 3 of 7
FujiFilm X-T4 sample images (pre-production)
Image 4 of 7
FujiFilm X-T4 sample images (pre-production)
Image 5 of 7
FujiFilm X-T4 sample images (pre-production)
Image 6 of 7
FujiFilm X-T4 sample images (pre-production)
Image 7 of 7
FujiFilm X-T4 sample images (pre-production)
Early verdict
The 2018 Fujifilm X-T3 was such a great camera that it was hard to find any fault with it at all. The only thing it lacked that we really wanted was in-body image stabilization, and the X-T4 has it. The X-T4 also brings a vari-angle screen and a faster, quieter, longer-lasting shutter mechanism. We haven't yet been able to run it through our full testing schedule, but from what we've seen so far, The Fujifilm X-T4 could become the benchmark for all other APS-C mirrorless cameras – and we're not sure how close any of them are likely to get.
Read more:
• These are the best mirrorless cameras you can buy today
• The X-T4 could prove one of the best cameras for enthusiasts
• We choose the best Fujifilm cameras to buy right now