DxO PhotoLab 4 is a powerful digital darkroom that enables you to fix a host of common photo problems quickly. Some of the best photo-editing software, such as Photoshop and Lightroom use lens profiles to help smooth out noise and counteract distortion created by a particular camera's lens. What gives PhotoLab 4 the edge is the application of DxO DeepPRIME AI technology, though this is in the Elite edition only.
PhotoLab 4's DeepPRIME AI has been exposed to millions of images produced by many different camera and lens models. This exposure enables the app to learn how to smooth out noise without sacrificing detail. To put DeepPRIME to the test we opened a Canon Raw file that had been captured using a high ISO of 800. When viewed at 100% we could see garish specs of color noise in the unprocessed picture. After a click on the Denoising Technologies panel's DeepPRIME button the nasty color noise vanished. Luminance noise was also smoothed out without losing key details. This AI-assisted denoising operation certainly gives PhotoLab 4 the 'wow factor', though it's only available in the more expensive Elite version, along with other advanced features like DxO's ClearView (dehaze) tool.
Interface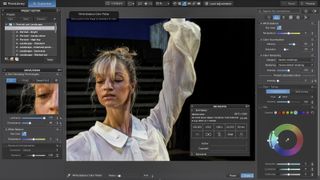 When you first launch DxO PhotoLab 4 you are given the option of turning on all the app's auto correction features. This applies DxO's custom made lens correction profiles to fix distortion, vignetted edges, chromatic aberration and edge softness. It will also enhance raw files automatically with its in-built Smart Lighting system, and all with the minimum of effort. More experienced picture editors can choose to use a workspace with less automation, so that they can manually toggle various palettes on and off as required.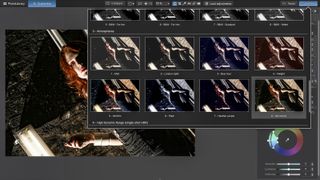 PhotoLab 4's interface is designed to look familiar to users of Adobe Lightroom and Photoshop CC 2021 with a collection of neutral grey palettes that don't distract from the colors and tones in the images that you're working on. You can customize the position of each palette to place the most useful ones close to hand (while hiding unwanted panels to create a cleaner workspace). PhotoLab 4 can also be added to Lightroom as a plug-in, so you can start editing in Lightroom and then jump to PhotoLab 4 if you need the extra noise-reduction assistance of DxO DeepPRIME.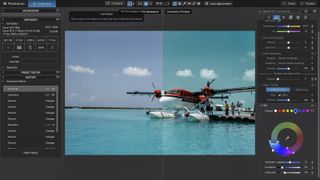 PhotoLab 4's interface is broken up into tabbed panels such as Light, Color and Detail. Each panel contains a collection of palettes and tools that are designed to help you focus on particular problems such as sharpening soft shots (Detail) or restoring missing highlights (Light). There's also a handy Metadata panel that shows you the various camera settings that were used to capture the currently selected photo. Here you can keep an eye out for noise-inducing high ISO settings for example.
Key features
One of PhotoLab's strengths is its ability to make selective adjustments to your Raw files. By going to the Local Adjustments panel you can right click anywhere on the image to summon a specific selective adjustment tool. The Graduated Filter enables you to selectively darken and over-exposed sky without altering the correctly exposed landscape (just as you can do when editing Raw files in Photoshop and Lightroom). If you're familiar with Nikon's Capture NX-D app then you'll get to grips with PhotoLab 4's similar Control Point tool that enables you to make selective adjustments to a sampled circular region.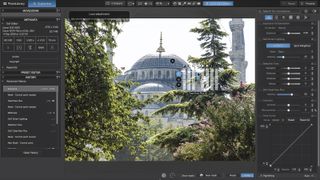 After applying a selective adjustment you can tweak a range of properties via a clever multi-function equalizer that sits next to the area that you're working on. One of most useful equalizer sliders is ClearView Plus (Elite edition only), which uses localised contrast adjustments to cut through atmospheric haze and give flat-looking pictures much more contrast.
You can also adjust a specific area using manual brushes, which enables you to selectively dodge (lighten) or burn (darken) particular areas with great precision (like an old school analogue dark room photographer), but PhotoLab also uses auto-masking 'control points' inherited from DxO's takeover of the Nik Collection.
Photographers often use spot metering to prioritize the exposure for a particular part of the scene (such as a bright sky or a building in shadow). PhotoLab 4's Light panel has a useful Smart Lighting feature that does a similar job. After clicking the panel's Spot Weighted button you can draw a marquee over the area (or areas) that are most important. The app then tweaks the shot's exposure to prioritize details in the selected areas. You can then fine-tune the results by selectively tweaking sliders for the Highlights, Midtones and Shadows as you would in many other image editing apps. You an also access different metering settings such as Highlight Priority or Center-weighted Average using as drop down menu.
All of PhotoLab's adjustments are non-destructive, so you can go back later and change them at any time. When you're happy with the image you can then export a processed TIFF or JPEG version. It's also possible to create Virtual Copies to try out multiple 'looks' without having to keep duplicating the original image.
The editing work in PhotoLab is carried out in the Customize window, but there's also a PhotoLibrary window where you can browse all your images, carry out basic searches using camera shooting information and keywords and even create Projects (albums).
Quality of results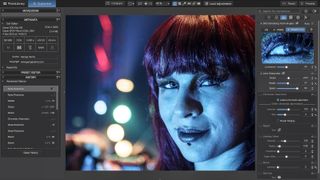 Camera lenses can introduce distortion to each shot as the light is focused onto the sensor. This can cause some objects to bulge outwards (barrel distortion) or inwards (pin-cushion distortion). Thanks to PhotoLab's downloadable camera/lens profiles you can quickly and easily reduce the look of barrel and pin-cushion distortion (and ugly color fringing caused by old or cheap lenses).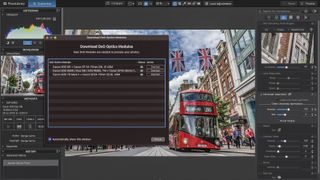 However the app lacks the ability to counteract perspective distortion in architecture shots. Perspective distortion causes a building's vertical lines to converge inwards towards the top of the frame. It's disappointing that this useful lens correction feature is unavailable in PhotoLab 4 as standard, given that rival programs like Lightroom, Capture One and others include it. Indeed, even the iOS Photos app can counteract perspective distortion. You'll need to purchase the separate DxO Viewpoint 3 app to fix perspective distortion but that means an extra outlay.
We were also surprised that PhotoLab 4 doesn't necessarily support all Digital negative (.dng) files, notably those produced by the iPhone 12 Pro.
There is worse news for Fujifilm fans. DxO's raw demosaicing process is incompatible with the color filter array used by Fujifilm X-Trans sensors, and only works with conventional Bayer sensors, as used by all other camera makers (and some Fujifilm cameras).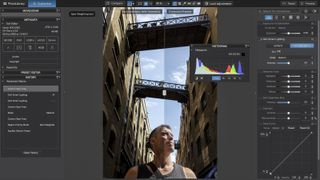 Verdict
If you shoot in raw then PhotoLab 4's combination of raw processing and lens corrections can be an effective asset in your battle for picture perfection. DxO PhotoLab 4 should also be attractive to new photographers who just want the best possible image corrections without any technical know-how. They'll then be able to experiment with the various manual and selective adjustment tools as their confidence and experience grows.
The patchy support for the .dng format deprives some smart phone users of enjoying the app's powerful raw editing tools, however, and the lack of support for X-Trans sensors rules PhotoLab out for most Fujifilm fans.
A trial vision of PhotoLab 4 is available to download so it's certainly worth taking it for a test drive. DxO also publishes the freshly-updated Nik Collection 4 and the interesting new PureRAW app for 'pre-processing' raw files with DxO's lens corrections and DeepPRIME demosaicing ahead of their use by other programs.
Read more:
• This is the best photo editing software right now
• We pick the best free photo editors
• These are the best laptops for photo editing