The old adage that you can never have too much storage rings particularly true on a long photography shoot. If you're staked out for hours tracking elusive wildlife, there's nothing quite like having all your key lenses, filters and accessories easily to hand, rather than buried in a kit bag.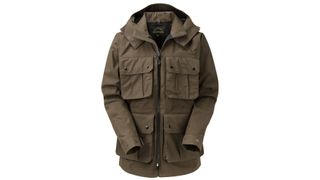 Features
The beauty of the new Aperture jacket is that with a whopping 13 pockets, you can. What's more, these aren't just pockets just suitable for a smartphone. The two lower pockets and twin chest pockets are positively cavernous, featuring elasticated sides to ensure even bulky full-frame lenses will stow easily. Many of the internal pockets are just as practical - ideal for storing maps, filters, memory cards and batteries.
It's all too easy to load up the Aperture with an entire bag's worth of gear, which has the potential to strain stitching to breaking point. Fortunately this is a garment that exudes quality on every level. The outer fabric is a new heavyweight Braxton Aqua cotton material that shows no visible signs of stress when the jacket is fully loaded, and gives the impression passing brambles and thorns won't penetrate.
Speaking of resisting the elements, the material is also waterproof, windproof and breathable, as is the comfortable interior lining. A waterproof front zipper, adjustable cuffs, and drawcords around the waist and hem further tailor the jacket for a wind-proof fit. It's all topped off by a detachable hood that contains a wired peak to ensure your vision is never obscured, as well as a drawcord to prevent the wind from blowing the hood off your noggin.
The Apperture is available in sizes Small to XXXXL, with a full sizing chart available on the Country Innovation website.
Waterproof, Windproof and Breathable
12 Pockets:-
2 Large Vertical Pockets
2 Chest Pockets - with flaps
2 Lower Pockets - with 2 inner security pockets
2 Side Entry Pockets
2 Inner Pockets
Full Vision Detachable Hood - with wired peak, volume adjuster, high front fastening and drawcord to pull in tight to the face
Adjustable Cuffs
Two Way Main Zip – with inner placket
Bottom Hem Drawcord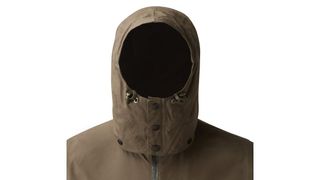 Verdict
We've tried out the very first production sample of the Aperture jacket. It features all the best bits of Country Innovation's Traveller jacket - a product that's previously won an award from us - but with a more durable outer material ideal for winter wear.
This material is also rustle-free, so you needn't worry about broadcasting your arrival to nearby wildlife, and there's a pleasing lack of Velcro fastenings, keeping you even stealthier.
These are generously-cut jackets though, which is a good thing if you plan on layering up underneath it to keep warm, but even then may need a size smaller than usual, assuming your festive feasting wasn't too frivolous.
The Aperture is available to pre-order direct from Country Innovation's web shop, with worldwide shipping available.