The Celestron UpClose G2 10x50 are about as basic a pair of binoculars as you can get. The Celstron brand makes many different models of binoculars, some exceptionally high-end, but this pair of 10x50's represent the most affordable available.
Will they suffice or do you need a more expensive pair? That depends on what you're after. Equipped with 10x magnification and 50mm objective lenses, the UpClose G2 10x50 are both powerful and fast, offering plenty of magnification and also able to collect a lot of light.
That makes them theoretically usable in both bright light and in low light conditions, including complete darkness. So why are the UpClose G2 10x50 so affordable? That's partly down to the lack of any niceties, with no quality accessories or coverings.
Specifications
Magnification: 10x
Objective diameter: 50mm
Field of view at 1000m: 118 metres
Closest focusing distance: 7 metres/23 feet
Eye relief: 12mm/0.47"
Weight: 27 oz/765g
Dimensions: 185x81x160mm/7.3x3.2x6.3 inches
Key features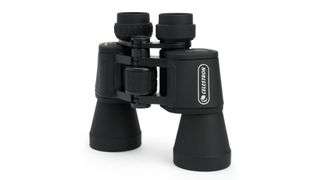 It's fair to say that the Celestron UpClose G2 10x50 are ultra-low priced, so it's no surprise to see the use of a Porro prism optical system. It's one of the simplest and most affordable optical systems for binocular manufacturers to make, but that doesn't mean you should expect poorer quality images. In fact, Porro prism binoculars are known for their bright, clear images and wider field of view. On the Celestron UpClose G2 10x50, that Porro prism design together with those 50mm objective lenses does mean a rather bulky and wide product.
Optically speaking, a much more significant cost saving feature on the Celestron UpClose G2 10x50 is its use of BK-7 class for those prisms. It doesn't have to be a dealbreaker, but the way BK-7 prisms transmit light can mean a little blur around the extremities of the image you see.
Another consequence of its optical design means the Celestron UpClose G2 10x50 can focus on objects no closer than 7m/23 ft away, which is a little further than you may want in your backyard.
Despite some slight disadvantages in its design, the Celestron UpClose G2 10x50 has most of the usual features you would expect on any type of binoculars. For example, one eyecup features a diopter dial, which is necessary for calibrating the binoculars to your own eyesight. What's more, the dial provided is both tactile and isn't easily moved if you accidentally knock the binoculars. Look between the eyecups and you will see a small cover, under which lies a thread for an L-shaped adapter, though we're not convinced anyone is going to be mounting the Celestron UpClose G2 10x50 on a tripod.
Build and handling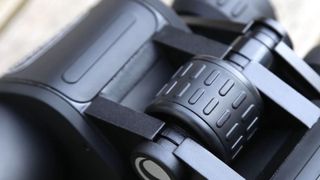 The Celestron UpClose G2 10x50 is made of aluminium, which is a definite step down from the magnesium alloys you might find on higher-end products. That's hardly a dealbreaker, though the barrels are covered in a rather cheap-looking faux-rubber. It will protect your binoculars without any issues, but it does lack any kind of texture for grip.
That said, there are indents for resting your thumbs on the undercarriage. Our biggest concern for the build quality of the Celestron UpClose G2 10x50 is its eyecups, which to us seemed a little loose. We're not convinced these binoculars would survive a drop or two, so we do have concerns about its longevity.
The extras supplied with the Celestron are pretty basic. The lens caps are completely separate components that are going to be fairly easy to lose, though they do at least fit snugly across the lenses. You also get a rather basic carry case, which doesn't have any padding so will do little else than keep the Celestron UpClose G2 10x50 clean.
Performance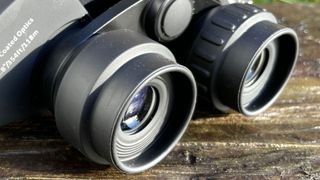 With a fairly basic build quality and a lack of must-have accessories, you might expect the Celestron UpClose G2 10x50 to have had too many corners cut on its image quality. You would be wrong. In fact, point the UpClose G2 10x50's at a bullfinch in your backyard and you'll be treated to sharp and colourful images that are just as impressive as much more expensive binoculars.
Celestron clearly hasn't compromised on image quality per se, though that Porro prism design does indeed introduce a slight blur around the edge of the image. It's not enough of an issue to bother 99% of users.
Used at night the Celestron UpClose G2 10x50 proved easily good enough for basic astronomy, with an involving image when looking at the Pleiades star cluster, the Beehive Cluster and the Double Cluster in Perseus. When pointed at a First Quarter Moon we were able to see mountains throwing shadows along the terminator line between bright and dark on the lunar surface. However, we did notice some slight chromatic aberration as a purple-ish artefact around the bright side of the Moon.
Verdict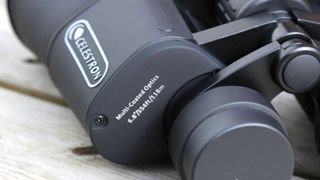 If you're after the latest and greatest binoculars with a streamlined design and refined features, look away now. The Celestron UpClose G2 10x50 is none of those things, and yet there's a lot to like about them. Images are bright, colourful and sharp in most scenarios, including at night when they are able to work as good basic astronomy binoculars.
However, we do have concerns about their rather rudimentary build quality, and wonder how long they will last, particularly if dropped. So although their low price means they may appear to be a good choice for astronomy groups as well as for families, the Celestron UpClose G2 10x50 are probably best used at home, and sparingly, where they will be capable of impressing with close-up images of birds and stars without breaking the bank.