Considering that a starting point of 24mm is pretty ubiquitous in standard zooms for full-frame cameras, it's surprising that this is the only zoom lens for Canon APS-C format bodies on the market that gives the same effective maximum viewing angle. The outright zoom range is also exceptionally generous for a lens of this type, equating to 24-136mm in full-frame terms.
Originally launched back in 2009, this lens is similar to many other mid-range lenses in the Canon stable. It isn't weather-sealed and its hood is sold separately, in this case costing £38/$30 for the EW-78E hood. It also sports ring-type ultrasonic autofocus, in which the focus ring remains stationary during autofocus and enables full-time manual override. Also, unlike most kit zooms, it has a focus distance scale.
Despite its generous zoom range, this lens is smaller and more lightweight than many of its contemporaries, weighing just 585g and taking 72mm rather than 77mm filters. The trade-off comes in the form of the variable f/3.5-5.6 aperture rating, which is a good deal slower than many lenses of similar focal range. If you can deal with that, you'll find a lot to like about this expansive zoom – it's a great general-purpose lens for all sorts of shooting situations.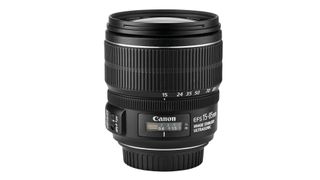 Performance
Handling is refined with smooth operation of the zoom and focus rings, while the ring-type ultrasonic autofocus system is quick and quiet. The four-stop image stabiliser is also very effective, expanding the user's handheld shooting options. Sharpness is good – not great – and benefits from stopping down. Image quality is pleasing, but barrel distortion and vignetting are clearer at the short end of the zoom range.
Super Spectra coatings have been applied to reduce ghosting and flare, while the internal optics include both UD (Ultra-low Dispersion) and aspherical elements, tamping down aberrations and distortions for smooth results. Finally, a seven-bladed aperture allows for the creation of images with smooth transition from focused to defocused areas, and beautiful bokeh.
Read more:
The 10 best enthusiast cameras
Best wide-angle lenses for Canon