One of the most remarkable features of the new Sony A7S III isn't something we'd usually get that excited about - the type of memory card it uses. But in this case, the announcement that (in addition to normal SD cards) the camera supports the previously unreleased CFexpress Type A card format is big news.
• See the Digital Camera World A-Z Dictionary of photography jargon
"Hold up - but plenty of cameras already use CFexpress - what gives?" True, but cameras like the Nikon Z 7, Panasonic Lumix S1R and Canon EOS R5 use CFexpress Type B cards, not Type A.
There are actually three variants of the CFexpress standard: Type A, B and C, and rather illogically, we got Type B first.
All three CFexpress types are based around the same super-fast PCI express Gen3 interface and NVMe 1.3 technology. However, the three differ in the amount of PCIe data transfer lanes available, with Type A cards using one PCIe lane for a theoretical maximum 1000MB/s data bandwidth. Type B cards have 2 lanes allowing for 2000MB/s max bandwidth, and Type C cards get 4 lanes and a 4000MB/s top speed.

Swipe to scroll horizontally
CFexpress types compared

| Header Cell - Column 0 | Type A | Type B | Type C |
| --- | --- | --- | --- |
| Dimensions | 20mm x 28mm x 2.8mm | 38.5mm x 29.8mm x 3.8mm | 54mm x 74mm x 4.8mm |
| PCIe interface | Gen3, 1 lane | Gen3, 2 lanes | Gen3, 4 lanes |
| Maximum theoretical performance | 1000MB/s | 2000MB/s | 4000MB/s |
So why has Sony equipped the A7S III with the slowest 1000MB/s Type A CFexpress standard when faster Type B cards are already available? Simple: it all comes down to the physical size of the memory cards. Where a CFexpress Type B card measures 38.5 x 29.8 x 3.8mm, a Type A card is considerably smaller at 28 x 20 x 2.8mm. To put this in perspective, that's even smaller in length and width than a standard SD card, which measures 32.0 x 24.0 x 2.1mm. (In case you're wondering, Type C cards are by far the largest of the three CFexpress variants, at 74 x 54 x 4.8mm, but these are positioned as a new type of SSD drive for use in computers)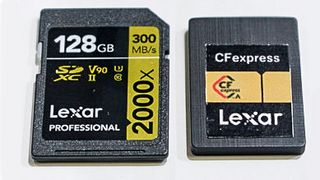 By going with CFexpress Type A over the larger Type B cards, the A7S III is able to use both a CFexpress Type A card and an SD card in the same slot, albeit not at the same time. That in turn means the camera can have dual card slots without limiting you to using only one of each type of memory card.
What's more, even though CFexpress Type A cards are the slowest of the CFexpress family, their 1000MB/s max theoretical speed is still comfortably faster than the 312MB/s maximum speed of a UHS-II SD card, so the A7S III's CFexpress Type A support is definitely worthwhile.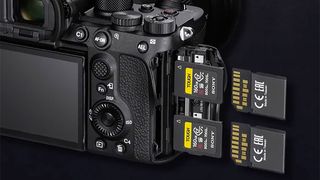 Up to now we've yet to see any actual availability of CFexpress type A cards, but Sony has announced the first ever retail examples of Type A cards alongside the A7S III's reveal. Two capacity options will be available at launch: 80GB, and 160GB.
Though the Type A standard suggests a maximum theoretical transfer rate of 1000MB/s, Sony's cards are capable of 800MB/s read and 700MB/s write. However that is more than twice as fast as a top-end UHS-II SD card, and is certainly fast enough to ensure the A7S III doesn't drop frames when shooting 4K 120p video at its maximum bit rate.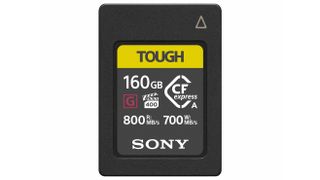 Sony's Type A cards are also VPG400-compliant (video performance guarantee), ensuring stable video recording at 400MB/s. It's no secret that high resolution, high frame rate video generates plenty of heat, and that is true for a memory card as well as the camera. Consequently Sony has implemented a heat sink into its Type A cards to dissipate heat to the card's exterior for maximum card reliability and longevity.
Sony's Type A cards are also claimed to have increased bend and impact resistance, in-keeping with Sony's 'Tough' branding. Sony is touting the cards as being five times more resistant to drop impact and up to ten times more resistant to bending when compared to the CFexpress Type A requirement standard. The cards are also IP57-rated for water and dust resistance.
Expect to pay $198/£209 for an 80GB card and $398/£399 for the 160GB variant.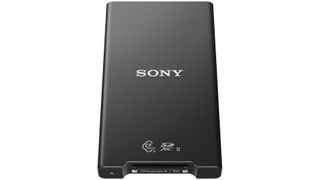 Of course, while the A7S III may support CFexpress Type A cards, it's rather unlikely your computer or memory card reader will. But Sony has though of this, and is also releasing the CFexpress Type A/SD Card Reader (MRW-G2). This uses a USB 3.2 Gen 2 interface for a maximum theoretical transfer speed of 1250MB/s - plenty fast enough to let a 800MB/s CFexpress Type A card transfer at its maximum speed. The MRW-G2 card reader also supports SDXC/SDHC UHS-I and UHS-II cards for added versatility.
But with only one CFexpress Type A card reader on the market so far, Sony is pricing the MRW-G2 reader accordingly, at $118/£129. That's around double the price of an ultra-high-end UHS-II SD card reader.
Read more:
Best memory card for your camera