If you're a student, you're often looking for the best deals around to make your cash go that little bit further, well Amazon understands your struggles and has introduced Amazon Prime Student, a more affordable version of Amazon Prime.
The retail giant has specifically designed this service for college students giving them access to free 2-day shipping, such as the best Prime Day camera deals and a variety of other Amazon-specific services at half the price of the company's traditional Prime membership.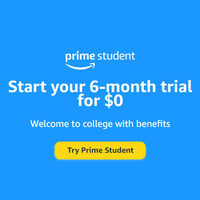 Amazon Prime Student | 6-month free trial
An Amazon Prime Student membership is vital if you want to take full advantage of Amazon Prime Day – but you also get a 6-month free trial to get around paying any extra fees during this shopping event, and even to the run-up to Black Friday - and if you want to keep your subscription you save 50% on your membership too!
Amazon Prime Student has a monthly subscription of $7.49. However, Amazon is currently running an awesome 6-month free trial for all new signup to Amazon Prime Student that offers 6 months of free Prime access, along with all the incredible Amazon Prime member benefits.
Better yet after your 6-month free trial, you can get the whole Prime membership for 50% off if you wish to continue - that means you will be able to get the latest and greatest deals on Amazon Prime Day, which will be held on July 11-12, 2023, as well as taking advantage of premium shipping and discounts when Black Friday starts rolling in - not bad for a 3-minute sign up if you ask us, but remember you must have a verified student .edu email address to be eligible for four years or until graduation — whichever comes first.
What is Amazon Prime Day?
Prime Day is Amazon's biggest sale of the year. The annual two-day deals event is for Prime members only and is usually held in July. It features some of the best-ever deals on the retailer's own products and services, such as Fire TVs, Kindles, Echo devices, Audible, and more.
Prime Day originally started in 2015 as a celebration of Amazon's 20th anniversary. Designed to encourage people to spend outside of the October-December holiday season, the online retailer says its only goal was to "offer a volume of deals greater than Black Friday".
Since then, it's ballooned into one of the biggest sales in the global retail calendar, with many other large retailers launching promotions of their own to take advantage of the huge online audience around Prime Day - and particularly so in the US.
How much does Amazon Prime Student cost?
Amazon Student costs $59 per year or $6.49 per month, after a free (limited) six-month trial period. Verified students (you have to have an .edu email address) are eligible for four years or until graduation — whichever comes first. After that, the membership will auto-renew itself at $119 per year. Students must pay tax on the membership if they live in Arizona, California, Florida, Kentucky, Michigan, New Jersey, New York, North Carolina, Ohio, Pennsylvania, Tennessee, Texas, West Virginia or Wisconsin.
Are there other special benefits for students?
Get $5 for every referral you make!
Amazon Student has a referral program that pays $5 to both the student being referred and the student who refers them. Amazon has requirements for how you deliver the invite to a fellow student, by sharing a link on social media or by using Amazon's email form to send the invite.
Other useful student discounts