The camera news has by no means slowed down in the aftermath of CES, with leaks and announcements and rumors dripping out from every level of the photographic layer cake.
There's the official camera news, with Leica announcing a new camera, Hasselblad announcing a new lens, and Sharp confirming that its groundbreaking system is alive and kicking. And there's the under-the-table news, with Fujifilm prepping a new instax camera and Samsung's flagship camera phone springing more leaks than the Titanic.
So here are the five biggest stories in the camera world over the past seven days…

New $8,300 Leica only shoots black-and-white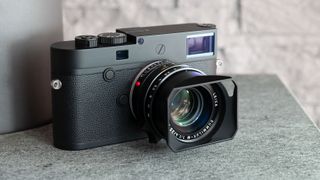 A price tag of $8,300 / £7,250 is nothing unusual for a Leica. But what makes its latest launch special is that unlike any other manufacturer's digital camera is that it will only shoot black-and-white images. If you want to shoot color pictures at any point – or if you hanker after shooting video – the new Leica M10 Monochrom rangefinder is not for you.
This camera is built specifically for those who see their images exclusively in monochrome… and is actually the latest in a family of cameras that Leica has produced that do just that. The original 18-megapixel full-frame Leica M Monochrom was launched in 2012, and this was superseded by the Leica M Monochrom (Typ 256) in 2015, which had a 24-megapixel sensor. And along the way, this series of cameras (along with a number of special editions) has established something of a cult following among street photographers and Leica enthusiasts.
The Leica M10 Monochrom supercharges the resolution of this specialist camera to 40 megapixels. As the sensor does not have the usual color filters of digital cameras, and can use every photosite more effectively, Leica tells us that the effective resolution of the camera is much higher – giving you a camera with the quality that is nearer that of one with twice as many pixels…
Read more: This Leica camera costs $8300 – but only shoots in black and white

Sharp 8K camera due this year for under $4,000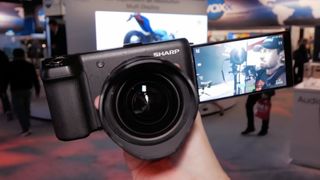 After going quiet for the second half of 2019, the Sharp 8K Video Camera (still without a proper name) did indeed resurface at CES in Las Vegas, where it was confirmed that the camera will launch in Japan later this year – and its sub-$4,000 price tag remains "very achievable".
The Sharp 8K camera is capable of 8K up to 30 frames per second, and 4K and 1080p up to 60 frames per second, in 10-bit at up to 200Mbps. It employs a Micro Four Thirds mount and sensor, with a 5.5-inch touchscreen for primarily touch-based input (with three customizable function buttons and two standard buttons), and makes use of SD memory cards.
"Just to review some basic specs on the camera: it's an 8K camera, we can record now in 8K, 4K or HD. In 8K we can record up to 30p, in 4K or HD 60p, all up to 200 megabits per second at 10-bit," Sharp manager Cliff Quiroga told Alan Halfhill at Personal View…
Read more: Sharp 8K Video Camera – still alive, still under $4,000, due second half 2020

The world's smallest medium format lens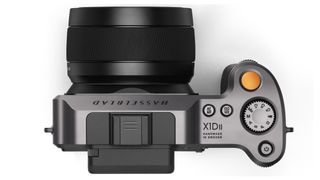 Weighing just 320g , Hasselblad has announced what it claims to the the world's lightest autofocus lens for digital medium format cameras.
The XCD 4/45P offers a focal length of 45mm and is designed to work with the Hasselblad X1D II 50C to provide a medium format camera system that is perfect for travel and street photography. The addition means that there are now ten lenses in the XCD range. The latest lens will also be compatible with the older Hasselblad X1D-50c, once a firmware update is available (this is expected to be released ahead of the lens going on sale).
The wide-angle view it offers is equivalent to that of a 36mm on a full-frame sensor camera. It has a maximum aperture of f/4, but can be stopped down to a minimum aperture setting of f/22. With a leaf shutter offering quieter shooting that with some other cameras - the new lens also gives the benefit of flash synchronization up to 1/2000sec. It offers a minimum focus of 35mm and a maximum magnification of 1:5.2. It protrudes just 47mm when mounted on the camera…
Read more: Hasselblad launches the world's smallest medium format lens

New Samsung has 108MP and 8K video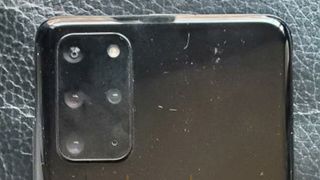 The floodgates have been flung wide open on the rechristened Samsung Galaxy S20 ahead of its 11 February announcement, with leaked images and specs on the full family of phones – which promise groundbreaking photography and video.
The top-of-the-line Samsung Galaxy S20 Ultra will possess the manufacturer's new 108MP sensor for its primary camera, with a secondary telephoto camera powered by a 48MP sensor, and a tertiary ultra-wide 12MP module – all backed up by a time of flight sensor.
The middle-tier Samsung Galaxy S20+, at the very least, will be capable of 8K 30fps video and 4K 60fps video, along with a slew of new photo and video modes never before seen in a phone or traditional camera…
Read more: Samsung Galaxy S20 Ultra specs: 108MP with 48MP tele, 100x zoom + 8K video!

Fujifilm registers new instant camera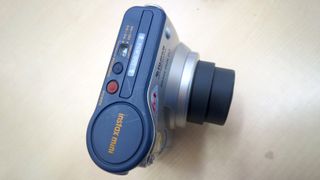 If you thought that analog was dead or that instant camera fever is dying off, you're very much mistaken. Fujifilm has just registered its newest instant film camera: the Fujifilm instax Mini 11.
The Fujifilm instax Mini 11 is the successor to the monstrously popular instax Mini 9. The registration was spotted by Japanese camera sleuth Nokishita, which saw that the camera had been submitted for certification by an overseas authentication organization (which appears to be Russian).
Nothing else is known about the new camera, other than the fact that it is called the instax Mini 11. Which obviously raises a question: if it's the successor to the instax Mini 9, then why isn't it called the instax Mini 10?
Read more: Fujifilm registers new instant camera – instax Mini 11 is on the way!

Latest buying guides:
Best digital instant cameras: hybrid cameras and instant printers
The best cameras for vlogging: for vloggers and content creators everywhere
The best ND grad filters: our pick of the best individual filters and filter kits