A price tag of $8,300 / £7,250 / AU$13,500 is nothing unusual for a Leica. But what makes its latest launch special is that unlike any other manufacturer's digital camera is that it will only shoot black and white images. If you want to shoot color pictures at any point – or if you hanker after shooting video – the new Leica M10 Monochrom rangefinder camera is not for you.
This camera is built specifically for those who see their images exclusively in monochrome... and is actually the latest in a family of cameras that Leica has produced that do just that. The original 18 megapixel full-frame Leica M Monochrom was launched in 2012, and this was superceded by the Leica M Monochrom (Typ 256) in 2015 which had a 24 megapixel sensor. And along the way, this series of cameras (along with a number of special editions) has established something of a cult following among street photographers and Leica enthusiasts.
• The best Leica cameras in 2020
The Leica M10 Monochrom supercharges the resolution of this specialist camera to 40 megapixel. As the sensor does not have the usual color filters of digital cameras, and can use every photosite more effectively, Leica tells us that the effective resolution of the camera is much higher - giving you a camera with the quality that is nearer that of one with twice as many pixels. The Leica engineers also claim an improved, and impressive, 15 stops of dynamic range.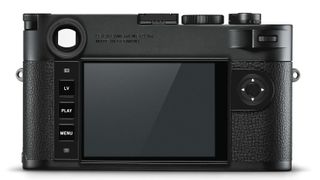 The new version is essentially a black-and-white version of the Leica M10-P rangefinder camera (and becomes the fourth member of the current Leica M10 range). It is also the most subtle of Leica cameras... there is no iconic red dot on the front, nor any Leica logo engraved on the top plate - even the usual colors on the shutter speed dial are a shade of grey.
Although the jump in resolution is the main attraction of the new Leica M10 Monochrom - there are other advantages over the previous Monochrom model.
• The top ISO setting has been boosted from 25,000 to 100,000
• The base ISO setting is now a more useful ISO160 (compared to ISO360 on the predecessor)
• There is also the super-quiet shutter inherited from the M10-P
• And you also get support for wifi, with connectivity to the Leica Fotos app
• Leica M10 Monochrom hands-on review with samples
Leica M10-P specs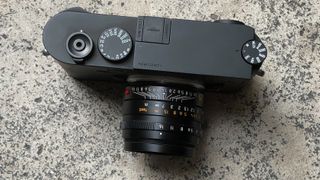 40.8MP full-frame monochrome CMOS sensor
M-mount interchangeable lenses
Rangefinder manual focusing
3in touchscreen LCD (1.036 million pixels)
Liveview with focus peeking
Electronic spirit level

5.5fps
2GB buffer capacity (approx 30 Raw DNGs, or 100 JPGs)
ISO 160 - 100,000

WLAN connectivity 

SD, SDHC, SDXC 

139 x 38.5 x 80mm
660g (with battery)
The Leica M10 Monochrom is available from today. Price is $8,295 / £7,250 - and that is before adding the cost of the lens; we are told that the camera is likely to be in short supply for some time.
• Pre-order the Leica M10 Monochrom at B&H Photo
• Pre-order the Leica M10 Monochrom at Park Cameras
Read more
The best Leica cameras in 2020
The best full-frame cameras in 2020
David Yarrow explains why black and white is best