After going quiet for the second half of 2019, the Sharp 8K Video Camera (still without a proper name) did indeed resurface at CES in Las Vegas, where it was confirmed that the camera will launch in Japan later this year – and its sub-$4,000 price tag remains "very achievable".
The Sharp 8K camera is capable of 8K up to 30 frames per second, and 4K and 1080p up to 60 frames per second, in 10-bit at up to 200Mbps. It employs a Micro Four Thirds mount and sensor, with a 5.5-inch touchscreen for primarily touch-based input (with three customizable function buttons and two standard buttons), and makes use of SD memory cards.
"Just to review some basic specs on the camera: it's an 8K camera, we can record now in 8K, 4K or HD. In 8K we can record up to 30p, in 4K or HD 60p, all up to 200 megabits per second at 10-bit," Sharp manager Cliff Quiroga told Alan Halfhill at Personal View (via 43 Rumors).
The prototype that was shown early last year, which barely had its user interface (UI) in place, was only shooting 8-bit video. So the upgrade to 10-bit shooting at 200Mbps is a big deal, and is likely one of the reasons that the camera was delayed a year.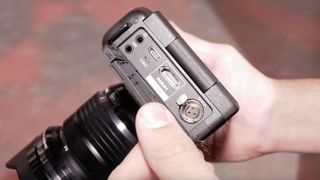 Other reasons for the delay no doubt include a couple of hardware revisions, notably including the change from a Mini HDMI to a full-size HDMI connection. "We still have the mini XLR input, here on the side, and now we've moved to a full HDMI out," confirmed Quiroga, pointing out the ultra-crisp picture being outputted to a Sharp 8K television.
Despite such changes, the much-discussed price point – which will likely make or break the Sharp 8K Video Camera – is still targeted at under $4,000 (£3,085 / AU$5,804). "We're still targeting under $4,000 for this, we still think that's very achievable."
The camera is tentatively set for release in Japan in the latter end of 2020, arriving in North America shortly therefter. "Second half for Japan will be first, and then hopefully we'll be rolling out shortly after that [in the US]," said Quiroga, noting that early Japanese production samples could be ready in time for the NAB show in Las Vegas in April.
Read more:
What is 8K? And what does it mean to photographers and videomakers?
The best cinema cameras
The best 4K cameras for filmmaking
Sharp officially joins Micro Four Thirds with Olympus and Panasonic
The best Micro Four Thirds lenses for your Olympus or Panasonic camera