UPDATE: Panasonic has reached out to us to confirm that, contrary to the report by Mirrorless Rumors (below), sales of the Lumix G9 II are actually very strong.
"Thus far, Lumix G9 II early sales are very strong," said Dan Unger, corporate communications manager at Panasonic USA.
We're very glad that the camera is being embraced by early adopters. "The G9 II can produce exquisite images," we noted in our Panasonic G9 II review, while its "video capabilities are nothing short of astounding."
…
ORIGINAL STORY (21 Sep 2023): Usually when new cameras are released, between the ongoing production issues and pent-up consumer demand, there is enormous demand that often exceeds the actual supply.
Indeed, it was just announced that pre-orders for the Fujifilm GFX 100 II have already dwarfed the number of cameras that are actually being manufactured. However, this is far from the case with the Panasonic G9 II – with a report stating that "preorders are extremely, extremely low."
The word comes from Mirrorless Rumors, a website that is generally well informed when it comes to this kind of information. Site owner Andrea Pizzini noted that, upon the G9 II's announcement (which was the same day as the GFX, oddly enough), he saw shockingly few preorders via his affiliate links.
As such, he checked with his contacts at retailers in the US and Europe to see what their experience had been like.
"I asked the people I know from Europe and the US that have some big major stores how the preorder numbers are in general, because maybe it's just a problem on my website or whatever, and they said no, that preorders are extremely, extremely low."
So, if that's the case, why exactly? Why has the Lumix G9 II, which is a very formidable camera, generating such little interest?
Visibility might be a factor. As noted, the G9 II launched on the same day as the GFX 100 II – which stole most of the headlines in the camera industry. It also launched on the same day as the iPhone 15, which stole most of the headlines everywhere.
Pricing could be an issue. As Pizzini notes, at $1,900 in the US, that puts it in the same category as powerful APS-C cameras like the Fujifilm X-T5 as well as capable entry-level full-frame bodies like the Canon EOS R8.
He also points out that Micro Four Thirds (MFT) isn't a format with a lot of goodwill at the moment.
Between Olympus constantly saying it wouldn't sell its camera business, before selling its camera business, OM System still being in the process of earning trust with consumers, and Panasonic not releasing an MFT camera for a year while it focused on its full-frame cameras… he feels there is a question over how committed manufacturers are to the system.
Overall Pizzini feels that, in addition to trust, what is really needed in the MFT ecosystem right now is innovation – citing the example of a 40MP sensor, as opposed to incremental feature updates typical of the format.
Whatever the reason, it would be a tragedy if the G9 II doesn't find an audience – it's an incredibly well-specced camera with a lot to shout about, and it deserves better than to sink without a trace.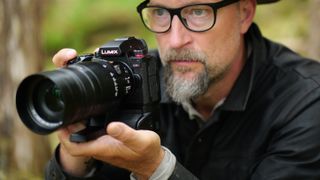 Take a look at the best Panasonic cameras, which include some of the best Micro Four Thirds cameras as well as some of the best full frame mirrorless cameras.