LIVE: Apple iPhone 15 - Highlights of the Wonderlust 2023 event
Apple iPhone 15 Live launch with build-up and all the rumors plus live video feed of Apple's Wonderlust event keynote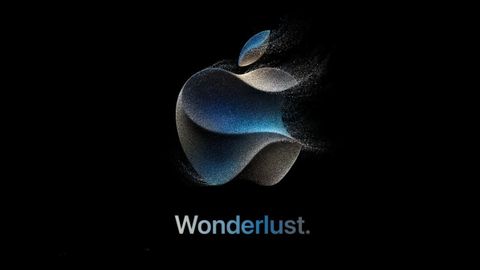 (Image: © Apple)
The Apple Wonderlust event – the launch of the iPhone 15 and iPhone 15 Pro – is very much in view, as the world's biggest company readies its latest flagship product.
The Wonderlust launch event, Tuesday, September 12 at 10 am (Pacific Time) / 1 pm (EDT) / 6 pm (UK) / 3 am Wed (AUS), preceded by the last-minute rumors was they were still flooding in.
• Check out my opinion on the massive boost to iCloud
• Apple talks a lot about focal lengths – is that good for us all?
You can read them all here, and the official Apple YouTube feed will be in the box below to confirm them when the time comes – so that we can all follow along with the big announcements from Apple HQ in Cupertino, California.

We've been tracking all the rumors on our iPhone 15 – everything we know so far page, but the highlights are:
• iPhone 15, iPhone 15 Plus, iPhone 15 Pro and iPhone 15 Pro Max are expected, as last time – rumours of an 'Ultra' have all but vanished.
• All new iPhones to get USB-C charging sockets – the death of Lightning
• iPhone 15 is expected to get 48-megapixel camera (as seen on iPhone 14 Pro), but possibly a newer sensor.
• iPhone 15 to get the "dynamic island" (as on iPhone 14 Pro) instead of the notch.
• iPhone 15 Pro to get a titanium frame
• iPhone 15 Pro Max (but not smaller pro) to get a variable periscope-style zoom lens
• iPhone 15 colors tipped to be Black, White, Light Yellow, Light Blue, Orange, Coral Pink
• iPhone 15 Pro colors tipped as White, Space Black, Grey, Blue
• iPhone 15 & 15 Pro series will have slightly more rounded edges (not all the. way iPhone 11).
• Rumored delays of up to 4 weeks on the iPhone 15 Pro Max may now be solved
• iPhone 15 price expected to remain the same as the iPhone 14, iPhone 15 Pro expected to cost more than its predecessor.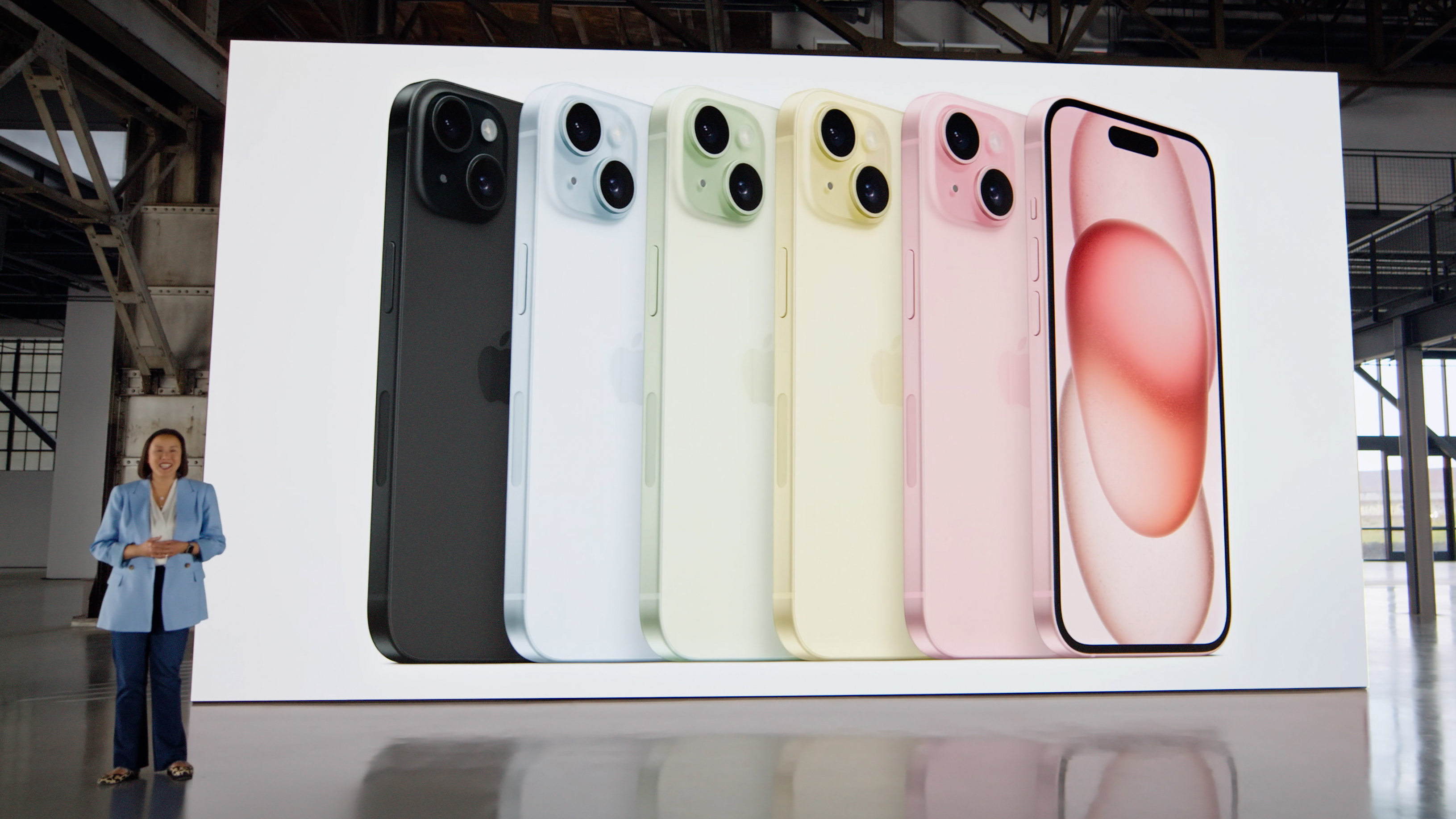 Refresh
Perhaps these phones will come out FAST?
According to Bloomberg's Mark Gurman, Apple Stores the world over will be making their updates on the night after the Apple event. That suggests they'll be on sale almost immediately, rather than the 10-14 day wait experienced in the past.
That said, in another tweet on Friday 8th he challenged a MacRumors report that Apple Retail Staff had been drilled to recommend USB-C charging accessories (which, of course, they inevitably will be). Gurman said that the training materials for this hadn't gone out.
MacRumors also says that all four phones will be launched at once, with possible delays for the Pro models all cleared up, and their suggested retail (or at least pre-order) day is September 15th – the Friday after the event.
This obviously will be true, but the training materials haven't been distributed yet. https://t.co/MDbNODI50ESeptember 8, 2023
Oh, and while we shouldn't expect it on Tuesday, it now seems – according to a post be Weibo – that there will be a new iPad Air, perhaps as soon as October (before the holiday season).
Tweet appears to confirm look of iPhone 15 Pro models
Is this the iPhone 15 Pro? X (formerly Twitter) user posted images which were seen on Weibo, and reposted by @Zovac_X. They were apparently taken by a worker at FoxConn, who manufactures products for Apple.
The tweeter poses a good question. Real or fake...? It has to be said the pic seems to confirm the rumors – the softer edges, the titanium look. The 'blue' seems a bit more like the old purple though?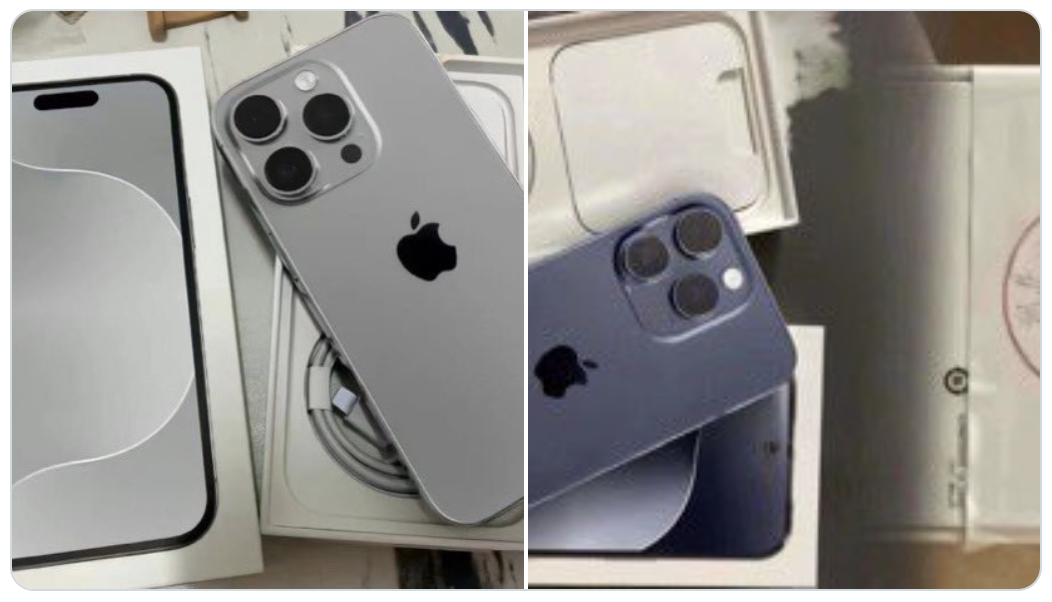 iPhone 15 Pro Pictures have been posted on Weibo from someone who claims to work at FoxConn, the producers of the iPhone.Do you think these are real or fake? pic.twitter.com/xdYYBVlc2uSeptember 10, 2023
Our friends at T3 have been pondering which of the rumored iPhone 15s will represent the better value and, this morning, with price rises of $100 and $200 respectively now being touted by Mark Gurman for the smaller and larger Pro models.
Those price rises make some sense – inflation has meant the iPhone has slid in price in real terms by more than $200, so some might say fair enough but not everyone!
Another interesting tidbit to emerge over the weekend is something of a twitterstorm (X-storm?) about the retention of 60Hz refresh on the 'standard' iPhone 15, which might be getting a better camera. The question must be will any of these angry tweeters be opting for anything less than the top model? Whatever the case, it seems they strongly feel Apple should let everyone experience the ProMotion feature in some tech altruism.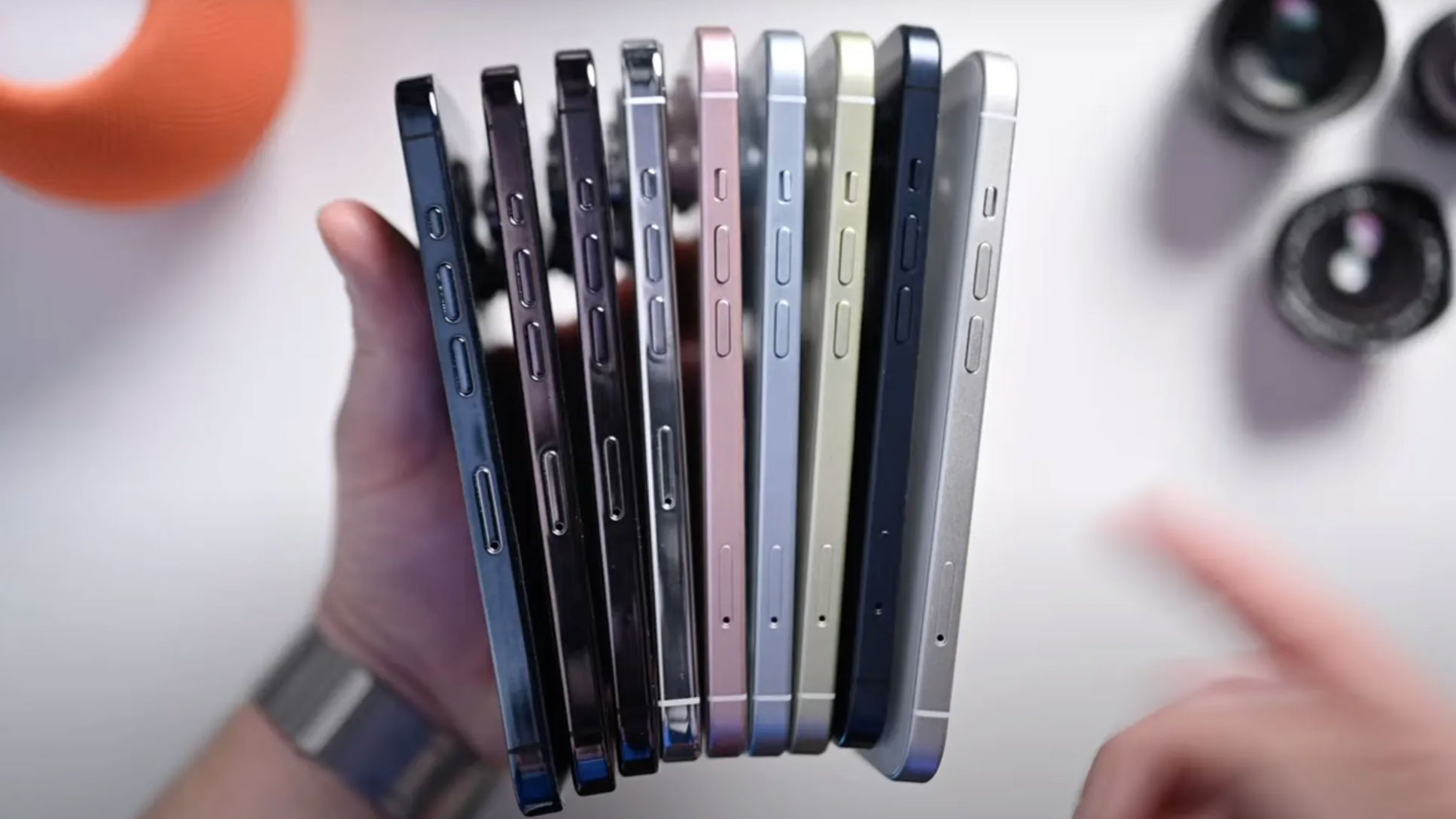 The baby iPhone proves is still going to be a prodigious talent https://t.co/SGHch4oeo2September 9, 2023
Yet another interesting leak doing the rounds today – that there will be four sub-events for media members attending the Apple launch in person. This would normally mean:
1) iPhone 15 series
2) iPhone 15 Pro series
3) Apple Watch 9 – new processor expected here
4) AirPods
It's not unreasonable, given a whole separate briefing, that there might be something more than just new boxes with USB-C sockets for the AirPods. In a related (and not especially photographic, we admit) note, there have long been rumored of colorful AirPod Max big headphones. And we've seen others making similar speculations.
The iPhone 15 Pro Max is going to be lighter – but not as much lighter as some expected – according to Forbes and MacRumors. Oh, it's going to be fatter too!
Specifically the standard iPhone 15 will weight 172g, one 1 gram up on last year, and be 7.8mm thick, but the iPhone 15 Pro will be 188g, shaving 18g from its predecessor and the Pro Max 221g rather than the 240g. That's noticeable, but not as much as Mark Gurman had suggested.
The thickness of the pro models, though, could add almost half a millimeter to the 7.85mm of the iPhone 14 Pro – that's a noticable amount. We're wondering, though, whether it'll be offset by less protrusion of the lenses.
Now you might think that creating special animations just to encourage people to click on them – and to talk about the magic of clicking on them – is on the verge of spamming. We couldn't possibly comment but we can confirm that, once again, Twitter X has done a deal with Apple for just such an event-specific emoji when you 'Like' news of the event.
If you weren't convinced something was about to happen, how's this? The official Apple Store site is now offline with the traditional "Be Right Back" message in advance of today's iPhone 15 launch.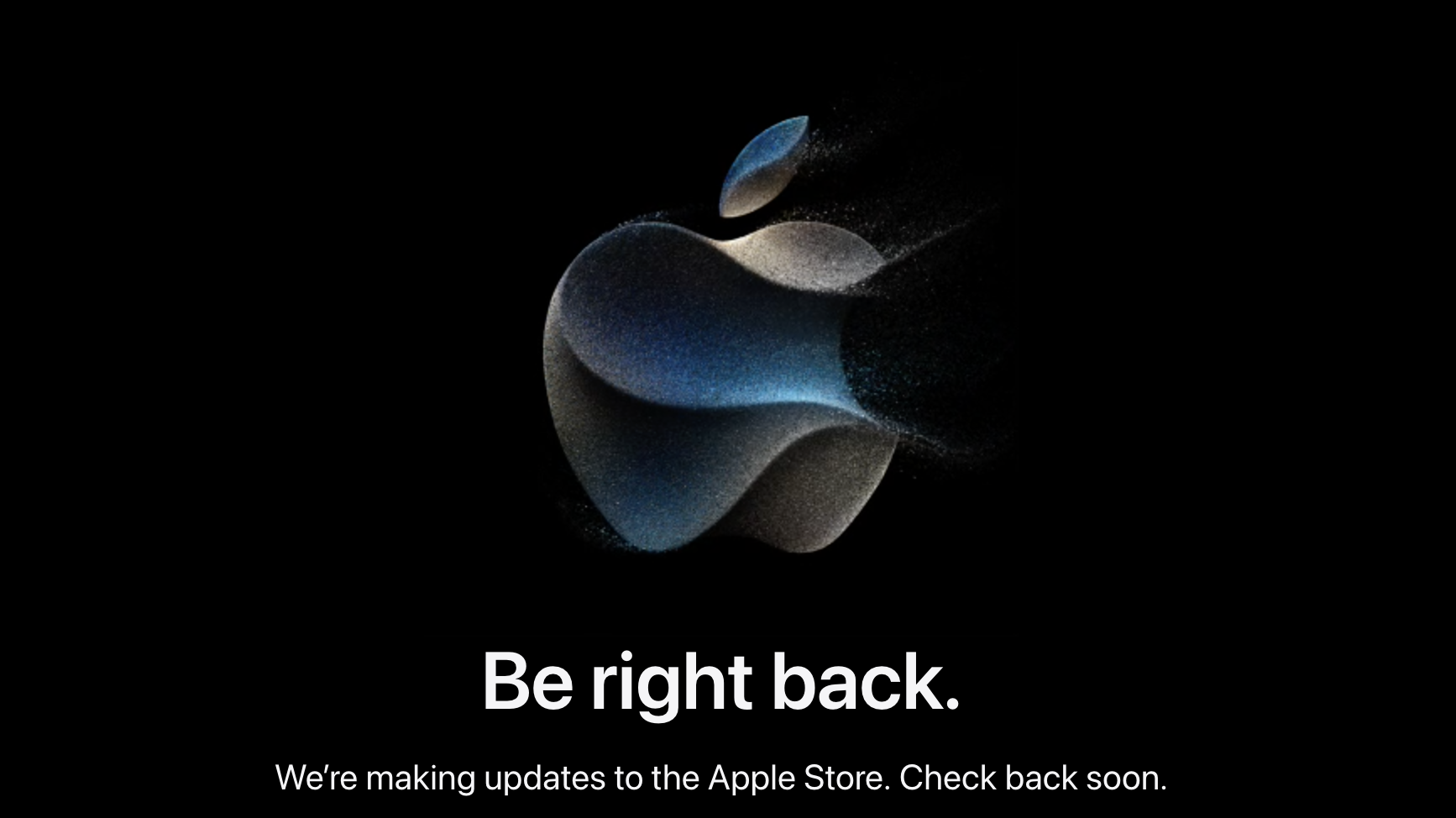 Not to criticise the "journalists" at the British tabloid The Daily Mail, but they seem to have spectacularly misunderstood Apple's launch cycle, reporting that "Apple Store website CRASHES ahead of the iPhone 15 launch event."
Of course the idiocy this headline suggests isn't actually the case – it's more likely shameless clickbait. If the Mail is running deliberately misleading stories about Apple the company can consider itself elevated to the status of royalty!
What is Grade 5 titanium?
The iPhone 15 Pro will (probably) be made of grade 5 titanium. This grade is also known on production floors as Ti-6Al-4V, or just '4-6,' (which, oddly, doesn't have a 5 in it!)
This is the most common kind of titanium alloy, widely used because it has very high strength and low ductility – that means it can be stretched or hammered thin without breaking. Grade 5 titanium, an alloy, has a higher tensile strength than pure titanium and is more scratch-resistant than Grade 2.
According to metals company Ulbrich, Grade 5 is a popular choice, and has 90% titanium, 6% aluminium and 4% vanadium. The latter is often used in alloys for toughness and shock resistance.
OK, very excited now as the video is live – doing some singing and animation. Don't forget to click the play button above on the live video window. Get comfortable folks – the phone might not be the first thing Apple want to talk about!
Not a total surprise, but the emotional kick off to the video is centering on the SOS satellite rescue and Apple Watch health alerts of previous generations and the people who have celebrated birthdays they might otherwise not have. Shift to uplifting tone. Wonder what's next...
Ah, now we can see Apple Park in what is actually a pre-record. Tim Cook is excited about the ways we use iPhone everyday, but is going to start with Mac updates.
He even quoted our friends at Tom's Guide about how lovely the MacBook Air 15 was.
Plus he's talking about what developers are doing with the Apple Vision Pro. Although no actual specifics. Or an actual launch date, beyond 'early next year'.
Apple Watch first. If this were live and not a carefully curated video, the phone-obsessed majority of the audience might audibly groan at this point. OK, it seems this is going to be an Apple Silicon discussion, with the predicted S9 chip.
18-hour battery life with a more powerful neural engine. Not actually that exciting, is it, even though Siri is now processing on-device.
it does mean you'll be able to ask Siri your health data because it's secure and on-device, though only 'later this year'.
Watch OS10 will also get Namedrop to share contact data, and the ability to ping your iPhone using precision finding (which appears to confirm a prediction about the iPhone location services too). Find My is clearly getting a lot of work.
New display can go to a lower as well as higher brightness – just one nit – so it can't embarrass you at the cinema!
The watch is also getting a single hand finger gesture - you double-tap your finger against your thumb and it can feel it (something learned from the Vision Pro research?)
Tim is back and he is talking about Apple's environmental goals. Oh, and a video. Interestingly there is a mention of increased water shipping rather than air freight – will the iPhone come slowly?
A lot of promises on Apple Watch Series 9 which Apple say is a Carbon Neutral - and certified as so. There is a logo to that effect. Seems at the same exciting, it's also a bit of a tricky thing to say just before you announce a Phone which may well not do so well!
On the same front, leather is out for watch bands and, probably, phone cases. We've seen hints about this elsewhere – a big opportunity for phone case makers serving less vegetarian customers?
Apple Watch Ultra – Ultra 2 – is getting the new S9 chip, a new brighter display – 3,000 nits – and the ability to connect Bluetooth cycling accessories. Lot of swooping drone shots near the coast. Battery life will stay the same, but the environment is getting a nod with 100% recycled materials and (if you choose the right loop) it'll also get Apple's new Carbon Neutral logo.
OK, "Now let's talk about iPhone..." :)
iPhone 15 is here, so the 1,600 nits OLED with 2,000 nits peak is confirmed, as is the dynamic island. New tough glass, water and dust resistance.
Interestingly Apple are talking about holding value (they know it's pricey!)
The new Camera for the dual-camera iPhone 15 is confirmed as 48-megapixels – (though they'll all be reduced to 24-megapixels in processing), 26mm focal length f/1.6.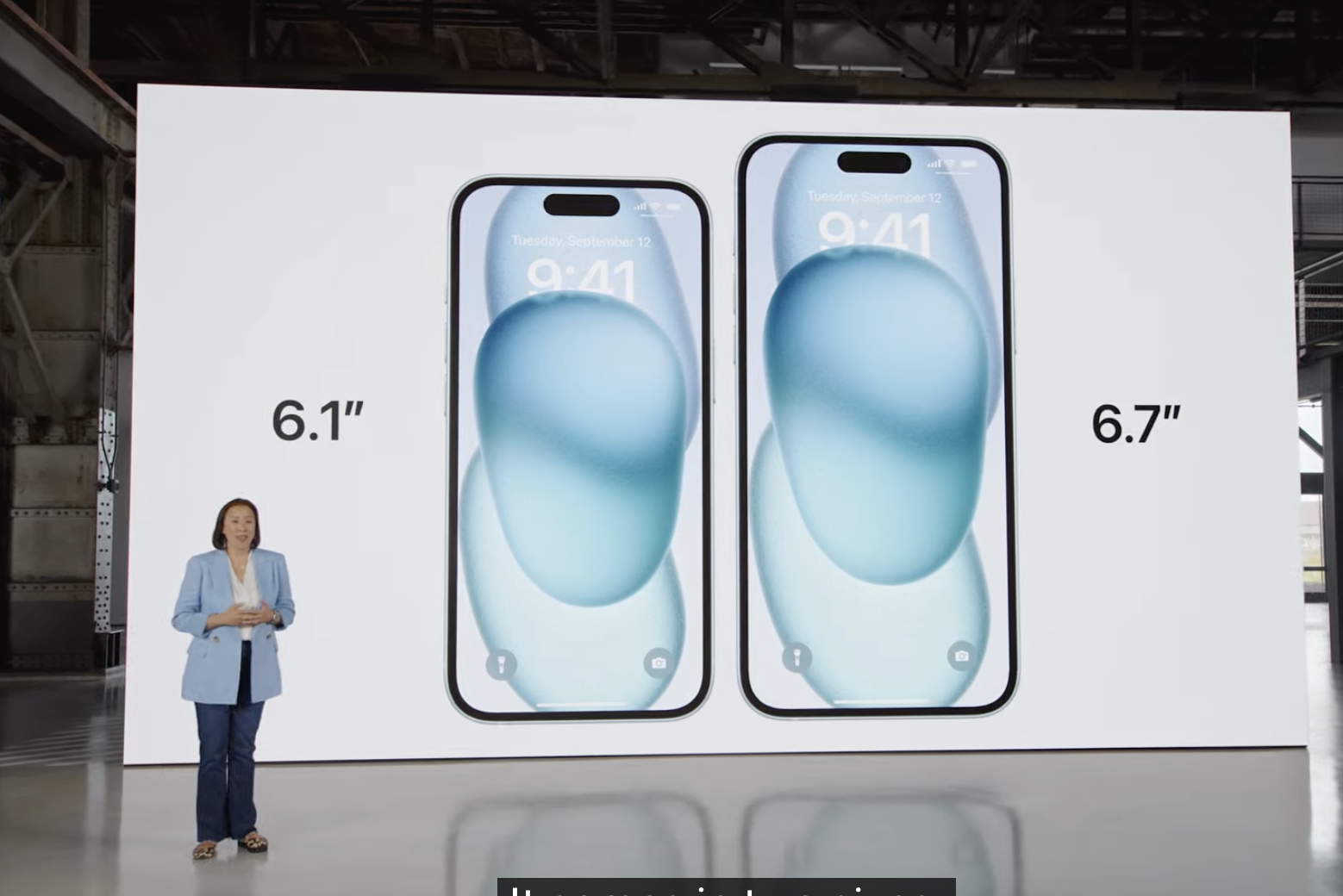 The new 48-megapixel sensor allows for a 12-megapixel 2-times zoom mode, a 2x button will appear in the camera. In video mode the pinch-zoom is smooth.
Portrait mode using a depth map will happen automatically – no need to choose portrait mode. The depth map and focus control data will be saved with the image and you can choose later. Or switch focus subject after... hmmm... that rings a bell. Lytro anyone? Here, though, it'll be a software choosing not to apply blurring!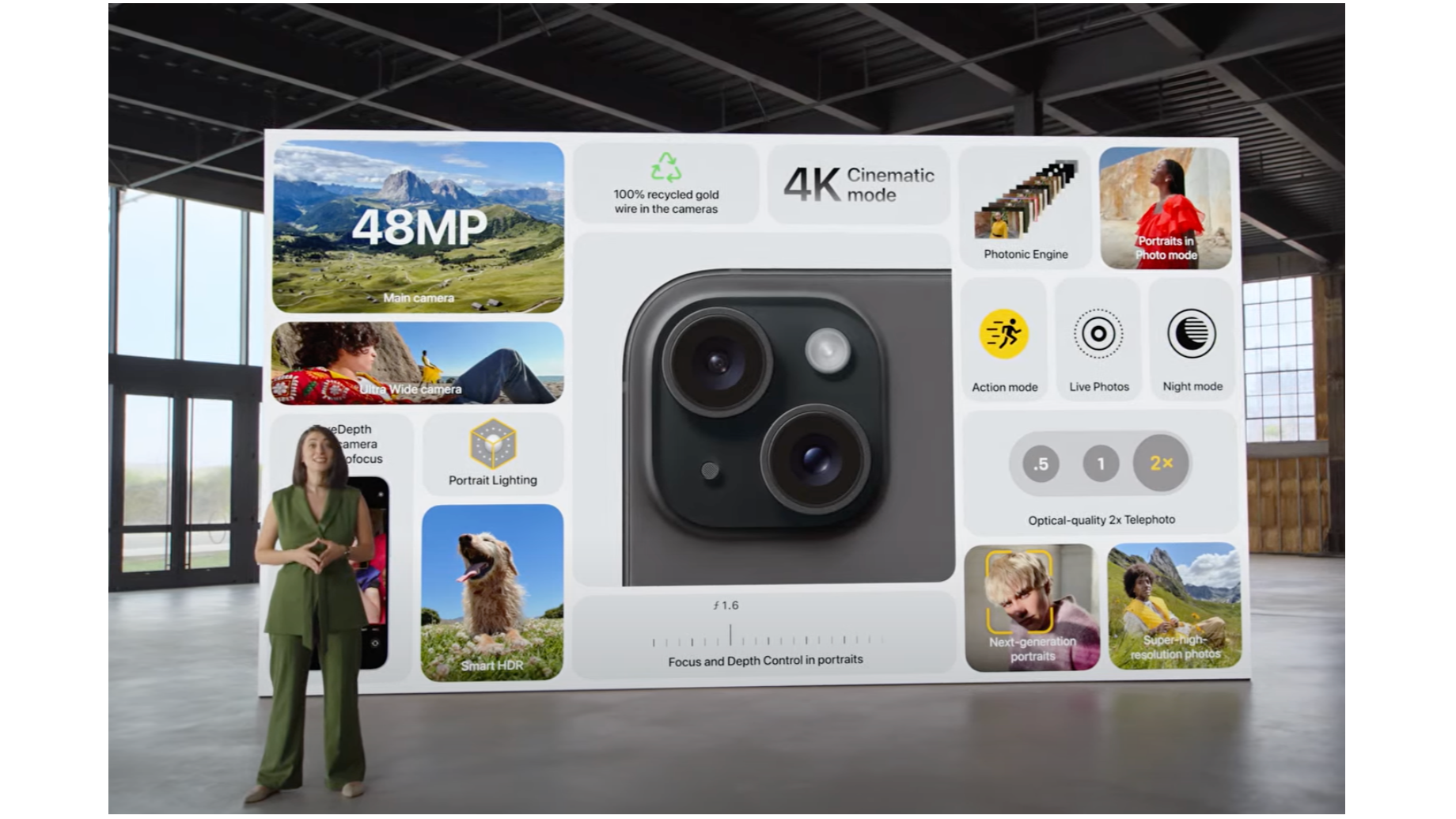 Find your friends in a crowd (assuming they're using an Apple device). Machine learning driven background noise filtering is also being discussed. Roadside assistance (in America with AAA, anyway) is being added to satellite.
USB-C – without a single mention of the European Union mandate – is being given a big promo now by team Apple!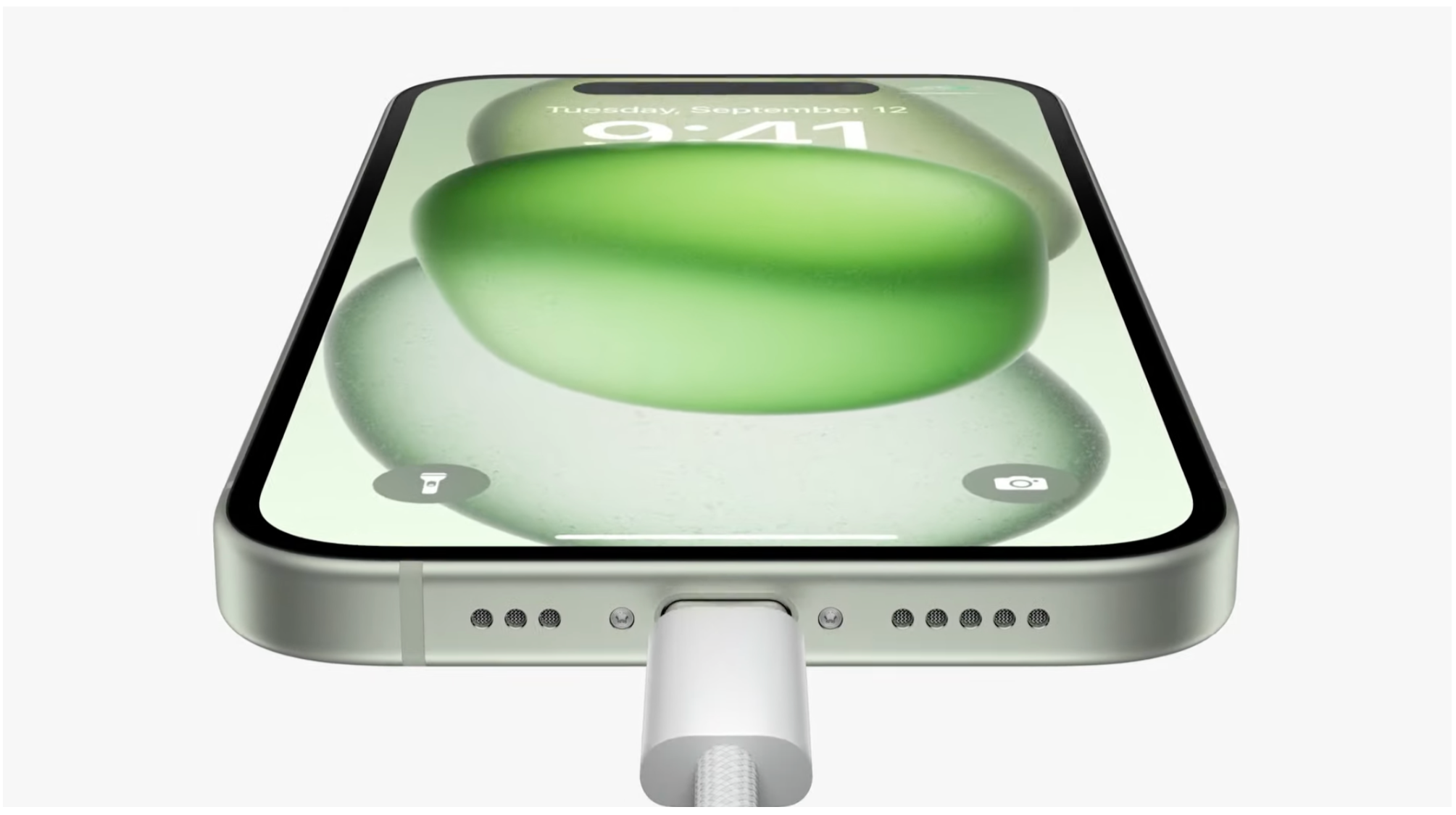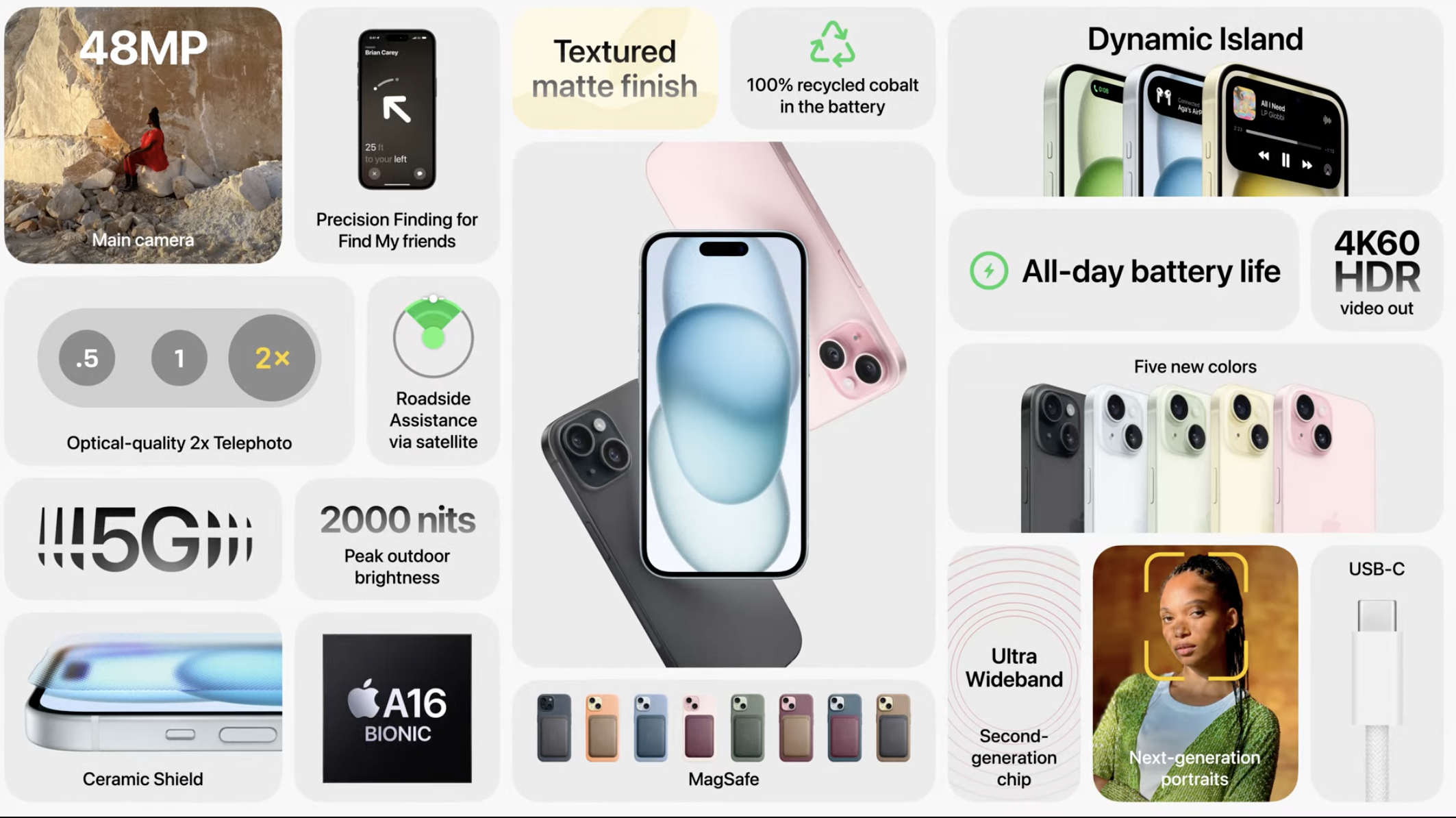 Tim is back – it's time to talk Pro!
Looks nice. Titanium confirmed and we're hearing a lot about how strong it is. Colors confirmed too (the dark blue being the 'interesting' one).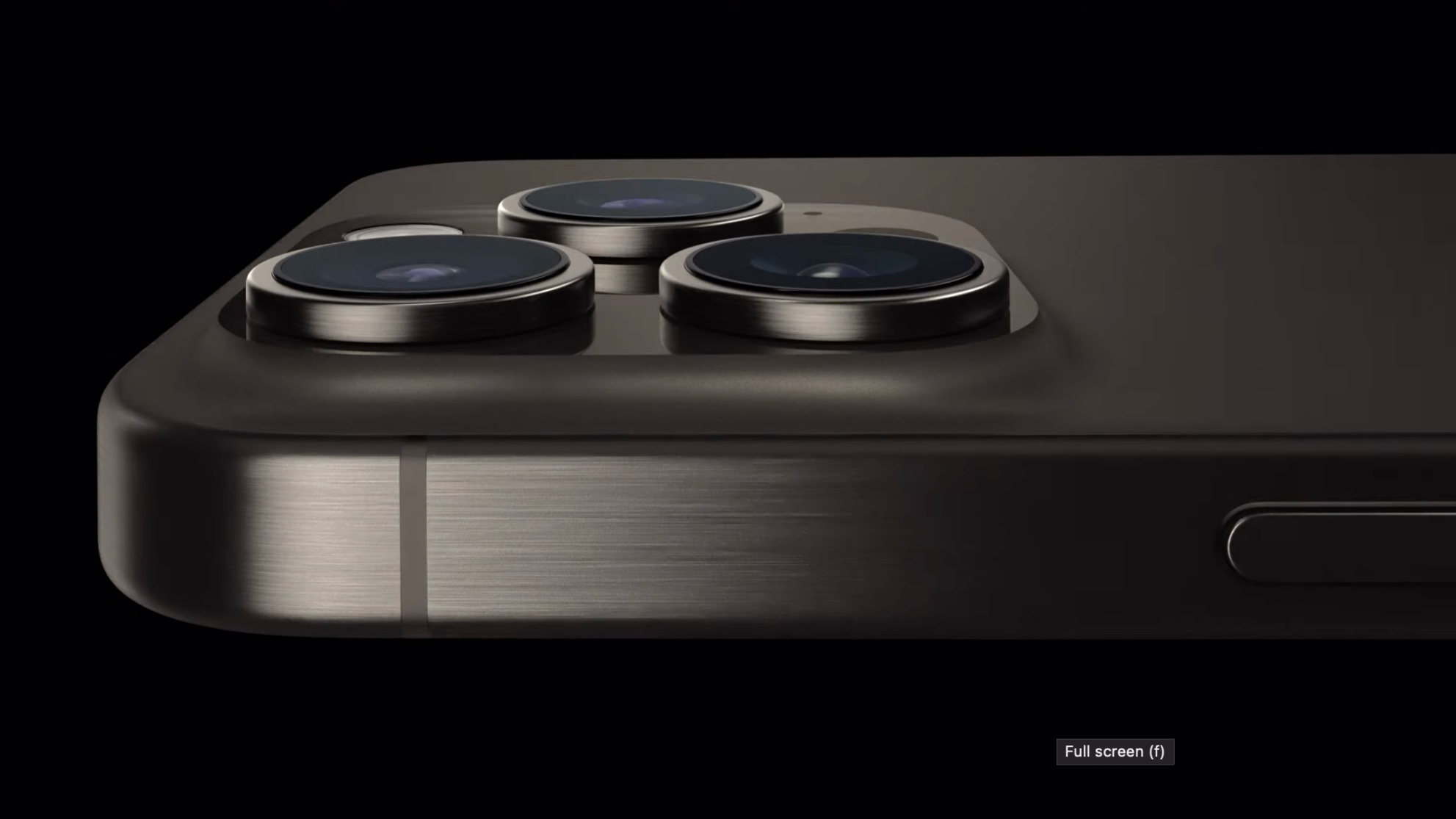 Talking Apple's A17 Pro CPU is impressive – more about the neural engine which finally means better auto-correct and, apparently, better at removing images from backgrounds. ProRes codec is on the chip too and a USB controller is on chip for fast transfer. 10Gb per second.
Energy efficiency, mesh shading and a ray tracing accelerator meaning Apple is shamelessly thinking of games!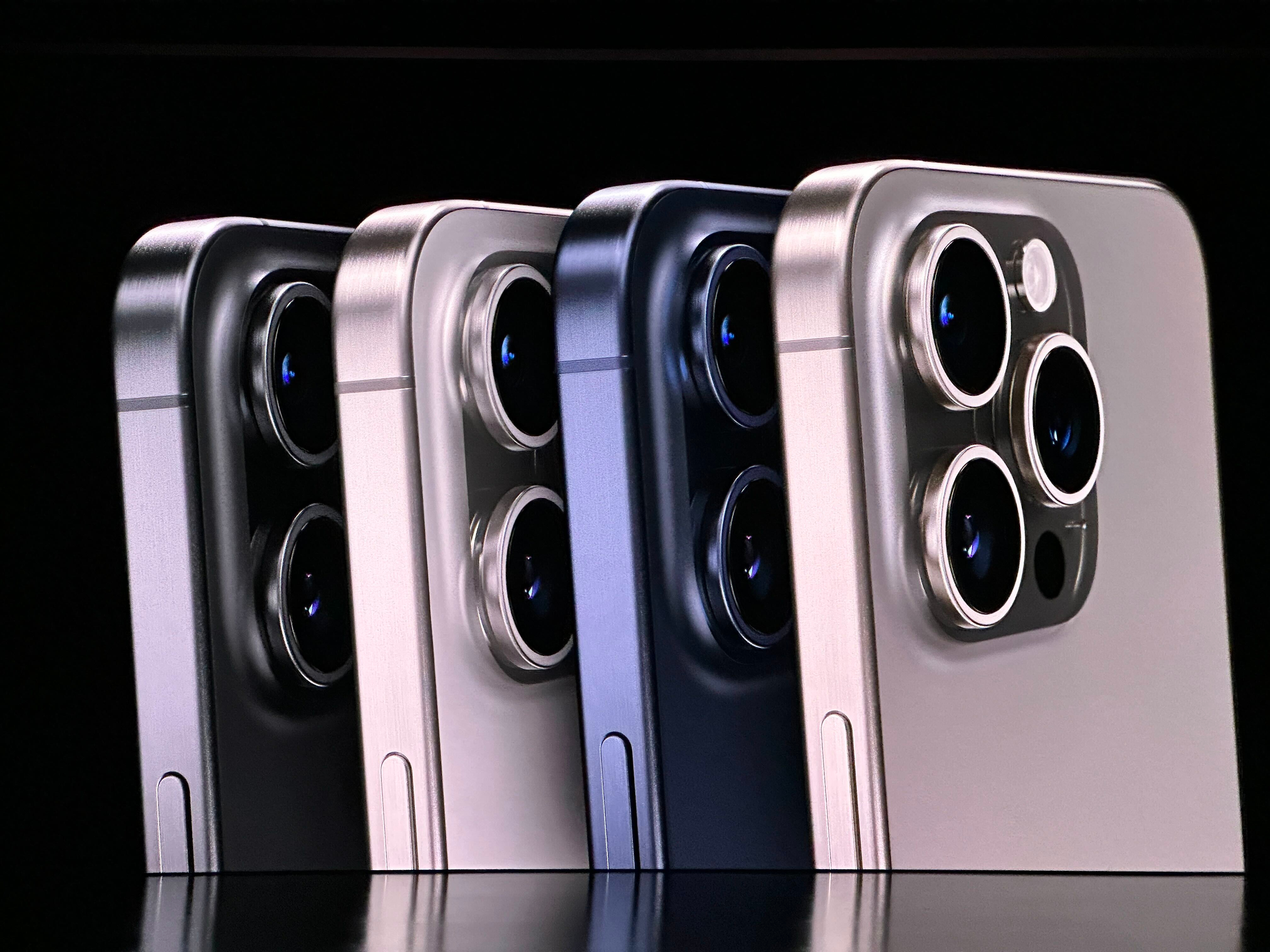 Here's a lovely shot of the color choices while the games are being shown!
Joswiak's camera summary says there are effectively 7 lenses in the pocket, though the phone still seems to have 3 cameras!
Ok - predictions about the Pro and Pro Max's periscope zoom seem to have been very accurate.
Apple are also suggesting immediate transfer of RAW images direct to Mac, to treat the phone as a live studio.
We're being told the main camera has a bigger sensor and a coating to prevent lens flare, though it's still 48 megapixels.
The tele will be 120 mm EFL (5x)
Price-wise $1199 with 256GB – no 128GB option for the iPhone Pro Max (so price hike not so bad after all).
Pre-order starts on Friday, shipping on the 22nd September.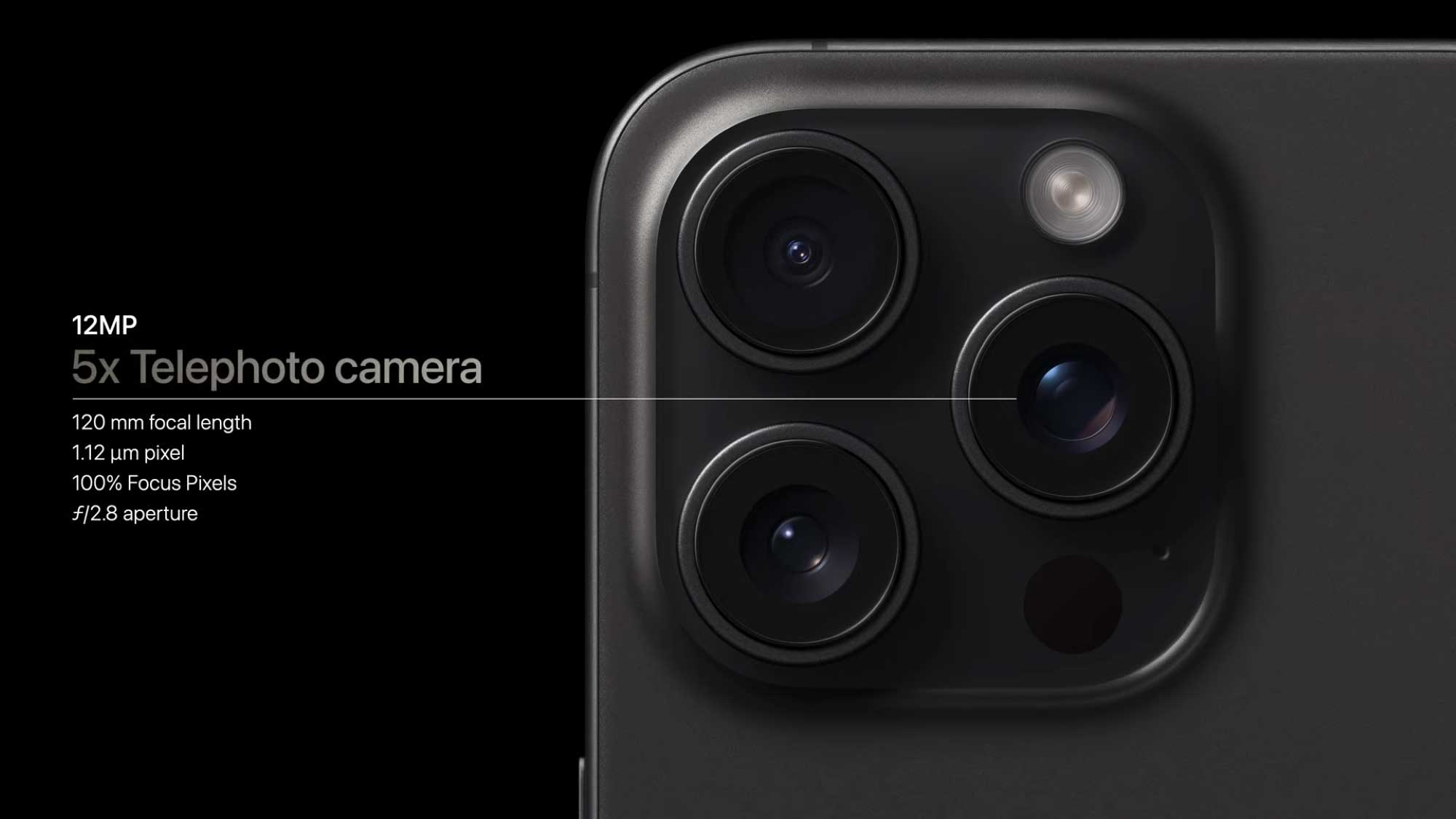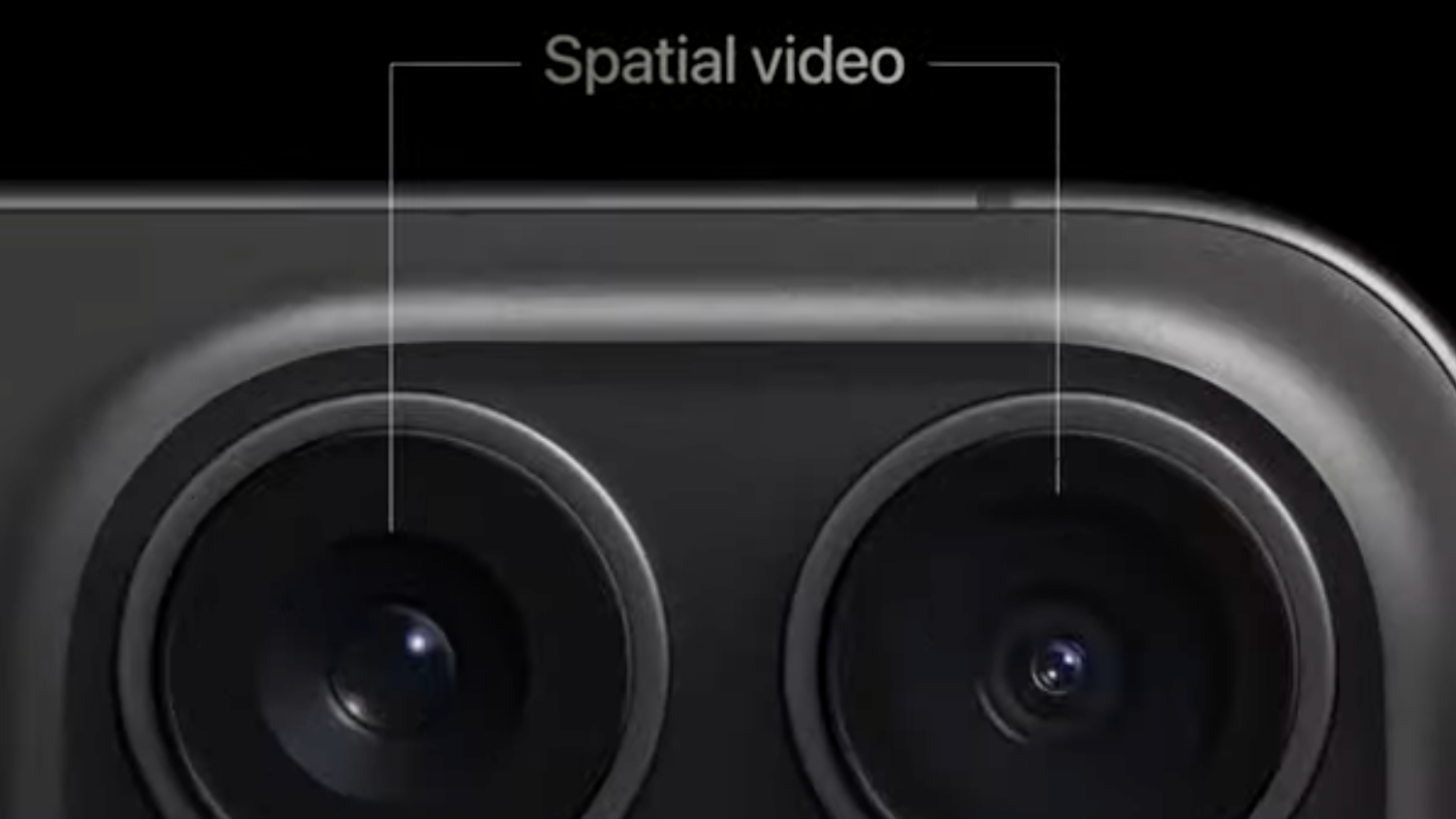 You can create 3D 'spatial video' with the two lenses and share them with anyone with an Apple Vision Pro. Er...
Finally, iCloud is going to get some larger storage options than 2TB! Can't say how long I've been waiting for that (oh yes I can).
Now, back to Tim... (or 'It's all over' in other words!)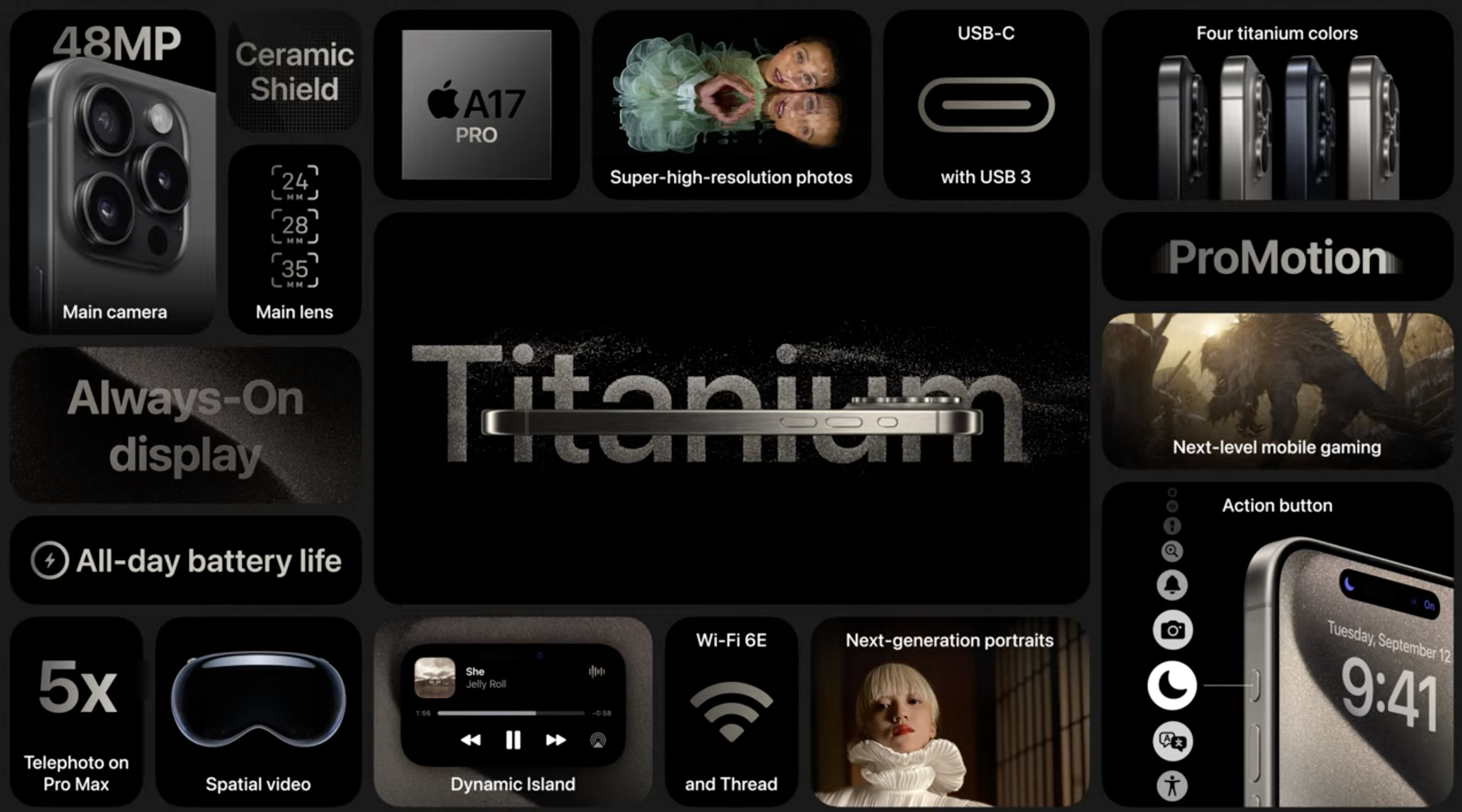 Get the Digital Camera World Newsletter
The best camera deals, reviews, product advice, and unmissable photography news, direct to your inbox!
Thank you for signing up to Digital Camera World. You will receive a verification email shortly.
There was a problem. Please refresh the page and try again.