Topaz Labs has just update its DeNoise AI 3.2 software to offer improved color and tone when processing raw and DNG files, better metadata support for HEIC and Canon CR3 files, and improvements to the performance and user interface.
Topaz DeNoise AI works both as a standalone application and as a plug-in for Lightroom or Photoshop. It's generally best to apply noise reduction during raw processing, where Topaz DeNoise can be used in standalone mode, now with improved color and tone rendition and using the camera DCP profile, where available.
It could prove just as useful as a plug-in for Lightroom or Photoshop, especially for raw files, which are typically rendered with quite a lot of noise by both (they use the same Adobe Camera Raw processing engine) with high ISO images.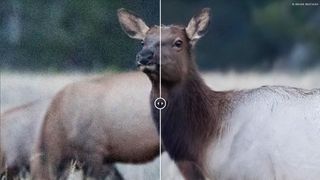 Topaz DeNoise AI and machine learning
As with many modern photo editing applications, Topaz DeNoise uses AI and machine learning to 'intelligently' distinguish image noise from genuine detail, and Topaz Labs says it has used data from millions of images to train its system and that it's added more than 100 new or improved AI models since 2018.
Most photo-editing software offers its own noise reduction tools, of course, but as with most tasks, software designed specifically for one job is often more sophisticated and effective than built in tools, hence the thriving plug-in market for Lightroom and Photoshop.
Topaz DeNoise AI 3.2 pricing and availability
Topaz DeNoise AI 3.2 is available now from the Topaz Labs website and costs $79.99, but it's also available as a free trial so that you can evaluate it first.
Read more:
• Best photo editing software
• Best laptops for photographers
• Best photo editing monitors
• Best photo printers
• Best external storage