A new book wildlife photography book featuring stunning images of brown bears is set to inspire photographers the world over when it releases in December.
Specializing in nordic wildlife and landscapes, photographer Marco Ronconi travelled from his home in Northern Italy to Katmai National Park – a four million-acre area of wilderness and unique geological features in southwestern Alaska.
• Read more: Best coffee table books on photography
Most notable for the Valley of Ten Thousand Smokes, and for its brown bears, the trip saw Marco capture some special moments between the bears ahead of his new book chiaro|scuro.
"My photographic vision focuses on capturing suggestions and emotions using light and elements such as snow, ice and mist," Ronconi told us. I try to celebrate the pristine beauty of a landscape or the fleeting encounter with wildlife, with simplicity, giving as much importance to the unseen that is left to the imagination.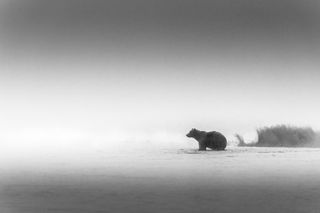 "My favorite subject has always been the brown bear. I've always thought about them as creatures with a double soul. In some apparently awkward and slow moments almost like big puppies and just a moment later, the very manifestation of the power of nature."
Like all good wildlife shooters, Ronconi treads a tricky line between documenting his subjects while not disturbing them – always remembering that these are living, territorial creatures.
"The most important thing is respect. Respect distances and spaces, make sure that the bears hear you and always know where you are. Just before sunrise I captured this bear waiting for his moment to catch a salmon. I always try to work with special atmospheric conditions like myst, snow and rain. I look for suggestions and mood in my images, for emotions more than biology."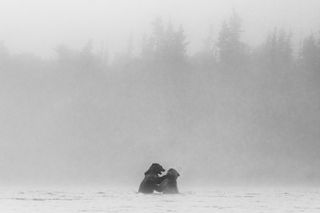 One of his images, 'Sparring Partners', depicts two young brown bears playing in the water and showing each other's strength in the middle of a fishing session.
"To my eyes, the theme of this image is the contrast between the stillness and silence of the foggy landscape and the noise and movement of the playful bears. Contrast represents a key element of my photographic vision: contrast in shapes, light and dark, stillness and dynamism."
Marco uses a variety of cameras but shot the bears primarily on the Nikon D850, which he loves due to its autofocus and large files, combined with the Sigma 100-400mm f/5-6.3 and 500mm f/4. "I prefer to always show the animal in its environment, so I am very happy with the zooms and using them at shorter focal lengths."
If you're a wildlife photographer then the book will surely serve as tremendous inspiration. Find out more about chiaro|scuro on Ronconi's official website.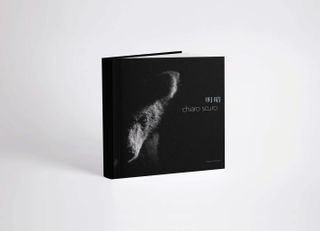 Read more:
Best camera for wildlife
The best books on photography for beginners and pros
The best books on portrait photography
The best books on street photography
The best books on food photography: whet your appetite for photography