Is someone you know asking for a GoPro this holiday season? You could wait for the best Black Friday GoPro deals later this month - but if you are looking for something affordable we have found a great deal you can snap up right now.
The twelfth-generation GoPro Hero12 Black was launched a couple of months ago - but some of the older flagship action cameras in the range are still on sale. And arguably, if you are sticking your GoPro to get footage from your bike, skateboard or skiing expeditions, you probably don't need all the latest tech.
We have found the three-year old Hero 9 Black on sale for the extremely tempting price of just $199 at Amazon - that is under half the cost of the new Hero 12 Black.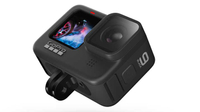 GoPro Hero9 Black | was £249 | £199
Save £49 at Amazon This is the oldest GoPro you can still buy new, and is the cheapest. Never miss the action again thanks to its 20MP photos, 5K video, or even 1080p streaming capabilities, this twin-screen action camera is a great deal for those that don't need the extra features and expense of more recent models.
With its 23.6 MP sensor, the GoPro Hero9 Black boast detailed, clean, smooth and stable video at up to 5K, along with improved photo ability. With the large rear screen and a front screen for selfies and vlogging makes the extra real estate it is easy to ensure you have every angle covered. The in-camera software is excellent, too, with impressive image stabilization along with the tweaked TimeWarp 3.0 mode. The smartphone app is the icing on the cake, offering trouble-free hook-up, easy-to-use controls, settings tweaks, file transfer and simple edits. It's impressive, easy to use and thoroughly enjoyable - despite its age.
Read more:
GoPro Hero 8 vs 9 Black
Best GoPro camera
Best action cameras
Best budget action cameras