Tamron has announced the launch of the Tamron 150-500mm F/5-6.7 Di III VC VXD lens for full-frame Nikon Z-mount cameras. Promising to deliver exceptional image quality, advanced features and versatility for both photographers and videographers, could this Tamron super telephoto compete with the Nikon 160-600mm lens?
The best lenses for bird and wildlife photography are super telephoto lenses as they enable you to shoot close-cropped shots from a distance without disturbing any animals. Often super telephoto lenses are big and heavy but the Tamron 150-500mm f/5-6.7 (which is already available in Sony E mount) is remarkably compact and lightweight when compared to similar lenses, such as Nikon's Z 180-600mm f/5.6-6.3 VR, eliminating the need for a tripod. Measuring just 212.3mm in length and 93mm in diameter, it's one of the most compact ultra-telephoto lenses for full-frame cameras.
• Check out the best Nikon lenses suitable for a wide range of shooting needs including portraits, landscapes, street photography and architecture
Equipped with Tamron's VXD autofocus mechanism it delivers precise, high-speed focussing making it ideal for catching fast-moving subjects while Tamron's Vibration Compensation ensures excellent image stabilization. The mechanisms are almost-silent resulting in minimal drive noise and vibrations making it suitable for both photography and videography.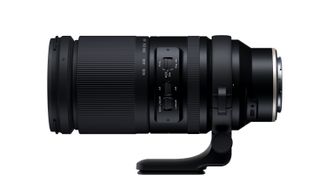 For close-up photography, this lens has a minimum focusing distance of 0.6m at the wide end and 1.8m at the telephoto end, along with a high maximum magnification ratio of 1:3.1 at 150mm. The Nikon Z mount version of the lens also includes a Linear/Non-Linear switch to enhance the manual focusing experience, giving users greater flexibility in different shooting scenarios.
Users are able to configure lens functions and perform firmware updates with Taron's Lens utility Software via a computer. Not only does it mean speedy updates but it allows for personalized configurations tailored to specific shooting needs. Other features include a BBAR-G2 coating for improved image clarity, weatherproof construction for use in challenging outdoor conditions and a lens hood with a protective front portion. It also has a flexible zoom lock mechanism, an easy-to-use switch and an Arca-Swiss compatible tripod mount with strap attachment holes.
The Tamron 150-500mm F/5-6.7 Di III VC VXD for full-frame Nikon Z-mount will be available from Tamron retailers in the UK and Ireland starting from November 2023. The recommended retail price for the lens will be $1,530/£1249.99.
Sample gallery
Also check out the best telephoto lenses from Canon, Sony, Nikon and more!