From a pandemic point of view, things in Australia are looking better than in most parts of the world, but social distancing is still the law of the land until the promised vaccine rollout is done and dusted. So while it might feel like your creative juices are being stifled, you can find inspiration to kickstart the new year.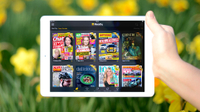 INSIDE THE NEW ISSUE
Stunning views
There were a record number of entries to the seventh annual International Landscape Photographer of the Year 2020 Awards, and the standard was exceptional. So if you've struggled to get creative over the pandemic, take a look at the winning images and get inspired.
Big six: ProPhoto's in-depth Nikon D6 review
It might be the last of a dying breed and, if so, the DSLRs are going out with a bang. Find out what we thought of this sports DSLR and why we think it ticks all the pro-camera boxes.
Bruce Usher on the difference between looking and seeing
He's been a regular contributor to ProPhoto over the years, but this time we put in him in the spotlight so we could discover what it takes to put together a portfolio of stunning images.
Plus lots more
Australian photographer Jack Picone talks about the key philosophies of street photography, and you'll find the latest photography product news, events and promotions – all within the unmissable December/January issue of ProPhoto on sale now!
Subscribe to the print edition
Published continuously since 1937, ProPhoto is Australia's top magazine for professional photographers, emerging artists and students of photography. The magazine is published bi-monthly, with print subscriptions available from Future Australia's dedicated Techmags website.

Get the digital edition today!
ProPhoto's print edition is available to buy from all good newsagents across Australia, but you don't need to leave your house to get a copy. You can download the magazine in digital format from Zinio right now for the ultimate in convenience.
To maximise your savings, you can opt for an annual subcription, which gets you six issues over 12 months that you'll automatically receive on your PC, phone or tablet as soon as each new issue is released. Or you can opt to purchase a single issue of ProPhoto if you prefer.
For more details, simply click on the image below.