Sony continues its power play to take over the content creator market. Alongside its very well-received ZV vlogging cameras, Sony now has some new microphones aimed at creators that offer the latest in cutting-edge tech – but boy, are they pricey compared to the competition.
• These are the best microphones for vlogging right now
Sony's new mic lineup now includes the ECM-W3 and ECM-W3S wireless microphones for on-camera recording, as well as the ECM-S1 wireless microphone for streaming or podcasting.
Sony ECM-W3 and ECM-W3S
The Sony ECM-W3 and ECM-W3S are fundamentally the same microphones, the difference being the ECM-W3 includes a receiver and two mics while the ECM-W3S provides a receiver and a single microphone.
Both hope to offer advanced levels of background noise suppression, incorporating a digital noise-cut filter employing digital signal processing to effectively diminish unwanted background noise, as well as a low-cut filter to reduce low-frequency noise from sources like wind, air conditioning, and vibrations. You also can't beat a good old tried and tested solution, and both microphones come with a physical windscreen to combat interference from strong winds.
When connected to a Sony camera equipped with the Multi-Interface (MI) shoe, the ECM-W3 and ECM-W3S receivers double as digital audio interfaces, facilitating direct audio signal recording with minimal noise interference.
These mics also include safety functions to prevent sound distortion at high volumes, and manual attenuator functions for adjusting sound levels during high-volume recording. Both models offer low power consumption, low latency, and high sound quality thanks to Bluetooth Low Energy 5.3 and the LC3Plus codec.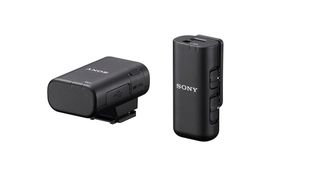 The MI Shoe support allows for battery-free, cable-free shooting, and a USB-C terminal enables digital audio output (48kHz/24bit) to a USB-connected smartphone or PC. Moreover, they feature a 3.5mm mini jack (stereo) audio output terminal for compatibility with various devices. A terminal protection holder / stand is provided, serving as a microphone stand or adapter.
Additionally, the microphone itself offers a 3.5mm mini jack (monaural) for external microphone input, perfect for discreetly positioned lavalier microphones like the ECM-LV1. The rechargeable microphone offers up to six hours of continuous use on a full charge.
Designed for outdoor use, both the microphone and receiver are compact, lightweight, dustproof, and moisture-proof, ensuring reliable performance in various outdoor conditions, and weigh just 17g for the microphone and 25g for the receiver.
Sony ECM-S1
The ECM-S1 microphone features three 14mm capsules for Uni-directional, Omni-directional, and Stereo sound pickup modes, offering high-quality, sensitive, and wide-frequency sound capture.
As a vlogging, streaming, and podcaster microphone, the ECM-S1 is specially tuned for natural voice recording, aiming to deliver the most realistic and textured sound for high-quality streaming. Although it is at home in the studio, Sony has also included a digital signal processing noise-cut filter and a low-cut filter to reduce harsh noise and low-frequency disturbances.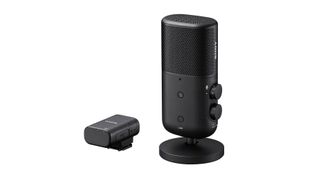 The microphone is compact and weighs 157g, so will be easy to take from place to place. The ECM-S1 offers connectivity with a Bluetooth 5.3 and LC3plus codec, which should help ensure low power usage, minimal latency, and high audio quality.
The mic can attach to Sony cameras via the MI Shoe and supports 48 kHz/24-bit digital audio output through USB Type-C terminals. A dial control on the mic can adjust recording levels, and real-time indicator lamps monitor levels. The Link lamp shows the communication status between the microphone and the receiver.
Headphones can be connected for real-time audio monitoring, and a mixing ratio adjustment dial fine-tunes audio balance. Built-in batteries provide extended use, with the receiver also supporting a direct power supply. A pop guard minimizes popping noises, and the microphone comes with a versatile stand for adjustable angles or tripod mounting.
Price and availability
The ECM-W3 and ECM-W3S wireless microphones will be available starting from November 2023, while the ECM-S1 will be available in October 2023, although all three of the microphones can be pre-ordered now.
The ECM-W3 will cost $469 / £429 / AU$799, the ECM-W3S will retail at $349 / £319 / AU$599, and last but not least, the ECM-S1 will cost $419 / £389 / AU$629.
These are the best cameras for vlogging, which includes some of the best Sony cameras in the ZV range that are ideal for content creation.