It's official – Sony has managed to overtake Canon when it comes to sales for mirrorless cameras. In 2019 Sony's market share was 22.7% compared to Canon's healthy 31.6% share. However, Canon has seen a drop in market share across the board for both DSLR and mirrorless cameras in 2020's BCN report.
Due to this Sony has managed to sneak the number one spot away from Canon, with the company's market share increasing to 27.4% – and Canon's dropping down to just 23.8%, which is a considerable fall.
• Read more: Best Sony lenses
BCN Ranking recently published their data (via Photo Rumors), gathered from around 40% of Japanese retailers. It's important to mention that this may not be indicative of the global markets, but it doesn't paint a great picture for Canon. The drop in overall market share is probably more concerning than the slip to second place in one category. While Canon continues in pole position in the DSLR and point and shoot categories, it has seen a drop in market share for both DSLR and mirrorless cameras.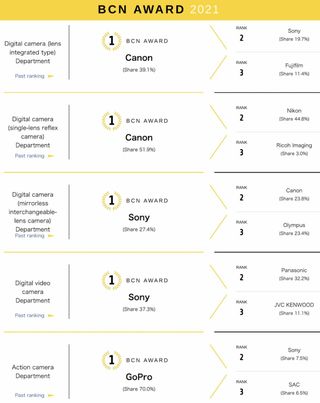 One of the potential causes of Canon's loss of market share could potentially be the problems Canon has had with maintaining stock levels. With the release of the Canon EOS R6 and Canon EOS R5, the camera industry's attention was locked securely onto Canon. Unfortunately, a lack of stock may have prevented customers from making their intended purchases.
However, Sony has experienced a healthy degree of growth, having done pretty well in the video camera category with its market share has increased from 35.1% to 37.3%. However, the increases enjoyed by Sony aren't quite as sharp as the drops suffered by Canon, so it seems that other manufacturers have also managed to cipher some sales from the imaging giant as well.
Having said that, there is some good news for Canon. The point and shoot category has been doing extremely well for Canon with its market share dramatically increasing from 29.8% to 39.1%. Plus, while Canon has suffered some drops in market share in certain categories, the manufacturer still reigns supreme in two out of the five camera categories.
Finally, Olympus seems to have done rather well too with its third place position for mirrorless camera sales. Although it's market share has dropped marginally, the company remains a popular option for users.
Read more:
Canon EOS R5 review
Best Canon camera
Best Canon RF lenses
The best mirrorless camera
The best DSLRs right now