The Sony FE 12-24mm F2.8 GM (SEL1224GM) will not replace the existing Sony FE 12-24mm f4 G Lens, but joins it as a higher-priced premium lens aimed at users who demand performance above all else.
Until, now the widest G Master lens was the Sony FE 16-35mm f2.8 G Master, but the new 12-24mm is substantially wider and aimed at astrophotography, interior and exterior architecture, landscapes and any other scenario where an ultra-wide angle of view is essential.
See the video below!
Cutting edge G Master optics
Sony's G Master lenses use the company's ultra-high-tolerance XA lens elements, which have a surface variation tolerance of just 0.01 microns. Previous G Master lenses have used one or two of these exotic lens elements, but the FE 12-24mm F2.8 GM has no fewer tan three, including the largest XA element yet made as the front element.
XA stands for 'extreme aspherical', and the front element of this lens not only has two different aspherical profiles on its front and rear surface, but the rear surface is so extreme Sony has had to develop a new Nano Air Coating II process to coat it evenly.
As well as three XA lens elements, the FE 12-24mm F2.8 GM has a glass aspherical element, two Super ED and three ED elements, a very advanced (and expensive) construction that helps explain the cost of this lens.
The new lens has also been designed to minimise focus breathing, focus shift and 'axial shift' while zooming, all three of which are very important characteristics for video.
Autofocus technologies
It's not the just the optical construction that's exotic. Sony's new ultra-wide lens also has a powerful and sophisticated autofocus system consisting of a 'floating' focus group split into to independently controllable groups, each powered by two high-powered XD (extreme dynamic) Linear Motor
These deliver precise, quiet and above all fast autofocus and focus tracking. Sony claims the FE 12-24mm F2.8 GM beats its main rival for focus acquisition, tracking and accuracy in high speed burst tests, allowing even the Sony A9 II to run at full 20fps speed with a high focusing hit rate.
The lens has an IF (internal focus) system so that its length does not change during focusing, 'Linear Response' manual focus, a customisable Focus Hold button and a minimum focus distance of 0.28m (0.14x magnification).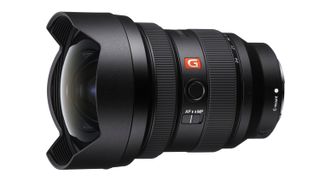 Dimensions, price and availability
The FE 12-24mm F2.8 GM measures 97.6x137mm and weighs 847g. It's designed to be dust and moisture resistant, with a fluorine coating on the front element to repel moisture and water droplets.
The size of the front element prevents the use of regular front-mounted filters, but there is a rear filter holder and the lens even comes with a cutting guide for making filters to fit.
The Sony FE 12-24mm F2.8 GM will be available from the beginning of August 2020 and will cost (wait for it) $2,998/£2,900, but from late July in Australia with an RRP of AU$5,499.
• Pre-order the Sony FE 12-24mm F2.8 GM from Adorama
• Pre-order the Sony FE 12-24mm F2.8 GM from B&H
• Pre-order the Sony FE 12-24mm F2.8 GM from Wex
Read more:
• The best Sony lenses
• Best Sony cameras today
• Best lenses for Sony A6000
• Sony A7R IV review